What screams FALL more than a corn maze?   Head on down to down to Sauchuk Farm in Plympton to test your sense of direction in their new fall maze!  There are two mazes to choose from at the farm, the main maze (takes 1-2 hours to complete) and the kiddie maze which only takes about 15 minutes to get through.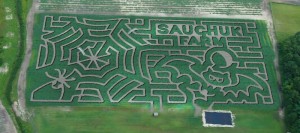 To add to the fun, the farm is hosting maze games!  Play Maize-O-Poly (a scavenger hunt game) in the main maze, and Simon Says in the kiddie maze.  Sauchuk Farm also boasts hayrides, a cow train, a giant jumping pillow, duck races, corn cannons, a spider web climber, and pick-your-own pumpkins. 
Admission is $10.95 per person, and includes all activities on the farm with exception of the corn cannons and pumpkin purchases.  (Children under 2 are free, seniors 65 and over get $2 off admission price).
Sauchuk Farm is located at 53 Palmer Road in Plympton.  For more information on the farm, visit their website at www.sauchukfarm.net.