If you're overloaded with candy after Halloween, there are a few ways to put your extra piles of treats to good use:
Magic Beans Candy Buy Back Program:  Between November 1-6, bring in 1 pound (or more) of candy to any Magic Beans toy store location and get 20% off of one toy that day.  Candy will be donated to Catching Joy & FF-182.  On select dates/locations, stop by to decorate boxes to fill with candy for the troops! See website for details.
Halloween Candy Buy Back: Participating dentists buy your extra candy in exchange for cash, toothbrushes, coupons, or small toys,  (prizes vary by individual dentist office).
Candy is then packed up and sent to Operation Gratitude for deployed U.S. Military personnel to enjoy!  To find a participating dentist near you, visit www.halloweencandybuyback.com.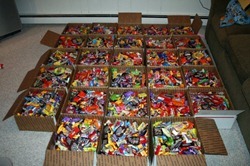 Abby Knoll Photography Studio & Gallery & John Curtis Library – Join Hanover resident Libby Corbo in celebrating Candy for a Cause's 3rd year of shipping Halloween candy overseas to local troops.   This year the group will be collecting your extra Halloween candy at the John Curtis Library and the Abbey Knoll Photography Studio. (Libby is proud to note that Candy for a Cause has outgrown her basement).  The Abbey Knoll Photography Studio is located at 283 Columbia Road, Route 53, (next to Sylvester Hardware in the former Bygones space), and of course the library is in the center of town.  Hanover resident Peter Nixon of the AT&T Wireless Hanover store has again generously offered to help with the sponsoring of packages – for the past 2 years they have paid the entire shipping bill!   Candy collection will begin November 1st and continue through November 8th.    Libby and crew are also looking for cards to be included in the packages, homemade or store-bought, and donations of baby wipes for each box.   Do you know a local soldier who would like to receive a package?    Please contact Libby at 781-878-4059 or elizacorbo@hotmail.com.   Stop by the library to see pictures from past years' collections!