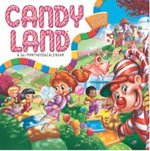 Here at South Shore Mamas we love a themed birthday party!  Half the fun is picking out at theme for the birthday child and finding decorations, food and games to go along with (admittedly I may enjoy all the hoopla more than the kids)!  Today Maribeth Curley shares some fun ideas on how to throw a Candyland themed birthday party, how sweet! 
Candy Land is known as one of the most iconic, fun, and colorful board games in history and it is loved by children worldwide.  Because of this, it is a perfect theme for an easy, fun and cheap birthday party for both girls and boys. Want to know how to throw this bash? Here are a few ideas:
Candy Bar
A Candy Land theme would be pretty much incomplete without a "candy bar," which is basically just a self-serve candy table.  Tables like this have become a popular attraction at events like weddings and they look really nice if you keep everything within a color theme.
Make cute, little labels with images and characters from the game for each item on the table.
If you want to get really in depth, divide sections of the "candy bar" into the different locations of the game and set it up like a map.
It's also important to note that the cheapest and easiest way to get all of these goodies would be to buy online and in bulk!
Another fun food idea is to do a make-your-own ice cream sundae bar, with all kinds of yummy candy toppings.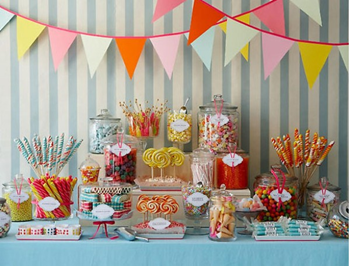 Sweet Decorations
As for decor, there are a couple of great DIY ideas here for the theme that will get the Candy Land feel going at your party.
Buy a bunch of different colored paper plates and decorate them as different candies, such as peppermints or rainbow lollipops.  Let the kids at the party do this as a fun activity and hang them up to not only add decoration, but display their art work!
Instead of basic streamers, buy a variety of colored cupcake papers and string them together (using a needle and thread) to create garlands.
Parents can make decorative "bouquets" for centerpieces using large rainbow lollipops in place of flowers, putting them in clear vases and filling the bottoms with small candy or sprinkles.
Another fun idea would be to buy balloons and wrap them in cellophane so they look like giant suckers.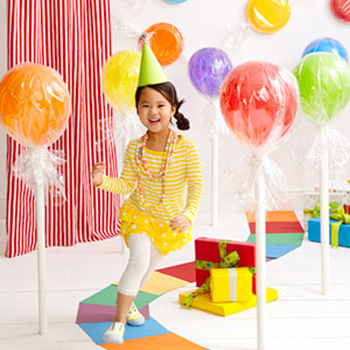 Yummy Activities
What's a party without activities? Here are some ideas for things to do at your bash:
The kids can decorate their own gingerbread men/sugar cookies. Set up a table with all the different stations, frosting, sprinkles, and other cookie toppers.
You can also buy cheap picture frames from a dollar store and then help the kids paint them and glue on candies like gumdrops or gumballs.
Another super fun activity for the kids (but a little more time intensive), would be to decorate the party area as different parts of the board game and let the kids have fun, explore, and pretend that they are actually inside of the game.
Play dress up! There are many kids Halloween costumes that can be used as dress up for this sweet occasion.
Of course, you can't have a Candy Land party without playing the actual game!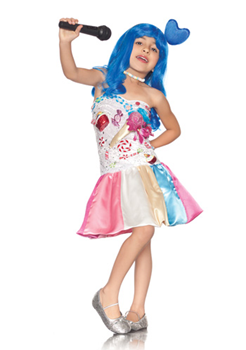 ---
About the Author: This article is by Maribeth Curley, who writes HalloweenCostumes.com. Although she is in her 20's, putting this article together has given her plenty of ideas for her next birthday party.