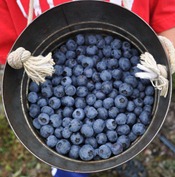 Last week we took our annual trip to the blueberry farm, one of my favorite summer outings! In the past we have picked at C.N. Smith Farm and Ward's Berry Farm, but this year we headed down to Tree-Berry Farm in Scituate.  The weather was perfect, the kids were in happy, cooperative moods, and the blueberries were plentiful!
(Seriously, there was an amazing amount of berries out there, I highly recommend a visit).  Tree-Berry provides the containers, and charges by the pound ($3/lb).  We spent an hour and a half picking and walked out with 8 1/2 pounds of berries.  My 6-year-old doesn't even eat blueberries, and he happily filled a whole coffee tin.  What to do with all that fruit?  I see lots of muffins, pancakes, and and blueberry cobbler in our future!!
As much as I love blueberries (an all the baked goods I can stuff those berries into), 8 1/2 pounds is a lot for this family of 5, so we're going to need to freeze some of these beauties. In the past I've tried freezing in single layers on a cookie sheet (like this method from A Thrifty Mom). This year I'm trying something new by coating them in sugar first to help them hold their shape (planning on rinsing before eating/baking to cut down on the extra sweets). They just went in the freezer an hour ago, fingers crossed it works!
---
Here are a couple of recipes we've (with success) at our house.  Feel free to share your favorite blueberry inspired treats!
1 1/2 cups all-purpose flour
3/4 cup white sugar
1/2 teaspoon salt
2 teaspoons baking powder
1/3 cup vegetable oil
1 egg
1/3 cup milk
1 cup fresh blueberries
1/2 cup white sugar
1/3 cup all-purpose flour
1/4 cup butter, cubed
1 1/2 teaspoons ground cinnamon
Preheat oven to 400 degrees F (200 degrees C). Grease muffin cups or line with muffin liners.
Combine 1 1/2 cups flour, 3/4 cup sugar, salt and baking powder. Place vegetable oil into a 1 cup measuring cup; add the egg and enough milk to fill the cup. Mix this with flour mixture. Fold in blueberries. Fill muffin cups right to the top, and sprinkle with crumb topping mixture.
To Make Crumb Topping: Mix together 1/2 cup sugar, 1/3 cup flour, 1/4 cup butter, and 1 1/2 teaspoons cinnamon. Mix with fork, and sprinkle over muffins before baking.
Bake for 20 to 25 minutes in the preheated oven, or until done.
---
4 cups all-purpose flour
6 tablespoons sugar
4-1/2 tsp baking powder
1/2 teaspoon salt
1/2 cup plus 2 tablespoons cold butter
2 eggs
3/4 cup plus 2 tablespoons milk, divided
1-1/2 cups fresh or frozen blueberries
In a bowl, combine the flour, sugar, baking powder and salt; cut in butter until mixture resembles coarse crumbs. In a bowl, whisk eggs and 3/4 cup milk; add to dry ingredients just until moistened. Turn onto a lightly floured surface; gently knead in the blueberries.
Divide the dough in half. Pat each portion into an 8-in. circle; cut each into eight wedges. Place on greased baking sheets. Brush with remaining milk. Bake at 375° for 15-20 minutes or until tops are golden brown. Serve warm. Yields 16 scones.  Editor's Note: If using frozen blueberries, use without thawing to avoid discoloring the batter.
---
To find a pick-your-own farm near you, visit www.pickyourown.org/mass. They have listings by county for picking strawberries, blueberries, apples, pumpkins and more, plus tips on growing seasons, canning and freezing!
Bon Appetite!

---