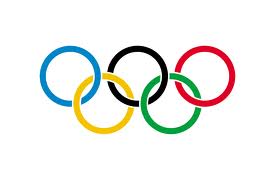 The Summer Olympics are now in full swing!  For us, this is the first year that my boys are really into watching the trials and cheering for their favorite athletes.  They beg to stay up late to watch the games and it's the first thing they talk about in the morning.  We're channeling this enthusiasm into some Olympic themed activities over the next two weeks, including outdoor games, a few easy crafts, and even some educational worksheets.  A mom's got to sneak in alittle math and reading whenever she can, right?  How are you celebrating?
GET CRAFTY – Have a few easy crafts ready for rainy days and down time.
Make these Team Bead Bracelets from No Time for Flash Cards to cheer on your favorite team.
Make you own DIY Olympic Torch like this one from Kaboose.
Give everyone the gold with this DIY Olympic Gold Medal from Skip to My Lou!  (I couldn't find the clay used in the tutorial at Michaels, so we'll be trying a salt dough version of the medals).
Create Construction Paper Laurel Wreaths with this idea from Easy Preschool Crafts for Kids.
GET ACTIVE – Host your own Backyard Olympic Games!
Divide the children into teams. Have each team choose their colors and a name, then create their own flag or banner. You can also have the kids make a simple Olympic Flag.
Have each team choose a mascot (teddy bear, action figures, etc.) and decorate it for the games.
Hold an opening ceremony in your backyard/living room/basement. Have the teams parade around with their mascots and flags! Don't forget your home made torches. Then let the games begin!
Hold races – short distance, sack races, 3-legged races
Throw the discus (Frisbee or heavy paper plates)
Play basketball
Set up a Long Jump contest and measure the longest leap
Have a Hula Hoop contest
Play a soccer game or have shoot on goal contests
Set up an obstacle course
Create a triathalon (bike around the block, run around the block, scooter around the block, or your own version)
PRINTABLES – Keep the kids busy and sneak in a little educational material with printable worksheets and activity pages.
Printables.com has mazes, dot-to-dots, word scrambles, coloring pages and "boggle" pages.
abcteach.com has a great selection of coloring pages and educational activity pages. Many sheets are only available to members, but there are some great free ones in there.
First-school is full of activities and art projects for preschool through kindergarten aged children.
Have fun, and go team USA!