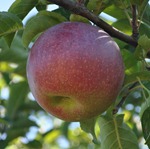 I love fall.  I love the weather, the food, the holidays, the activities, all of it!  Although it's not as long as our summer bucket list, there are definite musts on our list of things to do this fall.  We've already hit the apple orchards, and are making plans for pumpkin picking, hayrides, corn maze adventures and more.  Here are a few local (some a bit north of local) places to find some fall fun!  (Visit individual websites for hours of operation and pricing information).
Belkin Lookout Farm (Natick) – Pick your own apples and pumpkins, train rides, children's play area, hay pyramid, caterpillar rides, burlap maze, farm animals, bouncy house.  On the weekends they have live children's entertainment, face painting, camel & pony rides.
Brooksby Farm (Peabody) – Pick your own apples, tractor ride through the orchard, farm animals, cider donuts.
CN Smith Farm (East Bridgewater) – PYO apples and pumpkins, hay rides to the pumpkin patch.
Davis MegaMaze (Sterling) – Davis Mega Mystery Maze, Fright Nights (last 3 Fri/Sat nights in October), Flashlight Mazing (Fri/Sat nights).  Enjoy apple and pumpkin picking at Davis Farmland.
Honey Pot Hill Orchards (Stow) – PYO apples, hayrides, plus three mazes to explore (The Big Green Monster HedgeMaze, Mini Monster HedgeMaze & Tunnelmaze).
Marini Corn Maze (Ipswich) – Space Exploration themed corn maze, plus a small hay bale maze for young kids.  Corn Maze open Monday, Thursday, Friday from 3 to 6pm, Saturday, Sunday & Holidays from 10am to 6pm.  Flashlight Nights on Friday & Saturday nights.
Nessralla Farm (Halifax) – Maze, hay rides, bouncy houses, hay bale mini maze, pumpkin drop, live music on Columbus Day weekend.  Printable $1 off maze coupon on website.
Nihtila Farm (Holbrook) – Pick your own pumpkins and hayrides through the pumpkin patch. Open Friday, Saturday and Sunday 11am til dark.
Sauchuk Farm & Corn Maze (Plympton) – Girl Scout themed corn maze, PTO pumpkins, farm stand, cider donuts, kids play equipment and live music on the weekends.
Smolack Farms (North Andover) – Pick your own apples and pumpkins, hayrides, playground, duck races, wee wagon rides, farm animals.
Ward's Berry Farm (Sharon) – Corn maze, pick your own pumpkins, hay rides, barnyard animals, pony rides.
---