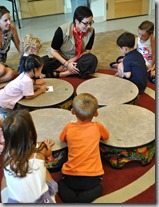 On January 19th, the South Shore Conservatory will host a free Family Arts Festival at their Hingham and Duxbury locations. The festival kicks off with a free interactive family concert, followed by an open house introducing the Conservatory's many early childhood SSCreativeseeds programs.  After the concert, children ages 3 to 10 can use their "Arts Passport" to travel through a variety of activities, including:
Creative Movement/SmARTy Dance Sampler
"Drum & Sing" Sing-along
Suzuki Method Demonstrations
Dramatic Theater Games
Instrument Petting Zoo, including winds, percussion and brass
SSC Arts-Based Preschool and Kindergarten
Faculty members performing include early childhood educators Jennie Mulqueen, Emily Arsenault and Arielle Richter; Suzuki guitar instructor George Little, oboe instructor Elizabeth England, and French horn instructor Megan Riccio.
Admission to all activities is free of charge.  You can tour the facility, meet faculty and staff, and learn more about the broad range of programs offered at the conservatory.
Festival times:
One Conservatory Drive, Hingham
10 am – 12 noon
Ellison Center for the Arts 64 St. George Street, Duxbury
1:30 – 3:30 pm
Snow date: Sunday, January 20
For more information, contact Jennie Mulqueen at 781-749-7565, ext. 33, or visit http://www.sscmusic.org/.