Today the ladies at Ladybug Photography share some ideas on photographing winter!
Welcome to winter!  Some you may have received a new camera or new accessories for the holidays, there is no better time of the year than winter to put them to use. Winter offers plenty of pretty things to photograph if you think out of the box, think color, texture and reflections. 
Here are some of our favorite winter photo subjects:
Get outside right after it finishes snowing. Fresh snow covering landscapes, braches and objects makes for stunning photographs.
Winter sunrises and sunsets offer some of the most beautiful colors and reflections.
Birds, birds and more birds! Get some food in your feeders (get the right seeds for the right birds at your local feed store) and snap away. Great colored birds in winter to explore.
Ice & frost covered berries & branches are great for close ups (macro lens or close up setting on camera)
General tips:
Keep your batteries warm: batteries drain quicker in cold weather.
Keep yourself warm: dress in layers, hats, gloves, warm boots & socks.
Here are some of our wintertime photos.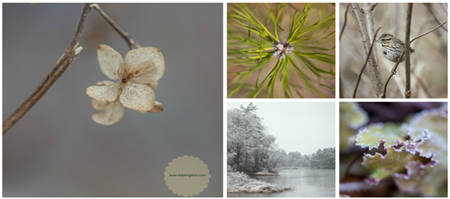 Bundle up, gear up and get outside, you'll enjoy the winter a little more!
Marge & Natalie
www.ladybugfoto.com