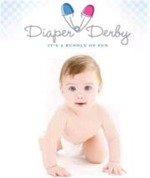 Attention moms of little ones:  Do you have a crawler at home?  Sign them up to compete in the South Shore Plaza's 4th annual Diaper Derby on Saturday, February 16th from 10:00am–1pm!  You can register your baby for the event at SSP Guest Services, (level 1,next to Victoria Secret), now through February 16th at 8:45am.  Participation is free, and pre-registration is encouraged, as the Diaper Derby is limited to the first 72 registered babies.
Derby Details:
Participants in this year's Derby must be CRAWLERS under the age of 12 months and must NOT be walking yet to race against each other in a fun competition.  The event will also include other activities before, during and after the races including prize Giveaways from South Shore Plaza retailers.
There will be 72 crawlers and 6 racers per heat (total of 12 heats). The winner from each of the heats will then compete for 1st, 2nd, and 3rd prize.  All three winners will receive a trophy at the awards ceremony following the races.  All racers will receive a goody bag!
The event is sponsored by WIC (Women, Infants and Children) Nutrition Program and Bay State Parent Magazine.
---
Visit South Shore Plaza on Facebook at www.Facebook.com/SouthShorePlaza and follow South Shore Plaza on Twitter @SouthShorePlaza.
---