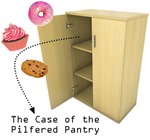 Visit The Children's Museum in Easton during February vacation for fun all week long.  Help solve "The Case of the Pilfered Pantry", meet an author, learn about police dogs, make a craft and, of course, explore the Museum's three floors of hands-on exhibits!  Here's what the museum has planned:
The Case of the Pilfered Pantry
Monday through Friday from 10am-4pm
Saturday and Sunday from noon-4pm
The Museum's Kids Kitchen has received a sparkling makeover—new appliances, new counter tops, new dishes and a thoroughly restocked pantry. Or so we thought.  Staffers have recently discovered that a few pantry items are missing! They will surely need your help to solve the mystery… Sleuthers will need to investigate the missing items, search for clues, analyze the evidence, and narrow the list of suspects to help close the Case of the Pilfered Pantry.
Sunday, February 17, 1pm
Author Joy Feldman reads from her book Is Your Hair Made of Doughnuts
Monday, February 18, 1pm
Fun with Leave No Trace – The Subaru/Leave No Trace Traveling Trainers will be here to share ways to have fun in the outdoors. Come learn, play, and smile as they show us ways to enjoy the outdoors in a responsible way, keeping you and the environment safe. They will be here beginning at 1pm. Plus, don't miss a special appearance by Bigfoot, he's being leaving no trace for years!
Tuesday, February 19, 2-4pm
Printing with fruits and vegetables -Not only do they taste great and are great for you, fruits and vegetables can be use to make some really cool art work too!
Wednesday, February 20, 10am-noon
The Mix 104.1 Wellness on Wheels truck will stop by with give-a-ways galore.
Thursday, February 21, 1pm
Check in with Children's Dental Health Center.  They'll be passing out goody bags and answering you questions.
Friday, February 22, 10am-4pm
Massachusetts Vest-a-Dog – MA Vest-a-Dog will joined by Officer O'Connell and his K-9 partner 'Diesel'.*  Children can meet 'Diesel' while Officer O'Connell answers questions how his partner 'Diesel' finds lost people, illegal drugs and evidence.  Pick up a special kids' activity sheet!
Saturday, February 23, 1pm
Join author Diane Purdy as she reads from her book The Bedraggled Dragon.
* Officer O'Connell and Diesel are scheduled to join us at noon, however, they are on duty and their schedule is subject to change.
---
Need other ideas for February Vacation?  Check out our previous posts: