Dr. Seuss' birthday is March 2nd.  Every year we celebrate in our house with a craft or two, a fun Dr. Seuss themed snack, and of course cuddle time on the couch with our favorite Seuss classics.  Last year we made these sweet Chocolate Green Eggs & Ham treats, and they will be making a repeat appearance this year!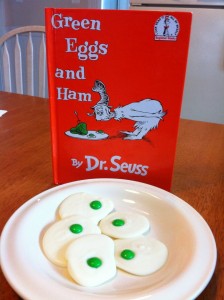 You can find a detailed tutorial on these super easy candies at Random Thoughts of a Supermom.
Here are a few more fun, and pretty simple, Seuss-themed food ideas for you to play with!  (Click photos for links to sources & instructions)
For even more ideas on celebrating Dr. Seuss and his work, take a look at our past articles here and here.  Oh, and don't forget to follow South Shore Mamas on Pinterest!