In general I'm a list maker.  It helps me keep on top of my never ending to-do list.  In fact, there are usually three or four lists floating around here at any given moment…  1) A list of groceries we need the next time someone runs to the store, 2) People I have to call or email back, 3) Gifts I need to pick up for upcoming birthdays/holidays, and 4) My cleaning list, (an essential list, lest I forget to dust, mop, scrub the toilets or get that laundry out of the dryer). 
Usually these lists are scrawled on random pieces of paper or notebooks (I have been known to swipe a Spiderman or Transformers notebook from my sons' art stash), but lately I've felt the urge to get a little more formal, and hopefully a little more effective!   I googled for a bit on the subject, and found a couple of candidates for my new and improved to-do list, so I thought I'd share…   
The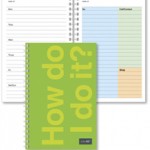 How Do I Do It Pad  from whoMi ( $12)  lets you break down your daily tasks into three categories:  Things you have to SHOP for, people you have to CALL, and things you have to DO.  You can then prioritize these to-do's by days of the week.  I've owned their Shop Call Do Pad (a smaller version, minus the days of the week), and loved it.   This sounds like a pretty good upgrade!
The Busy Body Book Organizer from BusyBodyBook ($17.95) is no ordinary organizer, this book is a busy Mom's dream!  Each week has a grid where you can track scheduled activities for up to five family members (or

substitute a column for meal planning, errands, school work, etc.)  I HEART this organizer!  I was practically salivating reading the list of features. (I especially love the weekly 'to doodles' list, how cute!)   The folks at Busy Body Book also make undated, magnetic Weekly Grid Pads to post on the fridge for easy tracking of your family activities, and Wall Calendars in the same format.  These people are good.
This is great.  I'm excited to get organized!   Now I just need to decide which one to order.  I could always get both, right?  One can never be too organized!