This sweet Cardboard Tube Bunny Craft from Crafts by Amanda is perfect for anytime, but we love it especially for Easter!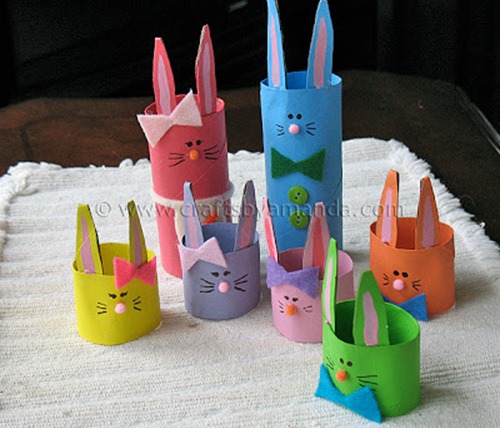 You will need:
Cardboard tubes (paper towel or toilet paper)
Craft paint
Mini pom poms
Felt (substitute construction paper)
Hot Glue Gun
Marker
Scissors
Instructions:
Take your cardboard tubes and cut them into different lengths, longer for the mom and dad bunnies, shorter for the bunny children
Cut thinner strips (about 1/2″) to make the bunny ears
Put a small amount of hot glue inside the ears, squeezing together until they're flat
Paint the tubes and ear strips in your choice of colors.  Add a strip of light pink for the inner ears
Hot glue the ears to the inside of the painted tubes
Add eyes (googley eyes can be used too), noses, and whiskers
Accessorize your bunnies with bows, buttons, an apron, etc.
If you don't have felt, substitute colored construction paper for the bows/bowties.  You can also choose to draw in your bunny noses, or glue on small pink circles.  Find the complete, original craft tutorial at Crafts by Amanda.
I tackled this project with my 4-year-old this morning.  K did all the painting herself, I jumped in on glue gun duty and bunny accessories.  She had a blast, here are our results!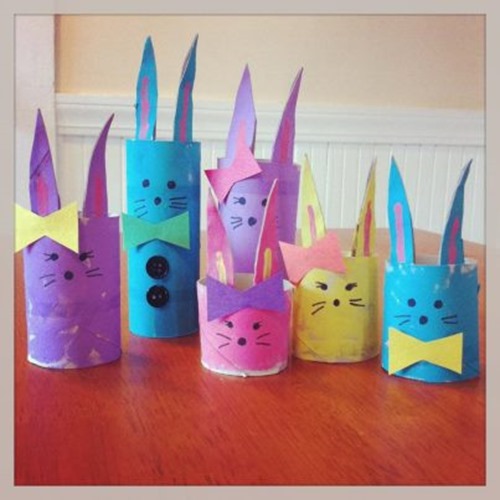 Check out the South Shore Mamas Pinterest boards for more great Easter ideas!