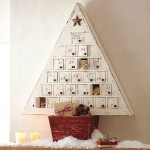 As far as holiday traditions go, for my boys the Advent calendar ranks right up there with making Christmas cookies and putting lights on the tree.  They LOVE it.  Every morning there is a mad dash to the dining room to get to it first, feet slipping and arms flailing in the air.  "Who's day is it Mom?  Mom?  MOM?!?"   (We take turns to be fair).  Sometimes there are little candies in there, sometimes a teeny toy (last year I bought a set of the characters from 'Rudolph the Red Nosed Reindeer' and put them in there, HUGE hit).  We have a wooden Advent calendar, very inexpensive, I think it may have even come from the Christmas Tree Shoppes, and it's been great for us.   This year I'm adding a LEGO calendar to the mix.  Each day the kids will open a door and find a little bag of LEGOS that they'll assemble to make a figure, tree, etc to add to their LEGO Christmas scene.  So fun!
There are so many Advent calendar options out there, they come in all shapes and sizes, filled and not.  If you're looking for something on the decorative side, there is the rather pricey, (but beautiful) Pottery Barn Advent Calendar ($149), or the cute House Advent Calendar ($129) from Pottery Barn Kids.  Target has a few more budget-friendly options, like this Gifts Advent Calendar ($24.99) or Christmas Tree Advent Calendar($24.99).   You can also pick up a disposable, pre-filled calendars from LEGO ($29.99) or Playmobil ($18.99).  Each door opens to reveal a small toy that adds to the themed scene, kids can leave it as a set-up or play with the toys as they open them.
No matter what kind of calendar you choose, the kids will love getting a little surprise each day leading up to the big day!  The countdown is on!