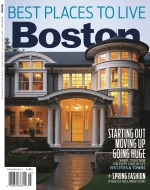 This year, three local towns were featured in Boston magazine's list of "Best Places to Live 2013".  Hingham was included in the list of recommended places for those "Going Huge" (people who looking for a town with great resources).  Duxbury and Milton were included in the list of recommended places for those "Moving Up" (people who looking for more space and great schools).  Check out the write ups form Boston Magazine's article:

HINGHAM
A sunny seaside hamlet for nautical-history buffs.
Median home price: $650,000
One-year change: +4.0%
Hingham beckons high-end buyers who crave antique homes and have the patience and  wherewithal for lengthy restoration projects. Nearly six years after the commuter rail went underground, the town center and old shipyard hum with vibrant street life, as pedestrians and window-shoppers shuttle between boutiques and restaurants. This long-time-coming transformation has birthed one of the most walkable communities outside of Boston (not bad for a city once known as Bare Cove). Meanwhile, Colonials and Victorians in Crow Point and World's End, two of the more-elite neighborhoods, go for upward of $2 million, offering choice period details and sweeping views of Boston Harbor. New construction is rare here (the town is considered built out, though 57 percent is undeveloped), with the exception being the exclusive Black Rock Country Club, where developers are erecting McMansions on secluded sites overlooking the links.
DUXBURY
In this South Shore town, it's all about oysters, orchestras, and overachievers.
Median home price: $542,250
One-year change: +4.3%
Duxbury—home of Island Creek Oysters—is certainly taken with the sea, but the town has, admirably, focused its recent improvements away from the shore. Residents, for instance, voted in 2011 to build a new middle and high school complex, a $125 million project that's scheduled to open for the 2014 term. Moreover, the school committee has pledged a computer for every student by 2015. Summer vacation, meanwhile, involves a number of cultural offerings, including the Duxbury Music Festival, in which students and renowned musicians work together during two weeks of classical music instruction and performances (some of them in private homes). But did we mention that the ocean is big here? Residents are treated to 37 miles of coastline, and yes, they get preferred parking.
MILTON
Paris on the Neponset?
Median home price: $450,000
One-year change: +1.1%
Okay, so Milton isn't actually as cosmopolitan as the City of Lights, but it does have a few European qualities. Consider the popular French-immersion program, which students start in the first grade. The most happening area in town right now, Milton Village, is situated near the "high speed" (hey, it was built in 1929) trolley that connects to the Red Line. The neighborhood has come into its own, complete with the terrific sandwich shop the Plate (which turns a year old this month) and a serious new eatery in Chris Parsons's Steel & Rye. One look at meticulously landscaped neighborhoods like Emerson Woods, Indian Cliff, and Loew Estates has buyers saying oui, oui.