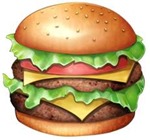 Head on down to The Green at The Pinehills in Plymouth on Saturday, June 1st for their Burger Showdown on The Green from noon to 2pm.  For a $5 donation to the OneFund Boston, attendees can try four burgers and vote for their favorite! 
Three of the burgers will be created The Market chefs from recipes sent in and then chosen as "the best" by radio stations WBOS, WKLB and WROR.  The fourth burger will be an "alternative" burger created by The Market in partnership with Jordan Hospital (a turkey or veggie choice).  The winning burger creator will receive a special Butcher's Bundle of top meats and poultry ($100 value) as well as a gift card to The Market and special prizes from the radio stations.
Radio station personalities Lauren Beckham Falcone (WROR); Hank Morse (WKLB) and Jason Rossi (WBOS) will be in attendance at the Burger Showdown to meet fans and eat burgers.
May the Best Burger Win!