I love ice cream.  I am an ice cream fanatic.  In a bowl or a cone, toppings or plain, it's my go-to dessert.  I hoard my favorite flavors in the back of the freezer, behind the frozen veggies, so the kids won't see.  I may have a problem.
I'm always up for trying new flavors and brands (one cannot live on Breyers alone).  So when I was contacted about trying Batch, a new brand of ice cream, I was all over it.  Add that Batch is made from scratch, using real, locally sourced ingredients, (you won't find things like guar gum, carrageenan, xanthan gum, mono-diglycerides, or corn syrup here), and I was sold!
Batch is available in seven yummy flavors, (Chocolate, Salted Caramel, Cinnamon & Chocolate Bits, Vanilla Bean, Mocha Chip, Ginger and Green Tea), and is currently being sold in Massachusetts, Maine, Connecticut and Rhode Island. (Find the complete list of locations here).  It was hard to choose, but I picked up Salted Caramel and Mocha Chip at my local Stop & Shop and headed home for a taste test!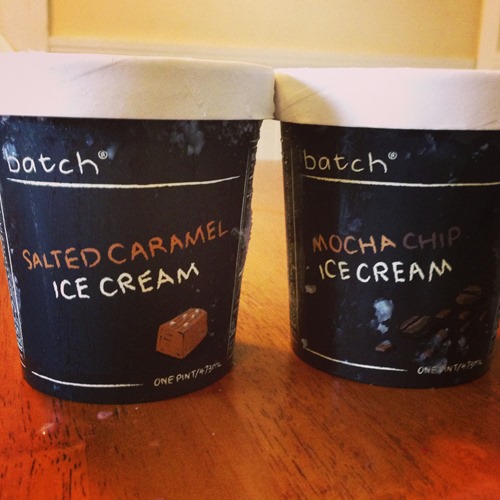 Salted Caramel was love at first bite.  I could have eaten the whole thing in one sitting, but I exercised some restraint.  Made by hand using sea salt and butter from Maine, it's super creamy, and has the perfect combination of sweet and salty.  I would buy it again in a heartbeat.  Mocha chip, a mixture of coffee and chocolate, had good flavor, but I would have preferred larger chocolate chunks to the small chips that were sprinkled throughout.  I enjoyed it, but would probably pick another flavor to try before going back for seconds on this one.  Overall, I thought Batch had an excellent fresh and natural taste, two thumbs up!
Pints of Batch are a bit pricey, ($5.99), but here, taste trumps price tag, at least for the caramel flavor.  I'm looking forward to trying Cinnamon & Chocolate bits next!
This summer, Batch has their promotional ice cream truck traveling around the South Shore!  Catch the truck at these events (more dates to come):
Read more about Batch at their website, and be sure to follow them on Facebook and Twitter!
Have you tried Batch?  Comment and let us know what you think!