By Joe Laing, El Monte RV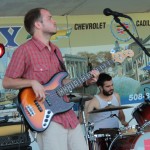 Although summer music festivals seem to get into high gear earlier and earlier each year, it is not too late to travel throughout New England landscapes to enjoy your favorite music. Your taste in music may be classic rock, indie music or country. No matter. You will find music fests that will cater to your every whim. 
Between July 19 and the 21st you can make your way to Plymouth, Mass. for the Plymouth Independent Music Festival. This is a three-day celebration of indie music and it is all free! With three stages, you can spend the whole weekend enjoying the songs and bands without stop. Hear the Risky Business Band, Jumpstart, or the Big Lonesome. This is the epitome of South Shore music!
Of course, traveling up to Greenfield is also an option as from 20 to 21 July there will be the Green River Festival to entertain you. At the Greenfield Community College, you'll find great food, dancing and one of the best things of all – hot air balloon rides. You won't find this at any other music festival! Three stages offer you a wide variety of music. This huge outdoor event is definitely a must-visit!
You may want to venture all the way to Connecticut to see the Gathering of the Vibes Music Festival between 25 and 28 July. The music to hear is that of Fishbone, John Scofield, the Black Crowes, John Medeski, Joe Russo and many more. Bridgeport is not that far away and is definitely worth the ride. Past artists included Crosby, Stills and Nash, the Allman Brothers, the Grateful Dead and Bruce Hornsby. You can bet the current artists will meet high standards.
If you plan your travels correctly, you can make it to the Newport Folkfest between August 26th and the 28th for a day or so and experience four different stages of incredible music talent. Food and crafts are just an added bonus. Fort Adams State Park in Newport, Rhode Island offers a wonderful landscape in which to hold this festival. Let John McCauley enthrall you with his entertaining soul, and listen to the Mountain Goats as they turn out short but powerful songs. Park in town and take the ferry to the Fort. It will be the time of your life!
Can't get away to Rhode Island? You can always make your way to Turners Falls, MA to attend the Upper Valley Music Festival on the 27th of July. A diverse selection of music is yours here, with the Celtic Heels Irish Dancers, Carrie Ferguson Band and Gaslight Tinkers.
Make time on August 3rd to go to Cape Cod and visit the Naukabout Music Festival. This is the sixth year of such fun, and the music, food and art come together to make it a true celebration of summer. This is a beer festival as well as a music festival, so adults will definitely want to join in this party. The music on this bright Saturday at the Barnstable County Fair Grounds includes the Baker Thomas Band, the Van Gordon Martin Band, the Adam Ezra Group and Tall Heights. There will be many more entertainers – and delicious oysters will be served all day.
Another option, and one of the best in New England, is the Newport Jazz Festival from August 2nd to the 4th. Some great celebrities are going to be here, such as Natalie Cole, Chick Corea and the Vigil with Christian McBride, and Paquito D'Rivera directing the Dizzy Gillespie™ Big Band. Herbie Hancock is even going to be a special guest. You can't pass this up no matter what.
Take a short break from music to catch up on earthly matters then make your way to Goshen, Connecticut for the Litchfield Jazz Festival. The Goshen Fairgrounds is the spot where this amazing festival will be held from August 9 to 11. Grammy nominated vocalist Gregory Porter will perform as well as Eddie Palmieri Latin Jazz Band, the Chet Baker Project with June Bisantz, and many, many more!
Traveling around New England taking in all the music festivals can turn out to be a yearly tradition. It is such fun to experience different kinds of music and watch as artists are born. These are only some of the festivals throughout New England this summer. Many more are available into September. Plan out your summer to catch as many as you can. You will never regret it.
[symple_divider style="solid" margin_top="20px" margin_bottom="20px"]
About the Author
Joe Laing is the Marketing Director for El Monte RV, your nationwide source for RV rentals. El Monte RV also sells used motor homes through eight different locations across the United States. For more information on purchasing a used motor home see http://www.elmontervsales.com/home/.
[symple_divider style="solid" margin_top="20px" margin_bottom="20px"]