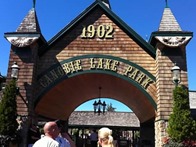 While Canobie Lake Park was a lot of fun when I was a kid, visiting it as a mom is almost better.  Whether it's giggling with my 5-year-old on the teacups, or watching with pride as my 4th grader conquers his nerves and braves the Corkscrew Coaster, the memories we make at Canobie give it a place at the top of our Summer Bucket List each year.  
The park has changed and yet somehow stayed the same as it was when I was 10.  The classic rides are still there (Yankee Cannonball Roller Coaster, Pirata, the Mine of Lost Souls, to name a few), with some thrilling new additions, like the newest ride, Equinox, which looks absolutely insane.
The park is very clean and well manicured, with a great mix of coasters and flat rides.  Our kids LOVED The Boston Tea Party, a short but very wet boat ride.  The colossal wave created on splashdown soaks anyone walking by.  It's almost as fun to be a spectator as it is to be on the ride!

Untamed is Canobie's newest roller coaster.  The pictures just don't do it justice.  Check out a video of the ride here.

Have small children in your group?  There is plenty for the little ones to do too.  Head over to Kiddie Land (conveniently located near a huge bathroom facility).  This area is packed with cars, boats, planes and other fun vehicles that travel fast enough to be fun, but not scary, for the little ones.  Many of these rides have a 48" max height. so it's the big kids turn to watch and wave.  Pint sized rides are also sprinkled throughout the park, so you can easily split your group for some of the "big" rides without having to walk too far away.  Keep that map handy!

Food & Drink
Outside food is not allowed in the park, so you will need to rely on the various in-park food vendors for your lunch and dinner plans, or take advantage of Canobie's re-admission policy and head back to your car to eat (no tables are available, you'll need to rough it).  We have been to the Be Bop Diner and Gables Grill in the past for burgers and chicken fingers, but were happiest this past trip with our dinner at the Sons of Liberty Tavern.  The wraps were delicious!
Admission
General admission includes access to all rides and live performances.  Cost is $35 per person, seniors and those measuring under 48" pay $26, and children under 3 are free.  On days when the park is only open until 4pm, everyone pays $25.  You can find discount coupons for $4 off admission at your local Rite Aid, McDonald's, Tedeschis and Market Basket.  These coupons are good Monday through Friday, from June 19 to August 30, 2013.
Hours
Hours of operation vary by date.  Click here to see Canobie's full schedule, you don't want to show up at 2 on a day the park closes at 4!  Starting in September, the park is only open for limited days per week, and Screeemfest arrives in October!
Find directions to the park here.  We hope you love Canobie as much as we do!