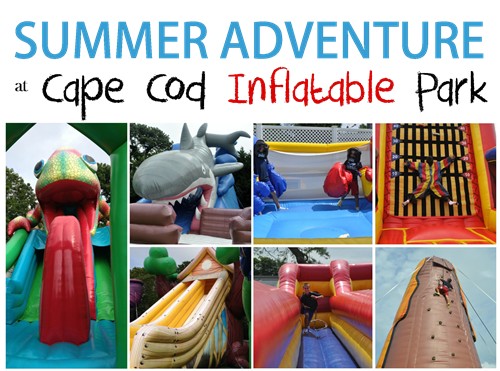 Last week, during our family vacation down the Cape, we visited the Cape Cod Inflatable Park.  Besides the beach, it was one of the highlight of our vacation, according to the kids.  They spent almost 5 hours sliding, jumping, climbing, and laughing.  It's a must see if you're near Yarmouth!
The park, located on Route 28 in West Yarmouth, is open from 10am-10pm.  Admission is $29 per rider (toddlers under 38″ are $15).  The park has a summer evening rate of $17 per person ($12 for toddlers), good after 6pm for dry rides only.  If you grab a Kids on the Cape book (found at many shops and restaurants down the Cape), you will find coupons for $1 off admission.
Inside the park you will find a combination of wet and dry inflatable attractions.  The "dry" side includes a velcro wall, a boxing ring, ride on bull, rock climbing, jousting, basketball and more, plus loads of slides in all sizes.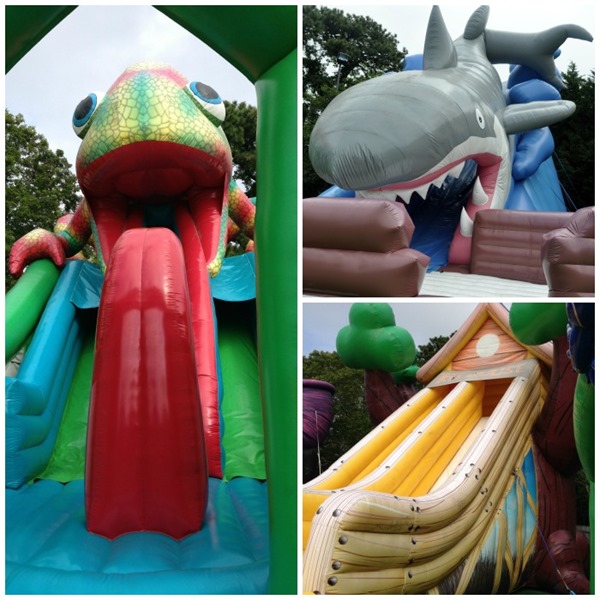 We were at the park on an overcast, but warm day on the Cape.  While the chairs and tables were occupied (we arrived around 11:30), the kids only ran into lines on a few of the attractions.  They were able to go on everything they wanted to, in most cases multiple times.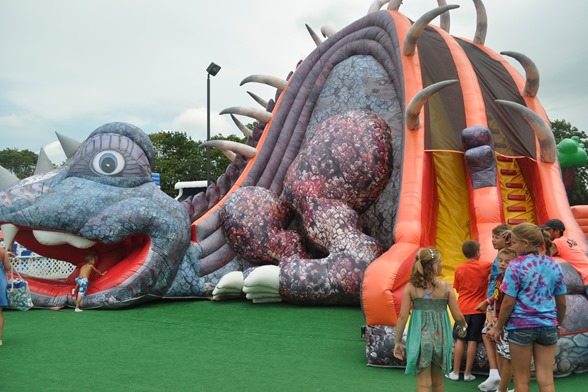 Be sure to bring your camera.  You'll get some funny shots, and will definitely have lots of smiling faces!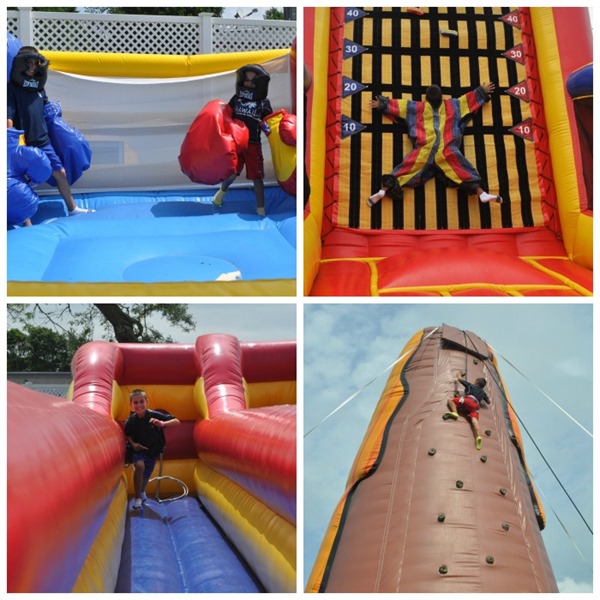 The wet side boasts an assortment of water slides, including a this giant.  My 9-year-old claims he went on it 55 times.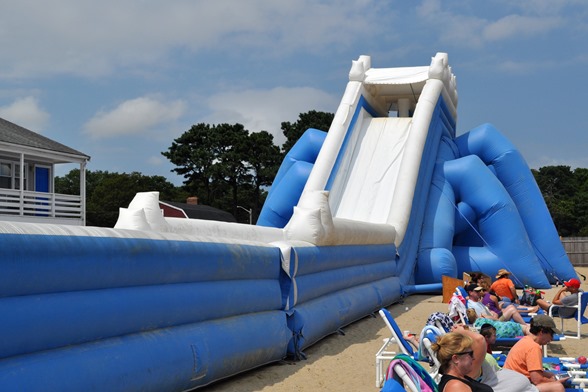 There are inflatables for smaller kids as well, including smaller scale jumpies and water slides, although my 5-year-old went on absolutely everything!
There is a foot stand on site, and coolers are also allowed.  Although tables and chairs are scattered throughout the park, they are snagged pretty quickly.  (We were able to get lounge chairs by the water slides and relax for a bit).  Socks are required in the dry section, but if you forget to bring  your own, you can purchase some for $1 per pair.
Bathroom facilities are available.  Also on site is an arcade and small gift shop.
All in all, we give the park two thumbs up.  We will definitely revisit on our next trip to the Cape!
UPDATED WITH PHOTOS FROM 2016:
We stopped by the park in August 2016 and were pleased to see some updates!  Seating has now been expanded to include cabanas for rent – individual tents that offer shade as well as drink service.  New inflatables have been added to both the wet and dry areas, (and some have been retired).