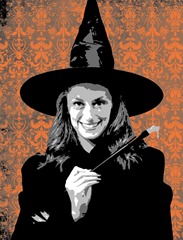 South Shore Art Center will hold its third annual "Witches' Ball" celebration on Saturday, October 26 at 7:30 pm at the River Club in Scituate. The event features fabulous food, entertainment, fortune telling, and an auction of art, gifts, services and more! Donations to the auction are still being sought; call the Art Center if you are interested in contributing to the Witches' Auction.
Guests are encouraged to dress creatively for the event—perhaps a favorite artist or painting, a witch or warlock, a politician or a construction worker—all are welcome! There will be prizes for best and most creative costumes.
Tickets for The Witches' Ball, at the River Club are $75 for Art Center members and $85 for non-members. Tickets must be purchased in advance. All proceeds support the exhibitions and education programs of South Shore Art Center. To purchase tickets, visit www.ssac.org or contact the Art Center at 781-383-2787.