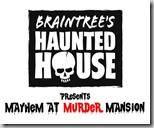 The Braintree Haunted House has been entertaining local kids (and adults) for the past 33 years.  This tradition is a joint fundraiser for two local school PTOs; Highlands Elementary School and Liberty Elementary School.  The Haunted House is entirely built, designed and run by volunteers, and all profits go to the two elementary school PTOs.  Each year features a different theme (Alice in Wonderland, Karnevel of Karnij, and Haunted Hospital to name a few).  This year, Braintree will be the home of Mayhem at Murder Mansion! 
You can find the Braintree Haunted House at 26 Plain Street in Braintree (a couple of doors down from the Braintree Registry of Motor Vehicles office), from Thursday, October 24th through Saturday, October 26th.
Thursday (10/24) from 6-8:30pm is a "Not So Scary Night".  This is a lights on, no strobes, low music, partial costumes (actors do not wear masks) event geared to smaller children or those that scare easily.  The crew drapes over or (or doesn't put out) any decorations that might be too scary.  Admission this night is $5.00 per person (cash only).  There is also food for purchase and games to play.
Friday (10/25) and Saturday (10/26), the Haunted House is open from 6-10pm for "Full Fright" nights.  Here the lights are off, strobe lights are used in some rooms, actors wear full costumes and some of the scarier "things" come out.  The admission for this night is $7.00 a person (cash only).  There is also have food and games for purchase these nights.
For full event details, visit www.braintreeshauntedhouse.com.  You can find the Braintree Haunted House on Facebook too!
Here is a sneak peak at this year's display:
The (spooky) entrance is taking shape
One of the servants (Justin Casanova) in the dining room of the haunted house.  Justin is also one of Haunted House co-chairs.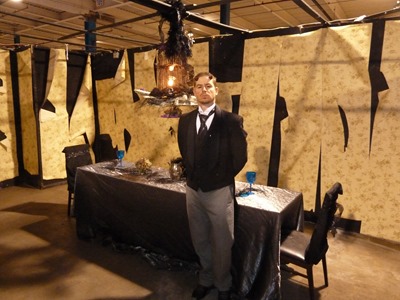 Some of the dungeon decorations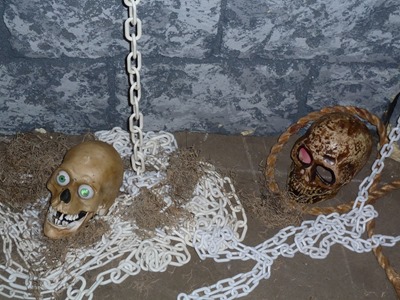 One of the props, an electric chair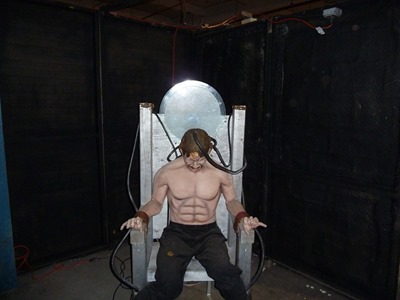 Happy Halloween!