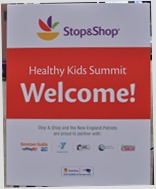 On Tuesday, October 22nd, Stop and Shop and the New England Patriots got together at the 2013 Healthy Kids Summit to talk to kids about the importance of health, nutrition, and exercise.  About 300 children arrived at Gillette Stadium for an afternoon of football fun, including playing on the field with members of the Patriots, a serious treat for these young fans! 
The afternoon started with Q&A session with a panel of experts, including Devin McCourty (defensive back for the New England Patriots, Julie Menounos (MS, RD, LDN, Stop & Shop's in-store nutritionist), Caitlin Gibbs (Director of Association Health Innovation, Hockomock YMCA), and Dr. Brian Patel (Associate Chief of the Emergency Care Center (ECC) at Sturdy Memorial Hospital).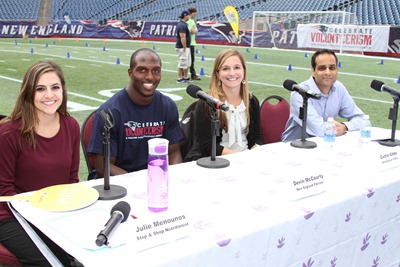 Panelists from left to right: Julie Menounos, Devin McCourty, Caitlin Gibbs, Dr. Brian Patel
Each child was given a True/False paddle as they entered the event, and during the panel discussion the crowd was encouraged to answer a series of trivia questions from Julie Menounos on topics like healthy eating habits, sleeping, and exercise.  Julie and the other panelists also gave advice and suggestions on how to make healthy decisions day to day.  The crowd loved hearing what Devon eats for breakfast, and what his favorite veggie is!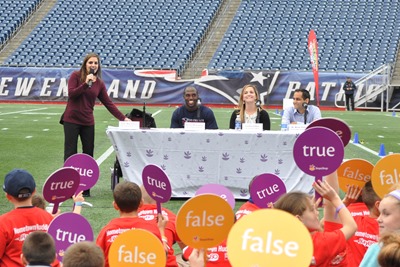 Pat the Patriot was on hand to dish out some high fives to the crowd.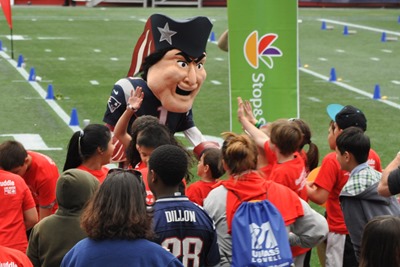 After the panel discussion was over, it was time for some football fun!  A number of Patriots players were on hand to run some drills on the field with the (very excited) kids.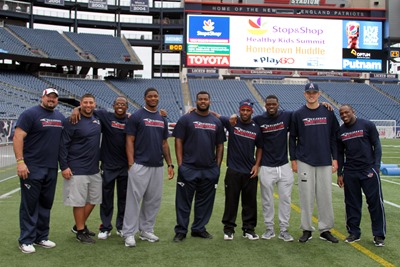 Players from left to right:  Joe Andruzzi, Joe Vellano, Matthew Slater, Jamie Collins, Marcus Forston, Fonzie Dennard, Kenbrell Thompkins, Ryan Mallett & Kanorris Davis
To start off, former Patriot Joe Andruzzi led the kids in a series of warm ups.  The kids were then broken up into smaller groups to run through skills at various stations across the field.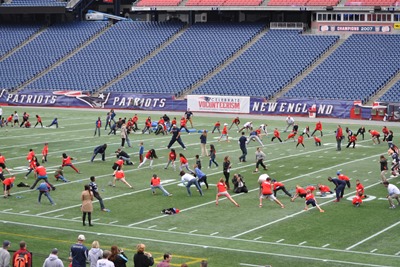 Each station was manned by a different Patriot player.  There were smiles all around as the kids got to run, throw, kick, jump rope and more with their football idols.
All in all it was a unique experience for these lucky kids that surely left an impression.
*  *  *
Here are some great tips from Julie on promoting a healthy lifestyle with your family:
#1 Eat breakfast every day. According to the American Dietetic Association, children who eat breakfast perform better in the classroom and on the playground, with better concentration, problem-solving skills, and eye-hand coordination. For a quick breakfast burrito, spread peanut butter on a whole wheat tortilla wrap and roll a banana into it. Wash it down with a cup of milk for a balanced breakfast.
#2 Offer at least one fruit or vegetable at meals and snacks.  MyPlate recommends filling half of our plate with fruit and non-starchy vegetables (all expect for peas, corn and potatoes). Serve or mix fruit and vegetables into family favorites- add fruit into breakfast cereal and shredded veggies into pasta. Remember- it takes 10-15 exposures of a new food for your child to develop a taste for it!
#3 Cut back on sugary drinks by offering water or milk at meals. The healthiest beverages are water, milk or 1, 4-ounce serving of 100% fruit juice daily. If looking for a bubbly beverage alternative, try flavored seltzer water or mix a splash of your child's favorite 100% fruit juice into plain seltzer water.
#4 Show your kids how to check the "serving size" on the Nutrition Facts Label. It's never too early to start reading food labels. Teach your child to check the serving size before eating a packaged food (think cereal, crackers, soup). Many packages often contain more than one serving so you have to multiply the numbers for calories, sodium and sugar, by the number of servings you eat.
#5 Be a good role model.  If you want your child to eat your veggies, then you have to eat them too. Children are very receptive verbal and nonverbal expressions. So if you stick your tongue out at broccoli, it is likely that you child will too. You don't have to be perfect all the time, but if your child sees you eating right and exercising, it sends the message that good health is important to your family. Developing healthy habits early makes it that much easier to stay healthy as an adult!