Guest Post from Kate Voss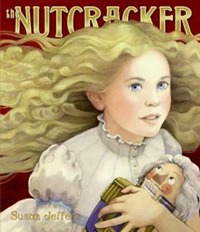 No one can argue the fact that the holidays are an amazing time of year. Family, friends, and loved ones come together to celebrate Christmas and enjoy each other's company. On top of that, the kids get a break from school! While this is great for family bonding, with the cold weather in full force, it can often lead to hours of mindlessly sitting in front of the television watching cartoons. All parents would like their kids to read more, but it can be a battle competing with the Disney Channel. So finding them a topic book, like one about the holidays, is the perfect solution to draw on their excitement for Santa's arrival. It also helps that most of the books selected have been transformed into movies, which can serve as a family reward after the kids have finished reading it! 
1. The Night Before Christmas by Clement Clarke Moore
Since it was first published in 1949, the book has become a favorite to multiple generations. It gives parents a great opportunity to share something with their child that they enjoyed when they were children. Entice kids by explaining that Grandma and Grandpa used to read this very same story to you when you were small, though you won't need to do much as this classic poem tends to keep kids enthralled from the very first time they hear it.
2. How the Grinch Stole Christmas! by Dr. Seuss
Another book that is still being passed down from generation to generation is Dr. Seuss's famous tale of the Grinch and his attempt to ruin Christmas for the Whos of Whoville. Like all Dr. Seuss books, it features his signature minimalist illustrations as well as expertly rhymed phrases. This one is a sure crowd-pleaser for children (and adults!) of any age. The accompanying movie is an awe-inspiring feat of makeup, prosthetics, set design, and special effects. With familiar faces like Jim Carrey, Christine Baranski, Molly Shannon, and Jeffrey Tambor, chances are you'll be as entertained as your child. Also look for some stage versions of it to pop up in nearby communities during the holiday season.
3. The Polar Express by Chris Van Allsburg
South Shore Mamas has talked about The Polar Express in the past, but it definitely deserves another shout out. The book is a relatively new holiday classic that continues to secure itself a place on bestseller lists every December, and for good reason. Its unique blend of fantasy, a creative plot, and exceptional illustrations of a wintery wonderland make The Polar Express a truly fun book to read, no matter your age. The 2005 film adaptation take the images one step further through CGI and produces remarkable results as well, with some of the most interesting and unique animation ever used for a feature film. You can even find it on demand right now via DirecTV or Netflix, so there's no worrying about trying to buy a hard copy either.
4. Rudolph the Red-Nosed Reindeer by Rick Bunsen
We all know the classic story and song, but this book is still a wonderful addition for children because it teaches them the benefits of being unique. By following Rudolph's struggle to find acceptance they can also learn, like the other reindeer did, that one person's "flaw" can turn out to be their greatest strength! The 1964 film adaptation is a nice throwback to the stop action films of yesteryear as well, and continues to be a Christmas staple for parents who want to relive their own holiday memories.
5. The Nutcracker by Susan Jeffers
The chances of getting a small child to sit through a performance of The Nutcracker ballet are pretty slim, but it's still a wonderful story to share. Susan Jeffers' book is a fantastic literary interpretation of the famous ballet, bringing the whole story of Clara, Drosselmeyer, and the Nutcracker Prince to life in a format that's perfect for shorter attention spans. The book also strikes the perfect balance between text and images, as only a few lines accompany each detailed picture, making it a less daunting read for younger children.
[symple_divider style="solid" margin_top="20px" margin_bottom="20px"]
About the Author:  Kate Voss is an entertainment writer from Chicago, whose favorite Christmas classics are Home Alone and The Polar Express.   Follow her on Twitter at @Kateevoss!