Whether you work full-time or part-time, whether you stay at home or commute, keeping your life organized can be the key to your sanity.  Balancing everything that goes on in your busy household can be tricky as well as frustrating.  To help you out, we've gathered together our favorite organizational tools from around the web.   We've got planners, wall organizers, fun printables, and even apps for your mobile device that will help calm the chaos and keep you motivated.  It's time to get organized!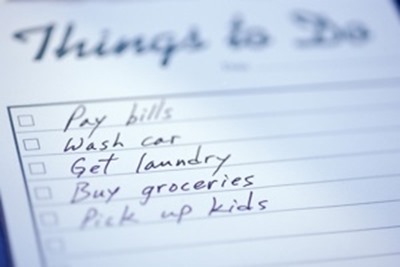 Hand Held Organizers
If you are looking for a physical organizer, and (like me) get a certain satisfaction from crossing off items from an actual to do list, then you make love one of these planners.
Erin Condren Life Planner ($50) – These life planners have it all, and they're pretty to look at too!  Keep track of your busy schedule with the monthly pages, or drill down to the weekly spreads that include a handy goal planning column and space for meal planning.  We love the birthday/anniversary section, handy pockets, inspirational quotes and so much more.  Eric Condren Design offers many other organizational products as well, check them all out at www.erincondren.com.
Mom Agenda – While Mom Agenda offers many products to keep you organized, our favorites are the Kitchen Folio  and the All-in-One Folio.  The Kitchen Folio ($26) is perfect for holding your most important info close by, with space for school schedules, class lists, sport schedules, take out menus, important phone numbers, and more.  The All-in-One Folio ($48) takes the Kitchen Folio's features, and adds a monthly calendar and space for notes and planning.
Printable Planning Sheets
If you like the thought of a physical planner, but don't need all of the extras included in some systems, the flexibility of online printables may be the way to go.  There are so many crafty and organization based blogs out there now, that there are tons or printable organizers to choose from, and many are free!  You can pick and choose the types of organization you want, (meal planning, chores list, family schedule), and only print what you need.  Here are some we liked:
Mommy Tracked offers lots of great printable organizing sheets.  Download worksheets for party planning, meal planning, to do lists, weekly calendars, baby schedules, babysitter sheets and more.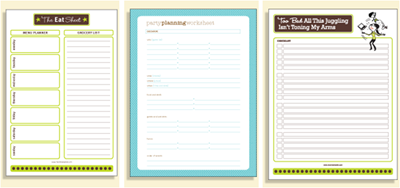 Organized Home has many, many free printables, perfect for a household notebook.  You can print daily planners, freezer tracking sheets, birthday party planners, even a picnic checklist!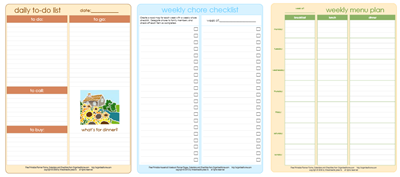 The Harmonized House Project offers editable PDF templates for everything you need to create your own family planner, and get your home organized.
Online Planning
If you tend toward the tech world, and like to use your various devices to keep you organized, check out these online tools and apps.
Fly Lady – Sign up to receive daily emails (FLYmail) with house cleaning and organizational tips.  Fly Lady is a free service.
Motivated Moms – This is an online daily chore planning system, available as an app for your mobile device (Apple, Google Play, Amazon).  Get the app for $.99/month or $7.99/year.
Home Routines  – Use this app to plan tasks, create daily and weekly routines, set goals, and review how much you're accomplished.  App costs $4.99.
Wall Planners
Do you need to keep track of papers and schedules where everyone in the family can see them?  Try a wall organizer or system.  You can buy a premade system, or customize one to fit your space!
Thirty one Wall Organizer ($45) – Keeping it all in one place, this organizer can hold your calendar, weekly menu plan, invites, and more.  Use pockets to keep school notices and home work at the ready, and post daily reminders on the included dry erase board.  Plus it comes in pretty colors!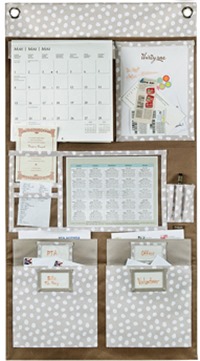 Pottery Barn Daily System ($12-69) – Pick and choose the components you need most (calendar, pinboard, chalkboard, letter bin, etc.), and the layout that works best for you.  Gives a polished look, but can be pricey when multiple pieces are bought.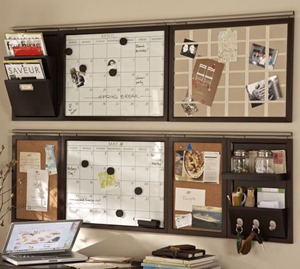 Create your own customized command center like this one from Style Oyster to create a space that works exactly how you need it, with your own style.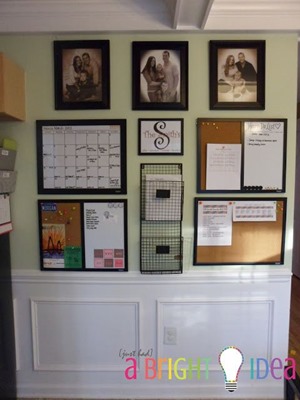 Now go get organized!