Want to eat free on your birthday?  Many local restaurants and retailers offer freebies on your birthday.  Enjoy benefits like free meals, desserts, drinks, movie rentals and more, just by signing up for an e-club or online newsletter.  Check out our list of 30+ local establishments offering kids and/or adult birthday perks!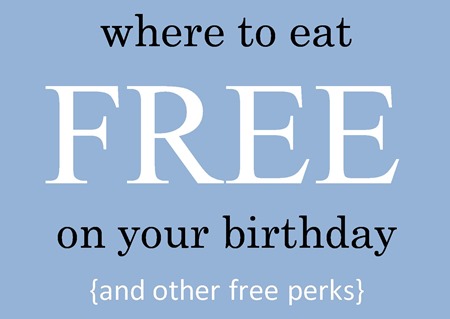 Auntie Anne's Pretzels – Free birthday pretzel when you sign up for Pretzel Perks
Barnes & Noble – Kids get a free cupcake from the cafe on their birthday
Baskin Robbins– Free scoop of ice cream for members of the Birthday Club
Bertucci's – Free birthday cake when you sign up here.
Breugger's Bagels – Free birthday bagel & cream cheese
Burger King – Register kids for the BK Kids  Club and get a free kids meal on their birthday
Carvel – Join Fudgie Fanatics to get free birthday ice cream
Cheese Boy – Free birthday sandwich when you sign up for a Cheeseboy Rewards Card
Chili's – Join Chili's email club and get a free brownie sundae on your birthday
Chuck E Cheese – Sign up for the Chuck E. Cheese Birthday Club and get free birthday tokens
Dairy Queen – Join the Blizzard Fan Club and get a free blizzard on your birthday
Denny's Restaurant – Free Grand Slam meal on your birthday
Dunkin' Donuts – Free medium beverage on your birthday when you join the DDPerks program
Friendly's – Join the BFF program and get a free Happy Ending Sundae on your birthday
IHOP – Get a free birthday meal on your birthday for joining the Pancake Revolution
Johnny Rockets – Sign up for the Rocket eClub and get a free hamburger, plus one on your birthday
Kmart – Join the Birthday Club to get free $5 Birthday Bucks  & Birthday Fun Pack each year
Longhorn Steakhouse – Join the Hospitality Club and get a free dessert on your birthday
Margaritas Restaurant – Join the Circle of Friends Club for a free $10 birthday gift
Ninety Nine Restaurant – Free birthday dessert when you join the Ninety Nine E-Club
Not Your Average Joe's – Free birthday entree when you sign up for the email club
Old Navy – Sign up to get a free gift on your birthday
Olive Garden – Free birthday dessert or appetizer when you sign up for the Olive Garden newsletter
Orange Julius – Free birthday drink when you join the Julius League
Panera Bread – Sign up for My Panera and get a free birthday pastry
Petco – Join the Pet Birthday Club free pet treat
Pinkberry – Join the Pinkcard program for a free birthday frozen yogurt
Qdoba – Get a free birthday burrito
Rainforest Cafe – $25 free birthday reward
Redbox – Free DVD movie rental
Red Lobster – Free appetizer when you join the club
Red Mango – Join Club Mango for a free $5 reward on your birthday
Red Robin  – Join the eclub and get a free burger on you birthday
Ruby Tuesday – Join the birthday club for a free birthday cupcake
Toys R Us – Join Geoffrey's Birthday Club and get a coupon each year on your birthday (up to age 10)
Uno Chicago Grill – Join the Insider's Club and get a free personal pizza on your birthday