by Rheney Williams
The next time you need a soft place for your feet while brushing your teeth or standing over the sink washing dishes, don't settle for anything less than a completely unique and customized item to suit your style.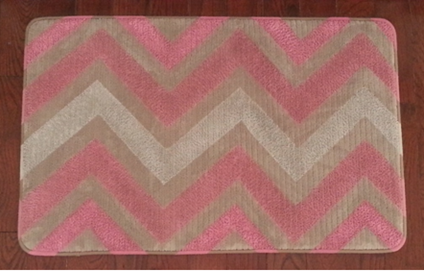 I'm in need of just such a floor covering myself! And I wanted something different than your run-of-the-mill area rug that, although perfectly acceptable in the 'function' department, is not exactly inspirational when it comes to 'form.' 
So I decided to make my own mat using coordinating shades of paint to complement my home's décor and stencil a pattern on this memory foam floor mat from Mohawk.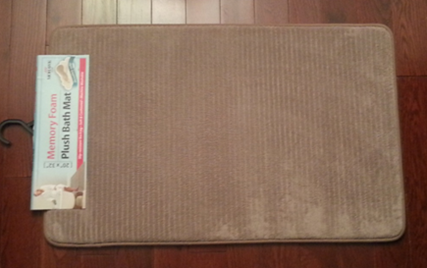 But because it's 'plush,' it presents a unique challenge in the stenciling department. Basically, when you're using a pre-cut stencil with an intricate pattern, you need a flat surface to make sure the stencil lies flush to the surface (to avoid paint seeping under and blurring the lines) and so that you can bring out the tiny detailed shapes that you simply can't highlight on a fluffy surface.
Fortunately, you can avoid this dilemma by creating your own pattern out of tape that doesn't rely on details for its artistic impact. Instead, you can make your mark through the design and colors you choose.
And I've been looking for an item to stencil with an abstract 'ombre' Chevron pattern and this plush mat fit the bill!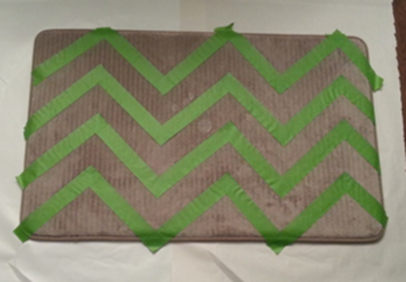 Using a barrier underlay to protect my hardwood floors from any paint seepage, I started by laying down strips of Frog tape in the shape of Chevron waves. I didn't measure the lines exactly and eyeballed the widths so that they appeared to be roughly uniform but not precise.
And by having the Chevron waves slightly off-center, you can create the illusion of movement across the mat, like you caught a picture of it mid-motion!
If you look closely, you'll see what I'm talking about with the stencil details on this type of mat – I painted those little white spots which would have been flowers that accompanied a Damask design but as you can see, they end up looking like blobs on this material. Fortunately, painter's tape makes this an easy fix!

I used a combination of Martha Stewart Craft's 'Wedding Cake' white acrylic paint and textile medium in a 2:1 ratio which created a thinned consistency that adheres to the plush fibers without leaving the paint hard and crunchy when it dries.
Using a stencil brush, I worked the paint into the mat a little at a time until the entire 'stencil' was filled in.

Next, I added more Wedding Cake white and textile medium together with 'Camellia Pink' and a touch of the somewhat darker shade 'Pink Dahlia' to create the custom color of the middle pink waves.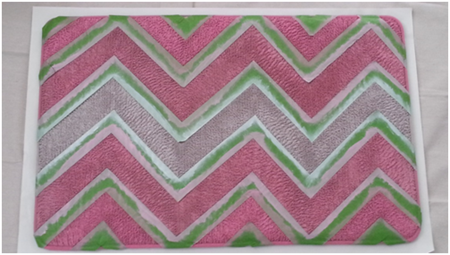 Finally, I wanted the pinks to be visually distinct yet still appear to be from the same 'family' so I reversed the mix of the 'Pink Dahlia' (heavier this time) and the 'Camellia Pink' (just a dab!) to create a much brighter pink than the sister waves next to it.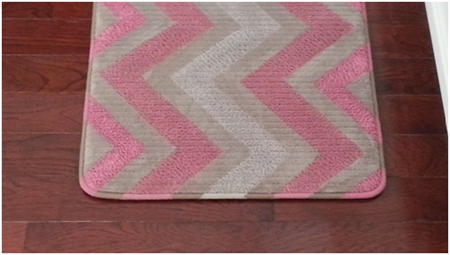 After the paint has dried for 24-48 hours, remove the tape and check out the effect you've created!
I made it a point to carry my colors over the edge of the mat to both highlight the color differences and also to continue the idea of 'capturing the waves mid-movement.' It looks like this little mat is a smaller segment of a much larger strip of pretty pink waves!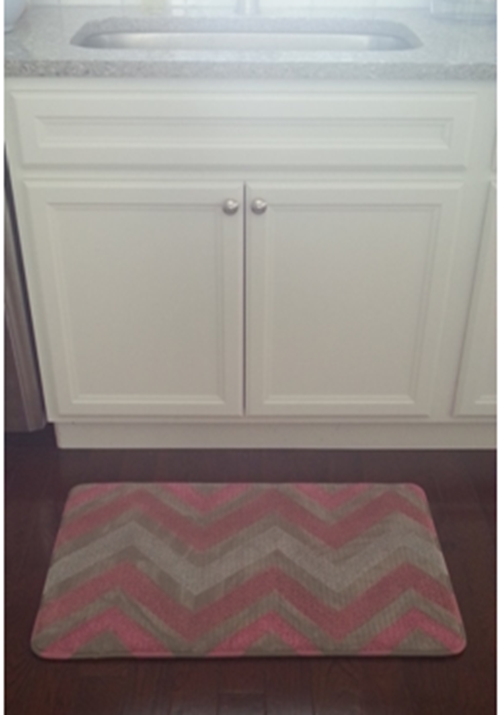 Once you've allowed the paint to dry for a few more days to ensure it's ready for feet, you can place it in its new home on your floors. And every time you stand on it at your sink or admire how it elevates the look of your bathroom tiles, you can remember how you made it yourself with nothing more than paint, tape and your creative imagination!
What types of designs are you painting on your next area rug or bath mat?
[symple_divider style="solid" margin_top="20px" margin_bottom="20px"]
Rheney Williams writes about her DIY home décor floor and area rug projects for The Home Depot. In addition to writing about her craft projects, Rheney has been staying busy updating her Charleston, S.C., home with all manner of custom Lowcountry touches. To visit Home Depot's area rugs page, click here.