Rainbow Toast is a fun and super simple St. Patrick's Day craft/snack combo.  All you need for this one is bread, milk and food coloring!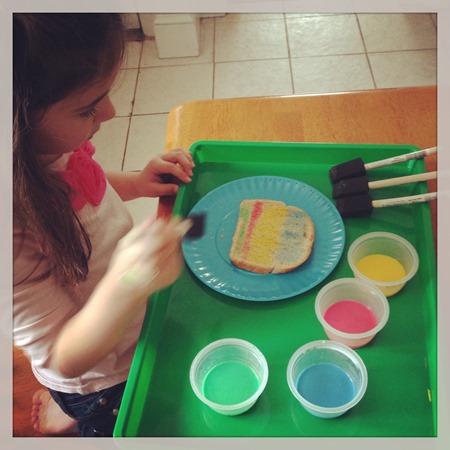 You will need:
Milk
Food coloring
Bread
New/clean paint brushes
Small bowls or cups
Start off by grabbing a tray or laying down some newspaper so that your table/work surface doesn't get colored along with the bread.
Put 1 to 2 Tablespoons of milk into each of your small bowls.  (We used empty applesauce containers that I recycle for painting projects like this).   Add a few drops of food coloring to each until and mix.  We stuck with the given blue/yellow/green/red that came with our food coloring pack, but you can get a little more creative and make a lovely purple or orange too if you like.
Let the kids be as creative as they want with their toast designs!  Rainbows, shamrocks, polka dots, it's all good.  When they're done, pop the bread in the toaster and serve!  Top with a little butter if you like.
Enjoy!