It's that time of year when you child's school or dance class is ready to share what they have been working on all year, but musicals, dance recitals, and band concerts are often a challenge to photograph.  Today the ladies of Ladybug Photography are sharing some tips every mom or dad can use to take better "on stage" photographs with their DSLR camera.  I can't wait to try these out at my son's upcoming 2nd grade spring concert!

REHEARSALS
Often there is a formal rehearsal or dress rehearsal. This is a perfect opportunity to photograph. You will be able locate in advance where your child will be on stage for the majority of the show. The volume of attendees tends to be  low and the rules are usually less strict so you may be able to leave your seat and  approach the stage for better shots.  Children are usually required to be stage ready so photos are often the same as they would be night of the real show.
The biggest problem with shooting a performance is the differences in lighting.  Where you are sitting in the audience it is dark, while the stage is lit with various types of light. You cannot put your camera on auto, it won't work! The use of a flash is forbidden so you must know how to use your DSLR in order to get the perfect shot.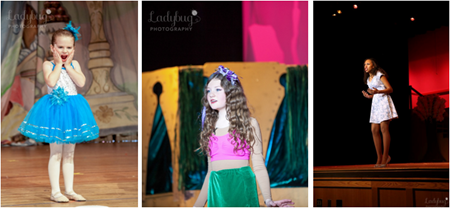 Understanding some basics will help South Shore Mamas readers get the perfect shot. The lighting at the actual event you attend will vary but using these simple guidelines will help you!
SETTINGS
Set your camera to manual mode (M on Canon and Nikon)
1. Bump up your ISO to make up for the very low lighting conditions. 1200-3200 DSLR cameras, especially full frame, allow you to take great shots in the higher ISO range without adding too much grain to your photos.
2. Lower your aperture. If I am shooting a soloist, and don't require a sharp depth of field, I shoot f2.8. If I am looking to incorporate background sets or various performers I bring the aperture up to f4 or f5.6.
3. Because most stage performances involve motion, set your shutter speed to 125 or 160 to avoid dreaded blur.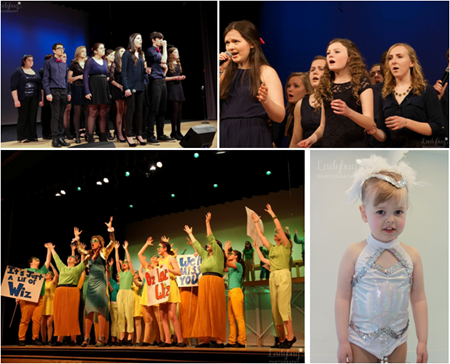 ADDITIONAL TIPS
* Make sure you have empty memory cards and extra charged camera batteries!
* Take some shots of your child in full costume outdoors or in normal lighting at home before they go on stage.
* Bring your camera into the lobby after the show to capture your child with friends/fans post show.
* Get to the show early, and wait in line for a good seat. You will want to be in the first third of the show's seating, depending on your lens length.
[symple_divider style="solid" margin_top="20px" margin_bottom="20px"]
Guest contributors Margaret and Natalie are the professional photographers behind Ladybug Photography in Plymouth, MA.  Through South Shore Mamas, they share ideas on photography for moms and dads looking to better capture those touching and fleeting moments of their families lives!  Read more posts from Ladybug HERE.
Margaret and Natalie work all over the South Shore, specializing in in family beach portraits, weddings, infants, corporate and special events.  Find Ladybug Photography on Facebook and Twitter, or visit their website for more beautiful photos!
[symple_divider style="solid" margin_top="20px" margin_bottom="20px"]