For the last 40 years, Rosie's Place has been has been providing meals and shelter to poor and homeless women in Boston.  Their mission is to "help women maintain their dignity, seek opportunity and find security in their lives".  Rosie's Place provides nutritious meals, groceries, short term housing, educational and employment services, medical services and more.   They do so much, it's amazing.  Read more about the great work going on here at their website.  (And keep reading this post to find out how you can help Rosie's Place and purchase the fab Mother's Day gift set below!).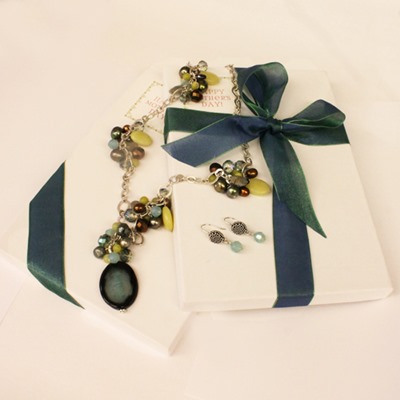 One of the most successful programs at Rosie's Place is their social enterprise, the Women's Craft Cooperative (WCC). Through introducing women to craft skills and the basics of merchandising, the cooperative aims to foster self-esteem and creativity, along with employable skills.  Their products are of the highest quality and not only make special gifts, but are a meaningful way to directly benefit the poor and homeless women at Rosie's Place.
Each year, the WCC creates a special Mother's Day product.  This year the WCC has created a one-of-a-kind necklace handcrafted from Labradorite gemstone beads, freshwater pearls, Swarovski crystals, glass beads, and featuring a beautiful oval blue agate dangling from the 32" chain.  For a tribute donation of $65, customers can send this limited edition Mother's Day necklace to their mother or special someone. For an additional $10, you can send a pair of matching earrings.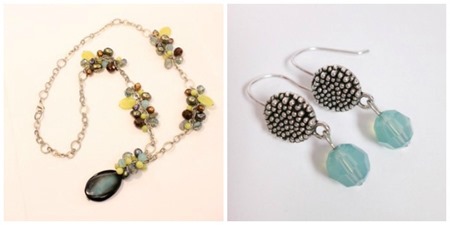 To order, click here!  Place your order by Wednesday, May 7th to guarantee delivery by Mother's Day, May 11th.   If you would like to make a tribute donation in honor of someone without sending a gift, please visit the tribute donation page.
Note:  Rosie's Place does not accept funding from the city, state, or federal government, or the United Way.  They rely solely on the enthusiasm of their volunteers and the generous support of individuals, foundations, and corporations.