Last week I had the pleasure of attending the media preview day at Legoland Discovery Center Boston.  The official open date is Friday, May 23rd, but we're giving you a sneak peek here on South Shore Mamas.  There is SO much to see, but we won't show you too much and spoil the surprise of finding out all the fun little details yourself.
Legoland Discover Center is a 44,000 square foot indoor attraction geared towards kids ages 3 to 10.  The center features two Lego rides, a 4D cinema, Miniland, multiple building areas, a play zone, a model builder academy, party rooms, and more.
The center is part of the new construction happening at Assembly Row in Somerville.   32 outlet stores, restaurants and attractions will begin opening in May, including J.Crew, LOFT Outlet, Converse, Brooks Brothers and Saks Fifth Avenue OFF 5th, with more stores to follow this summer and in the fall.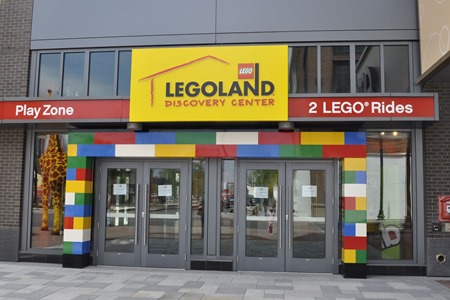 The entrance is clearly marked by a giant Lego giraffe named Tessie.   She's huge, and made entirely of Lego bricks.  (Notice my daughter craning her neck to see Tessie's full height).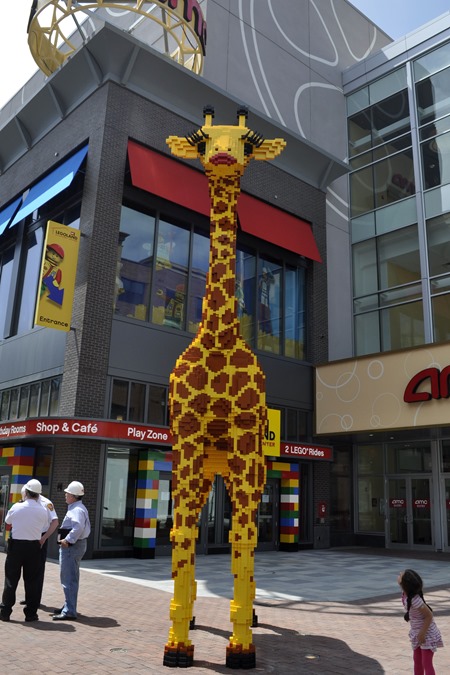 Walk inside and you'll find a Lego store area that is open to the public (no admission to the center needed to shop here).  The store features a pick-a-brick wall, and carries the usual variety of Lego sets, with a few other fun items mixed in, like stuffed animals, tumblers, water bottles, notebooks, and more.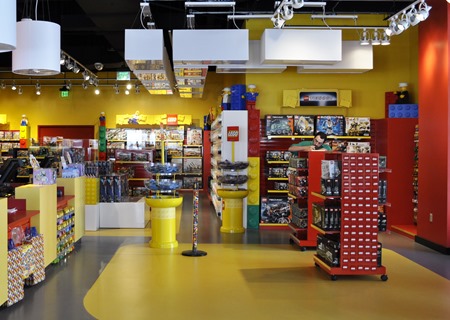 The lobby also offers two mini figure shaped wall building areas to keep little hands occupied while you wait.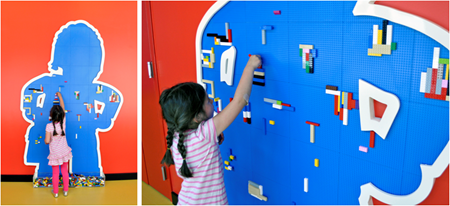 Everything is bright, fun, and well, awesome!  The place was pretty much empty when we were there, but there seemed to be enough space to accommodate a crowd/lines if needed.
To enter the center, you walk through this guy, and head on up the elevators!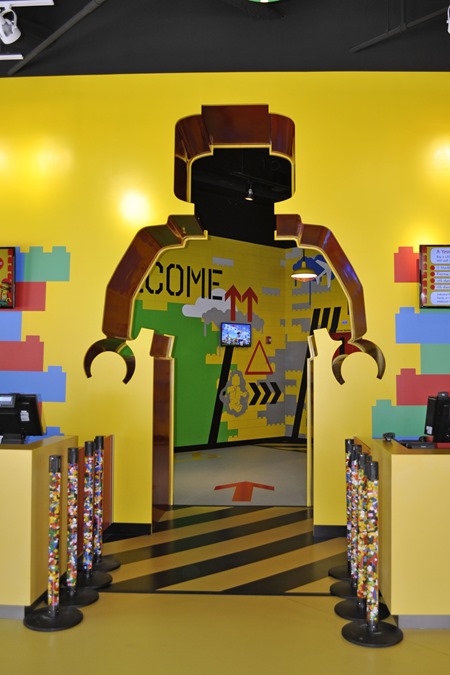 When you exit the elevators, you land in the Factory Tour area, where you wait in one of four color coded lines (that correspond four color coded consoles in the next room).   A video plays on overhead flat screen TV's to let you know what's happening next.
The factory isn't technically a tour per se, but an interactive video shown on four large screens.  Kids get to man the controls and create mini figures, try their hand at putting Lego paint on in the right order, as well as learning a bit about how bricks are made.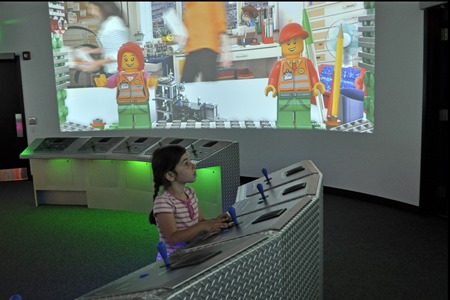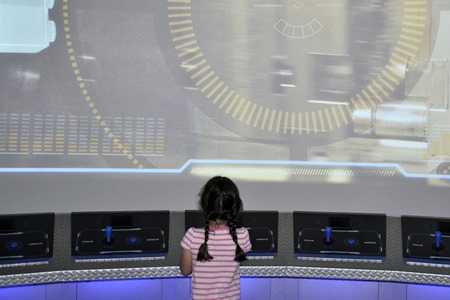 The next stop is Miniland, and it's incredible.   Mini land is full of beautifully constructed mini versions of Boston landmarks.  You'll find the Boston Garden, Zakim Bridge, the Prudential, the John Hancock Building, Faneuil Hall, Logan Airport, the Hatch Shell, City Hall, even the shops at Assembly Row with a mini version of the Legoland Discovery Center.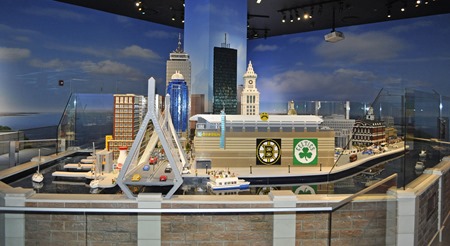 There is so much to see here.  We spent 45 minutes in this room alone, and could have stayed a lot longer.  The boats in the harbor float back and forth.  Cars and buses drive through the city streets.  The lights in the room cycle from "day" to "night" every 3 or 4 minutes.   At "night" there are fireworks in the sky.  It's so well done, no detail was left out.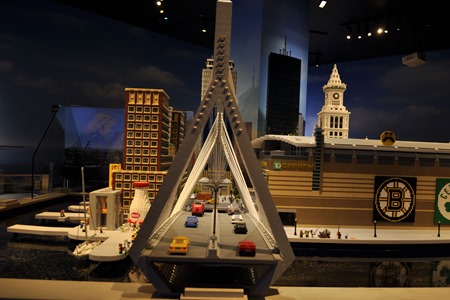 And, the models are interactive!  You will find buttons all over the room that kids can press to make the pieces within the displays move.  Below, my daughter is making the people mover inside the airport turn on, and the luggage truck drive in circles.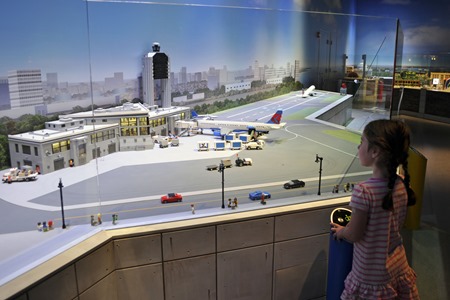 Keep your eyes open for buttons like this.  Not all of them are lit up, so look carefully.  Some even come with audio (Look for an underground version of Cheers that plays the classic theme song).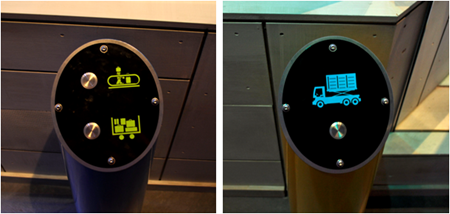 My daughter was excited to see the painted gas tank that we just saw on the drive in.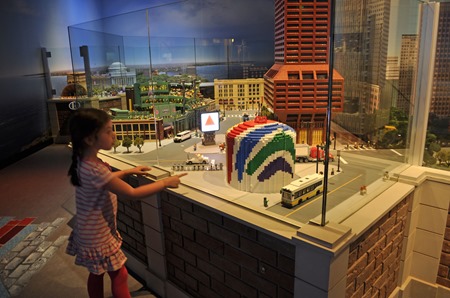 The model of Fenway Park is set up as a pinball game.  You can "pitch" the ball and "hit" it with the buttons below.  The game has an interactive scoreboard that records if you got a single, double, etc.  So fun!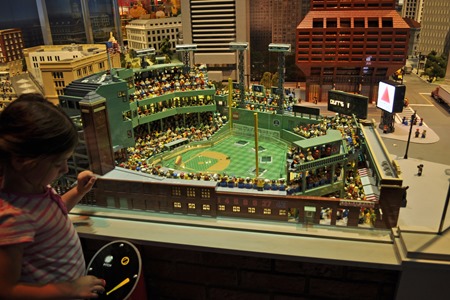 The details i all of the models are just amazing.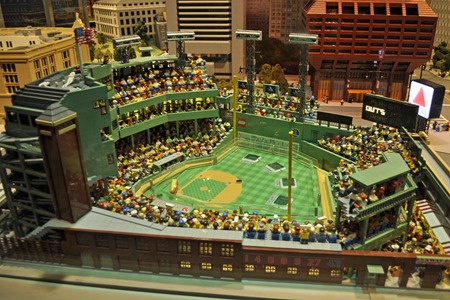 Some of the scenes change a bit as night falls too.  Here we see an accident scene in the street.  At night the lights flash on the emergency vehicles.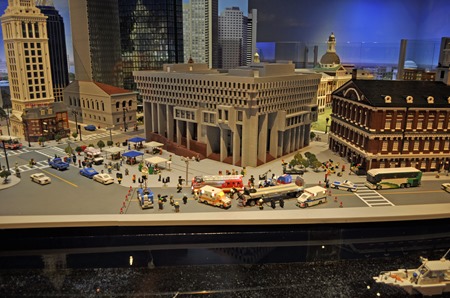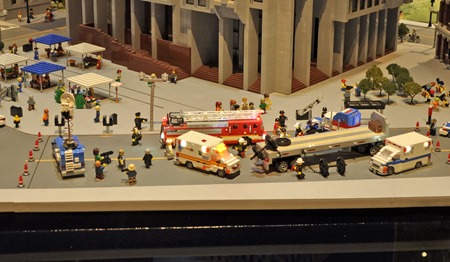 My daughter had fun racing the crew boats against each other.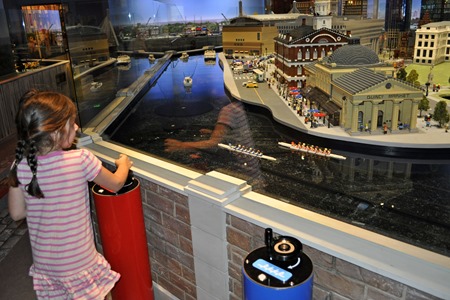 And spotting fun little underwater scenes placed throughout the room.   Look for the Boston Tea Party, it's cute!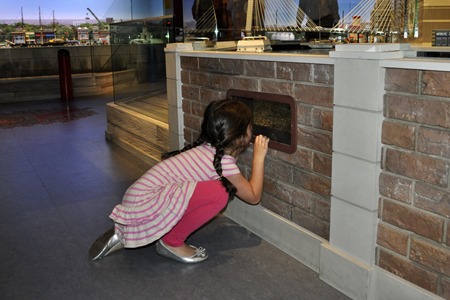 Once you're absorbed enough Miniland awesomeness, you can move onto the play area. One the way you'll pass Master Builder Ian Coffey's workshop, outfitted with every kind of Lego you can imagine.   Ian is in charge of maintaining the Miniland models, and running the Master Model Builder classes at the center.  Read more about Ian here.
  photo credit Legoland Discovery Center
The Discovery area is full of fun Lego themed touches .  Everywhere you look there are building opportunities, from wall mounted Lego base plates to bins of loose bricks that kids can get creative with.  Fun fact:  There are more than 3 million Lego bricks in this facility!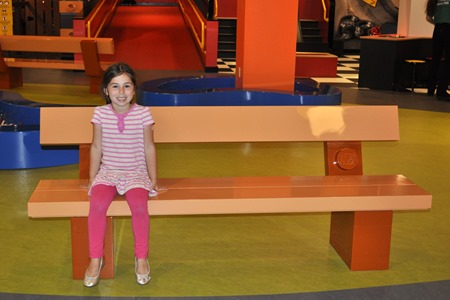 The Duplo Farm area is perfect for kids 1-5 years old.   My daughter loved seeing the giant versions of the little Duplo animals she has at home.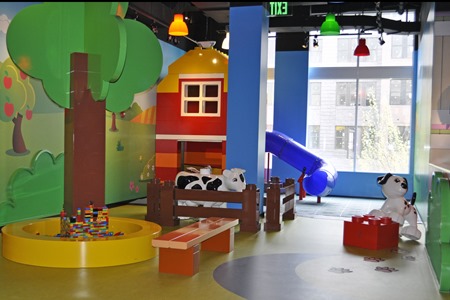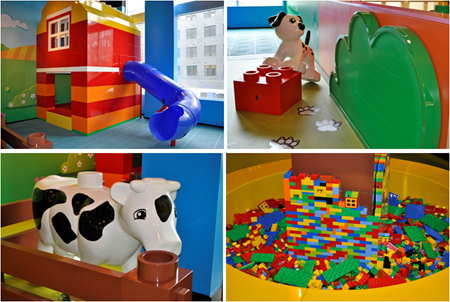 There is a whole section dedicated to the Lego Friends line.  Stay outside and play in the various build areas, or head on into Olivia's House and explore the kitchen area, or sing karaoke in the living room.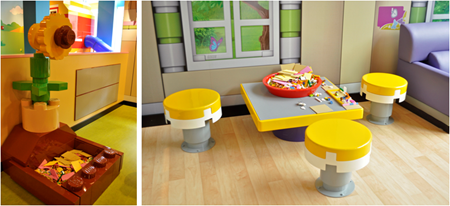 Kids can sing karaoke in the "living room" by choosing a song on the touch screen TV and singing into the microphone.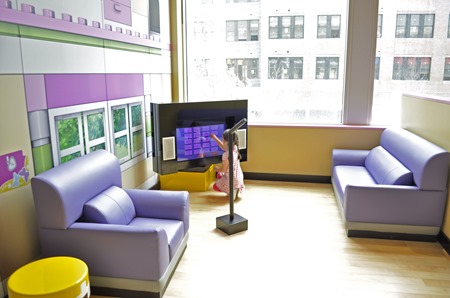 Right in the middle of the space is a fabulous Lego clock tower that puts on a fun little show when it chimes the hour.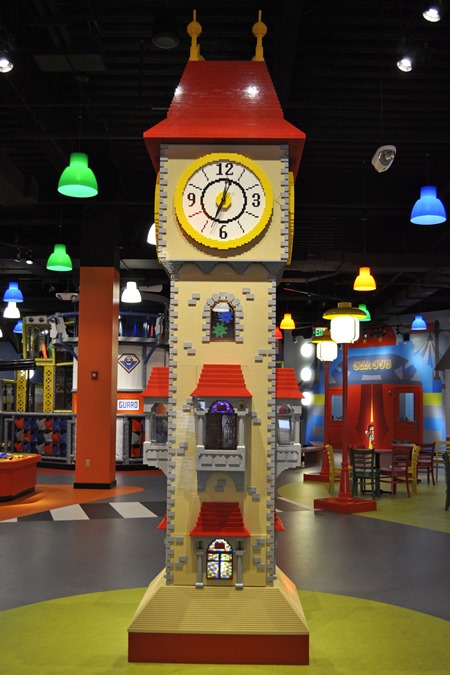 The Racers Build & Test station is full of vehicle parts and supplies for kids to build their own car creation.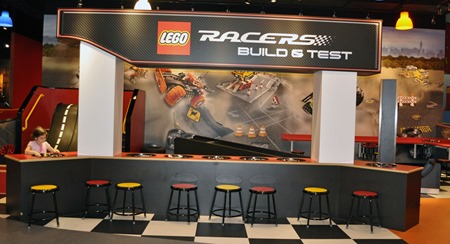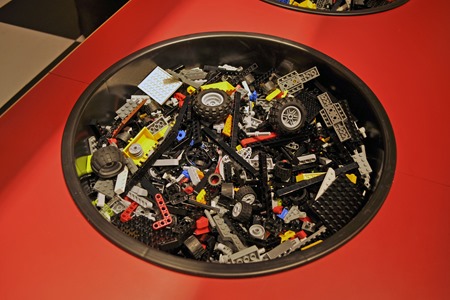 While we were there Kelcey got some tips from one of the Lego center employees on how to make a fast (and cool) car.  This guy was fantastic, and taught her a few things she could go home and share with her brothers!  All of the employees were super friendly, upbeat and helpful.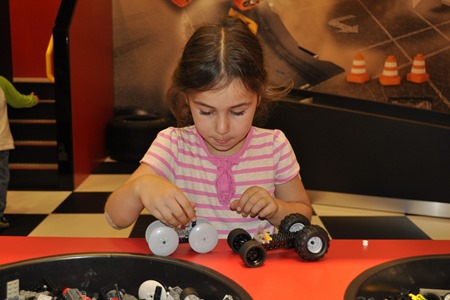 This track has a small hill at the end, sending cars airborne and into a bin at the finish line.  There is another track for kids to use as well, that has an audio countdown when you press a button at the starting line.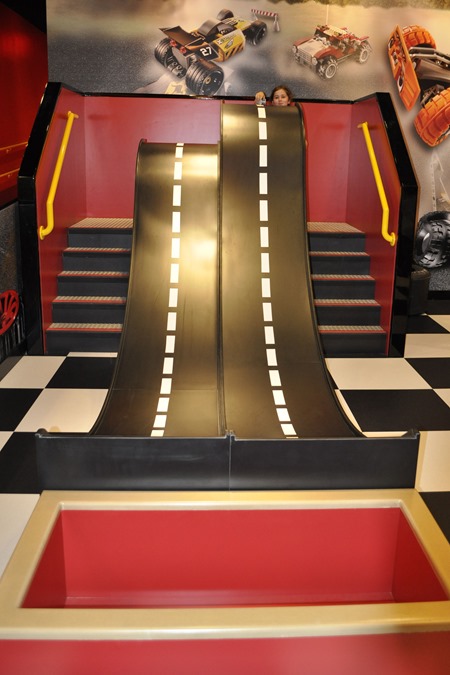 Another creative space is the Earthquake Table.  Build a structure on one of the four base plates on the table, then turn the plate on and watch as it wiggles and jiggles and threatens to knock your tower down.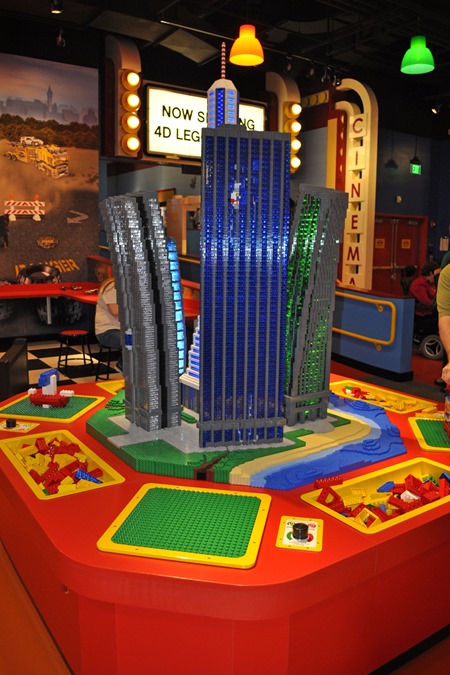 I think a few grownups might enjoy this challenge too, the gentleman on the right (photo below) spent a good deal of time creating while we were there!
If kids tire of building, then can run off some energy in the Lego City Play Zone, which houses climbing walls, slides, even a wrecking ball area where kids can create a tower from foam Legos and then knock it down.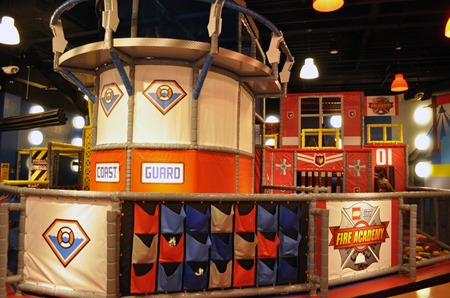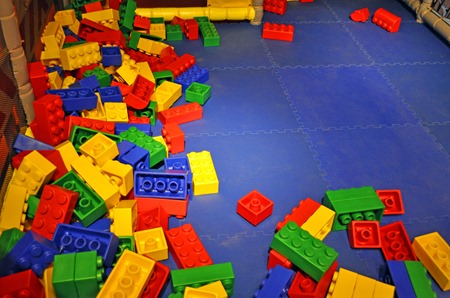 The 4D cinema shows Lego movies every half hour throughout the day.   In addition to the 3D visuals, you'll feel wind, rain, and snow too!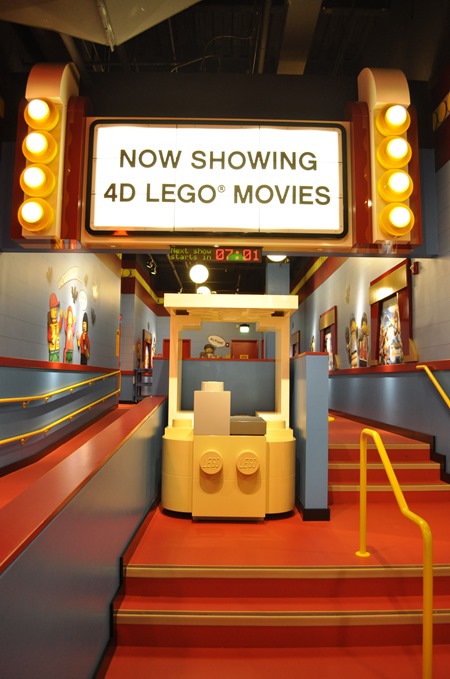 We saw "Spell Breaker", but the theater also features two other movies, "Clutch Powers", and "Lego Racers".   Each movie is about 14 minutes long.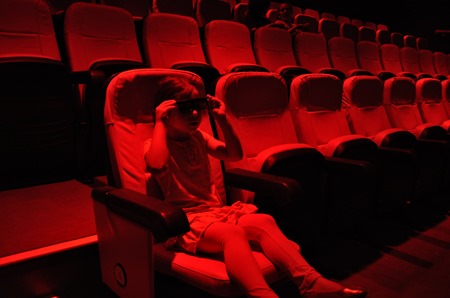 The center has rooms for birthday parties, as well as a space for their Lego Model Builder Academy classes.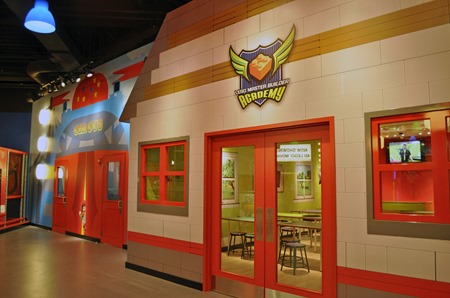 Kids can go also on two different Lego rides.  On Merlin's Apprentice, the ride takes you around and around, and you need to pedal to go up in the air.  We rode this one twice, it was a big hit with my daughter!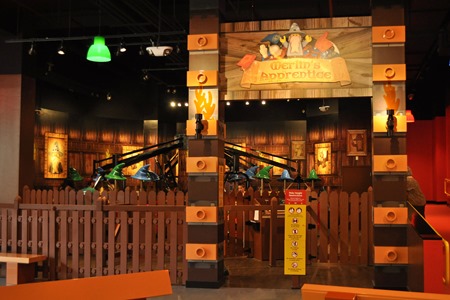 It does take a bit to load and unload the ride.  Each seat has a lap belt that needs to be secured, and you cannot unclasp and exit the seat without the attendant's key.
 photo credit Legoland Discovery Center
The Kingdom Quest ride is a lot of fun too – it's similar to Toy Story in Disney, where each passenger has a gun and needs to aim at targets throughout the ride.  The goal?  To save the princess from trolls and skeletons (not to mention get the highest score in your chariot).
photo credit Legoland Discovery Center
No outside food is allowed inside the attraction, but there is a Cafe that sells drinks, lunch and snack items.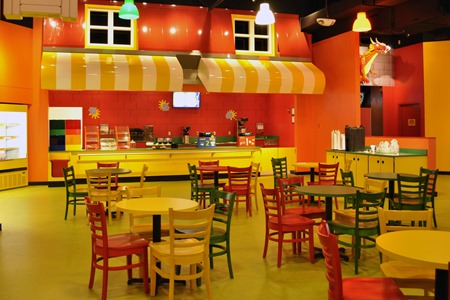 After you exit the Discovery Center,  you walk off the elevator directly into the Lego store.  (Prepare yourself for the can-I-haves).
Don't forget to sign up for your free Lego Club Magazine before you go.  It's a fantastic monthly magazine, full of activities, photos, creative ideas and stories.  And it's FREE!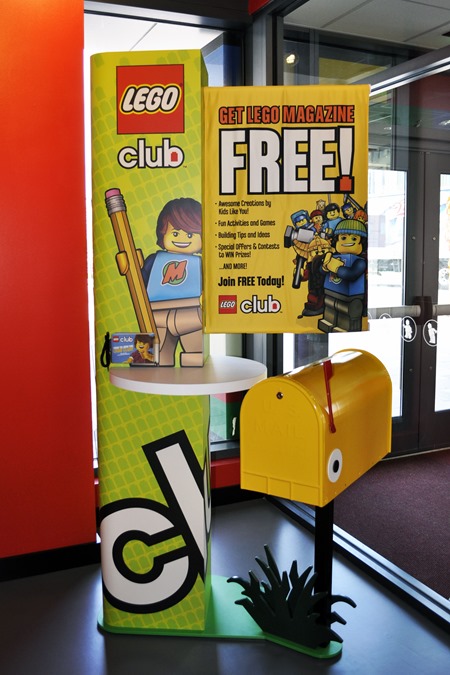 Admission is $22.50 for ages 13+, and $18.00 for kids ages 3-12.  Children 2 and under are free.  You need to pre-purchase your tickets to the Legoland Discovery Center online for specific windows of time (there are no walk in tickets).  Once you are there, you can stay as long as you like though.   Annual passes are also available for purchase, as well as Activity Packs that include.
Although adults are only allowed to visit with a child/children, the center will be holding special adult only nights throughout the upcoming months.
Note:  Tickets are already sold out for Friday, Saturday and Sunday of opening weekend, but are available for later dates.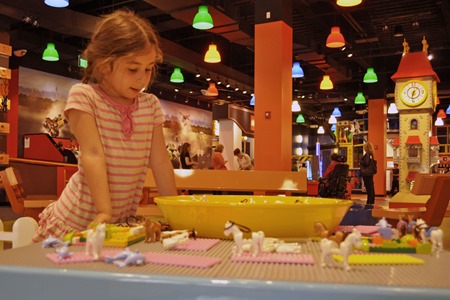 Enter below to win  a Family 4 pack of tickets to LEGOLAND Discovery Center Boston, including two single-entry children tickets valid for ages 3 to 12 years old and two single-entry adult tickets valid for ages 12 years and older. Tickets are valid starting June 15, 2014 and expire one year from date issued.
Disclosure:  I was invited to the media preview day of the Legoland Discovery Center, and provided with 4 tickets to use in this giveaway.  No other compensation was given.  All opinions stated her are my own.