This summer, there is no shortage of FREE, kid friendly summer fun on the South Shore.  Choose from outdoor movies and music to kids crafts and workshops.  And don't forget Patriot's Training Camp!  Here is our list of where and when to find free, kid friendly activities this July and August!
Thursday Night Outdoor Movies at the Hingham Shipyard
Bring your blankets and chairs to the grassy area behind Hingham Beerworks to watch a free movie by the water.  Concessions are sold by Patriot Cinemas.
July 10 – Monsters University
July 17 – Freebirds
July 24 – Invincible
July 31 – Despicable Me
Aug 7 – Jumanji
Aug 14 – The Karate Kid
Aug 21 – Frozen
Aug 28 – The Goonies
Friday Night Live Music at the Hingham Shipyard
Live music starting at 7pm on Friday nights in July and August.
July 11 – Siobhan Magnus
July 18 – Fat City Band
July 25 – Danny Korchtmar Band
Aug 1 – Jenny Dee and the Deelinquints
Aug 8 – Danny Kleins Full House
Aug 15 – The Infractions
Aug 22 – The New Band
Aug 29 – The Love Dogs
Outdoor Movies at Derby Street Shoppes
Free movies at Hidden Pond (behind Whole Food Market) at on Wednesday nights in July.  Movies begin at dusk (approx. 8:30pm).
July 2 – Frozen
July 9 – Lego Movie
July 16 – Smurfs 2
July 23 – Despicable Me 2
July 30 – Cloudy With a Chance of Meatballs 2
Musical Nights at Derby Street Shoppes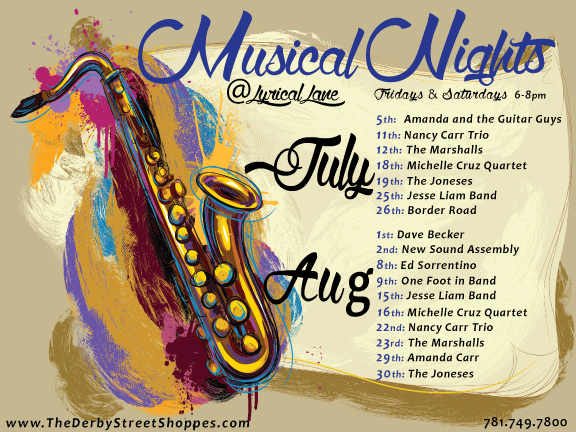 Free Outdoor Movie Series at Patriot Place
Bring your blankets and chairs for free movies on Wednesday nights at Patriot Place (NRG Plaza, outside The Hall).  Enjoy lawn games and a Live DJ before the show from 6-8pm.
July 9 – Frozen
July 16 – Despicable Me 2
July 23 – The Goonies
Aug 6 – Cloudy with a Chance of Meatballs 2
Aug 13 – E.T.
Aug 20 – Monsters University
Aug 27 – Planes
Sept 5 – The Lego Movie
Free Friday Flicks at the Hatch Shell
Bring your blankets and lawn chairs to the Hatch Shell in Boston!  Movies start at dusk.
July 11 – Despicable Me 2
July 18 – Goonies
July 25 – Cloudy with a Chance of Meatballs 2
Aug 1 – Men in Black 3
Aug 8 – The Lego Movie
Aug 15 – Beetlejuice
Aug 22 – Frozen
Free Family Movie Nights in Braintree
Held at French's Common (next to Town Hall), Braintree is showing three free kids movie nights.  Pre-movie kids entertainment starts at 6pm, movie starts at 8pm.
July 2 – Frozen
July 17 – Despicable Me 2
July 31 – The Lego Movie
Free Concerts & Outdoor Movies in Weymouth
Enjoy free family friendly concerts and outdoor movies on Thursdays in July in August at the Ralph Talbot Amphitheater  next to Town Hall.   Concerts start at 6:30, movies start at 8pm.
July 10 – Wayne Potash (children's performer)
July 17 – Johnny the K (children's performer)
July 24 – The Infractions (all ages)
Aug 7 – The Goonies
Aug 14 – Despicable Me 2
Aug 21 – Finding Nemo (shown on Wessagusset Beach)
Friday Morning Story Time at Paragon Carousel
Held at 10:30am in side the carousel.
July 11: Ariel, The Little Mermaid
July 18: Alice in Wonderland
July 25: Snow White
Aug. 1: Cinderella
Aug. 8: Tinkerbell
Aug. 15: Elsa (Frozen)
Aug. 22:  Muffy MacMouse
Summer Song Series at Paragon Carousel
Join us on these Friday evenings for a selection of children and family songs performed by local troubadours. Kids get a free balloon, too! Music is performed on the Paragon Carousel patio. Stop by from 6-8PM to see these great musicians on the following Fridays:
July 18 -Sherman Whipple
Aug 1 – Stephen & The Snake
August 15 – Bill Liscomb
August 29 – Fred Melzer
Free Movies at Westgate Mall
Westgate Mall in Brockton presents FREE Tuesday movies for kids through August. Cool indoor fun at 11am every week, including free refreshments. Visit www.shopatwestgate.com for a full listing of movies this summer.
July 15                 Monster High
July 22                 Planes
July 29                 The Lego Movie
August 5              Monsters University
August 12            Free Birds
August 19            Muppets: Most Wanted
August 26            The Nut Job
Free Fun Fridays
Get free admission to museums and attractions across Massachusetts every Friday this summer, each week features a different set of venues.   View the entire schedule.
July 11th
John F. Kennedy Presidential Library & Museum
Peabody essex Museum
Worcester Historical Museum
Fruit Lands Museum
Cape Cod Children's Museum
New England Historical Genealogical Society
Pilgrim Hall Museum
July 18th
Museum of Fine Arts, Boston
Ocean Explorium
The Eric Carle Museum
Larz Anderson Auto Museum
Springfield Museums
Mass Audobon's Boston Nature Center
Sandwich Glass Museum
July 25th
The Freedom Trail Foundation
Battleship Cove
Children's Museum in Easton
Tower Hill Botanic Garden
Arnold Arboretum of Harvard University
Cape Cod Museum of Art
Danforth Art
August 1st
Isabella Stewart Gardner Museum
Commonwealth Shakespeare company
American Textile History Museum
The Discovery Museums
Hancock Shaker Village
Concord Museum
Mahaiwe Performing Arts Center
August 8th
Boston Harbor Islands National Park
The Greenway Carousel
Clark Art Institute
Wenham Museum
USS Constitution Museum
Children's Museum at Holyoke
Vollyball Hall of Fame
Fuller Craft Museum
August 15th
The Institute of Contemporary Art/Boston
Plimouth Plantation
Garden in the Woods
Museum of Russian Icons
Fitchburg Art Museum
Historic Deerfield
Reagle Music Theatre
August 22nd
Boston Children's Museum
Museum of African American History
New Bedford Whaling Museum
Old Manse, Trustees of Reservations
Berkshire Museum
Emily Dickinson Museum
August 29th
Buttonwood Park Zoo
Ecotarium
Cape Cod Museum of Natural History
Norman Rockwell Museum
The Mount:  Edith Wharton's Home
Griffin Photographer Museum
Home Depot Free Kids Workshops
Workshops are held the first Saturday of the month from 9am-12pm.  Kids can build a new project every month, and go home with their own workshop apron, certificate and pin.
Aug 2 – Build a Mini-Crate Pencil Holder
Lowes Build & Grow Workshops
Free workshops where kids can build a wooden project to bring home, plus a free apron, goggles, and a patch.  Workshops are held twice a month from 10am-11am.
July 12 – Turbo with Pull Back Motor
July 26 – Turbo Taco Truck
Aug 9 – Monsters vs Aliens Trolley
Aug 23 – Monsters vs Aliens Robot
Bass Pro Shops Free Summer Camp & Workshops
Earn pins at free kids workshops every Tuesday, Thursday, Saturday and Sunday between June 7 – July 13.  Try subjects like archery, camping, backyard adventure and more.
Patriots Pre-Season Training Camp
Watch the Patriots on the practice field, and play on the interactive inflatables at Patriot Place.  See our post on Training Camp HERE.  Initial Schedule (check website for updates):
Thursday, July 24 – 9:15am
Friday, July 25 – 9:15am
Saturday, July 26 – 9:15am
Sunday, July 27 – 9:15am
Enjoy!