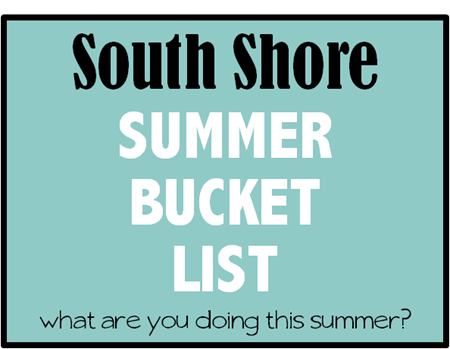 Do you have a Summer Bucket List?  A list of things you want to do and/or see before school is back in session in September?   Last year we put together a fun bucket list (see it here), but this year we're going all out with a list of 75 things to do on the South Shore (and a bit beyond).  Whether you're looking to do something outdoors or inside, active or artsy, we've got an idea for you.  (There are plenty of FREE activities on this list too).  Check it out, and enjoy! 
See a Cape Cod Baseball League game
Go to an outdoor movie at the Hingham Shipyard
Listen to Friday morning story time at the Paragon Carousel
Pick-your-own blueberries
Go for a walk at World's End in Hingham
See a movie at the Mendon Drive-In
Hike in the Blue Hills
Visit the Paragon Carousel at Nantasket Beach
Go on a Whale Watch
Stop by FREE Musical Nights at Derby Street Shoppes
Watch a FREE Outdoor Movie at Hidden Pond (Derby Street Shoppes)
Catch a Pawtucket Red Sox game
Splash around at Water Wizz
Go to the Cape Cod Inflatable Park
Visit a local beach
Go fishing
Climb to your heart's content at Rock Spot Climbing
Take advantage of a cool day and head to the zoo (Franklin Park, Roger Williams, Southwick, Buttonwood or Capron Park)
See the Brockton Rox play
Go on a Pirate Cruise
Play a game of Mini Golf
Hit the driving range
Cool down at the Braintree Splash Pad
Go on a Boston Duck Tour
Thrill seekers?  Check out Codzilla
Take the ferry out to the Harbor Islands (Georges, Spectacle, Grape, Thompson)
Explore Castle Island, and grab a bite at Sullivan's
Go to The Hall at Patriot Place (museum)
Watch a Free Outdoor Movie at Patriot Place
Take in some history at Battleship Cove
Visit Edaville Railroad
Explore the Cranberry Bog Trail behind Bass Pro Shops in Foxboro
See your favorite players practice at Patriot's Pre-Season Camp
Listen to the songs of  Mama Steph
Catch a performance from Big Ryan's Tall Tales
Go see the Toe Jam Puppet Band
Stop by the Lego Club at In Sync Center for the Arts
Do Yoga on Wednesdays at Whole Foods in Weymouth
Have an indoor adventure at 5 Wits in Foxboro
Go Bowling
Try Letterboxing
Visit the South Shore Natural Science Center
Visit the Legoland Discovery Center
Swim at Houghton's Pond at Blue Hills
Play at the South Shore Children's Museum at the Hanover Mall
Try Starland Sports & Fun Park in Hanover
Let kids build at the Free Kids Workshops at Home Depot & Lowes
Head to the Marshfield Fair or Brockton Fair
Stop by the Herring Run Historical Park in Pembroke
Spend some time with nature at the Mass Audubon Wildlife Sanctuary
Take a road trip to the Mystic Aquarium
Get creative at The Make Shop
Buy some fresh produce at a local Farmer's Market
Have Tea with a friend at the Windsor Tea Shop
Enjoy an Evening Under the Stars Concert
Enjoy the beauty of The Butterfly Place
See a show at the South Shore Music Circus
Visit the petting zoo at Penniman Hill in Hingham
Get adventurous at Randolph Paint Ball
Play some pinball at Pop Bumpers in Weymouth
Hot day?  Head to the movies
Go for a bike ride at a local park
Get our your aggressions at Laser Tag
Let the little ones play at the Children's Museum Easton
Explore at the Boston Museum of Science
Go to the Boston Children's Museum ($1 admission Friday nights)
Soak up the past at the Harvard Museum of Natural History
Head down to Plimouth Plantation
Explore the USS Constitution
Visit the Heritage Gardens in Sandwich
Do some crafts at the American Girl Store in Natick
Go to King Richard's Fair
Get FREE admission to local attractions with Free Fun Fridays!