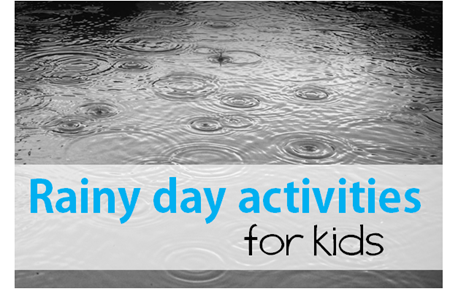 Rain rain, go away!  When it looks like the wet weather is going to ruin your sunny day plans, you can still save the day with these boredom blasting ideas for kids.  Save your sanity and read on now… 
1) Make an Army of Paper Airplanes
Create an army of paper planes, decorate with markers and stickers, then race them across the living room.
2) Go Scuba Diving in the Tub
Put the kids in their suits, grab the goggles and add a snorkle if you have it, then let them play in the tub with their favorite toys.
3) Transform a Cardboard Box
Turn an ordinary cardboard box in to a racecar, rocket ship or even a doll house.  Making it is just as much fun as playing with it!
4) Build a Fort
Forts can be made from just about anything… couch cushions, chairs, sheets, blankets, even bed posts will work as supports.   Stock your fort with books, games, toys and snacks, and settle in for hours of fun!
5) Have a Scavenger Hunt
Make a list of hard to find items in your house (blue Lego hat, burnt sienna crayon, 1974 penny, etc.), and let the kids have a blast collecting them all.  You can make a tailored list for each child as well.
6) Play Binocular I Spy
Add a fun twist to the game of I Spy with binoculars!  Look for things tiny and large, inside and spied through the window.
7) Go Camping Indoors
Have an indoor adventure by setting up a (small) tent inside, complete with sleeping bags and a cardboard campfire.  Tell stories, play games, and finish it off with s'mores in the microwave!
8) Create a Laser Maze
All it takes is some yarn, tape and a little imagination to create laser obstacle course in your house.  Kids will have a blast bending and twisting their way through the maze.  See a great tutorial here.
9) Make a Flip Book
This oldie but goodie is still a great craft for kids.  You can buy small notebooks for this, or cut construction paper into small rectangles and staple together at the ends to create your own book.  Remember to start your drawings at the back of the book and work forwards!
10) Watch a Movie
Chase away the rainy day blues with a movie, whether it's at night, in the morning, or the afternoon.  Grab your coziest blankets and pillows, pop some popcorn, and snuggle up on the couch with the kids for some relaxation time.
11) Play Hide and Seek
I don't think this game ever gets old, no matter how big kids get.  There's a serious thrill to squeezing into a great hiding spot and holding your breath while Mommy walks right by you.
12) Bake a Treat
The heat of summer usually means leaving the oven off in our house whenever possible, but a rainy day is a great excuse to whip up some banana bread, muffins or cookies.  The kids love to help measure and stir, and of course eat the results!
13) Print Coloring Pages
There is an endless supply of great coloring pages on the internet.  Just search your child's favorite character online!  My 6-year-old loves picking out her own pages to print.  Find some great (free) printable options here.
14) Play Board Games
Have everyone grab their favorite board games, and have some family bonding time over Connect Four, Battleship, Monopoly, and more.