Stop & Shop is celebrating it's 100th anniversary this year, and they want you to join the party with cool retro packaging, recipe contests, free summer concerts, charity donations and more.  Be sure to read on through to the end for your chance to win a $25 gift card to Stop & Shop!
Stop & Shop wants us to celebrate their anniversary by celebrating all the joys of summer too.
Community Events:
100 Days of Giving – Throughout the summer, Stop & Shop New England will donate $1000 to 100 New England non-profit organizations (in addition to the $15 million in donations to hunger relief organizations and children's health and wellness programs in Massachusetts, Connecticut and Rhode Island this year).
Summer Concert Series – On Wednesdays from June 4th to September 3rd, Stop & Ship will hold FREE concerts on the plaza at their New England Headquarters at 1385 Hancock Street in Quincy. The entertainment is open to the public from 12-1pm.
Facebook Recipe Contest
Follow Stop & Shop on Facebook for a weekly recipe contest! Each Friday, a product will be featured and fans will be asked to share recipes and ideas using the products. Winners will be chosen weekly for great prizes!
In Store Promotions:
Retro products and packaging in stores, featuring the old bow tie Stop & Shop logo
Celebratory Reusable Bags
Anniversary Confetti Fun Cake
Special Diamond Jubilee Bouquets in Stop & Shop's flower shops
Anniversary Deli Platters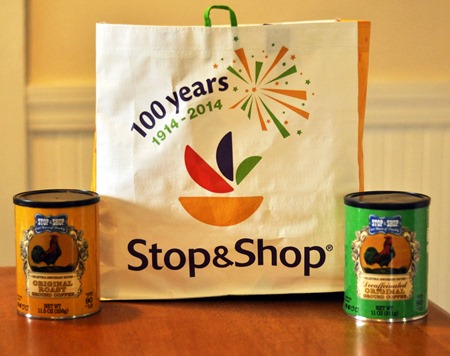 Official Birthday
Stop & Shop's official birthday is September 6, 2014.  (Look for additional in-store celebrations and offers on this day).
Did you know that the company first started in 1914 as the Economy Grocery Store in Somerville, MA, and wasn't officially named Stop & Shop until 1942?  Find out plenty more milestones and fun facts about Stop & Shop here!
Stop and Shop wants to give one lucky reader a $25 gift card to their store.  Enter below for your chance to win!
Note:   This post was sponsored by Stop & Shop.