We're making our way through our Summer Bucket List, and this week we checked off Patriots Training Camp and The Hall at Patriot Place.  There is so much to do at Patriot Place, but in late July and early August, the Patriots kick it up a notch with public training camp dates that make for a great family fun day!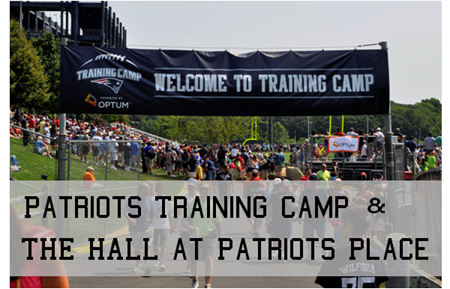 TRAINING CAMP
Each summer, as we near the start of the season, the Patriots hold public training camp sessions at the practice fields behind Gillette Stadium.  Fans of all ages can go to catch a glimpse of their favorite players in action, and maybe even snag an autograph or two.   Metal stands are available for seating, or you can sit on the grassy hill adjacent to the field.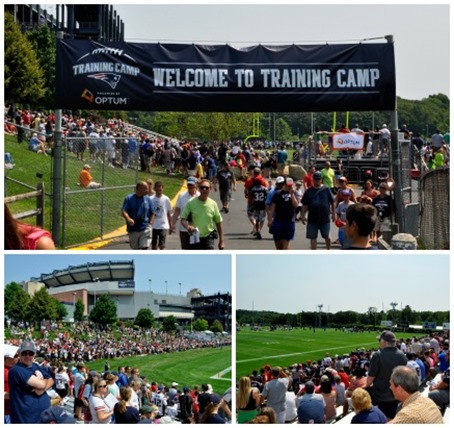 If you have the time and patience to wait until practice ends, (parents of little ones, this can be a bit tricky), you have a decent  chance of getting a few autographs from Pats players.  Plan to get there early or wiggle your way to the front of the crowd when the buzzer sounds.  Last year we were lucky and got a football signed by both Vince Wilfork and Chandler Jones!
Training Practice dates and times are listed on the Patriots website, and are updated regularly.
FAN ZONE
The Fan Zone is located next to the practice fields, and is full of interactive booths and inflatables for fans and their families to enjoy.  The Fan Zone is free, and hours coincide with the Patriots Training Sessions (see website for hours of operation).
Parents must sign a waiver for children before they are allowed on the inflatables.  Waivers are available inside the Fan Zone, and are a pretty quick and easy form to fill out.
Tip:  Have children wear socks and sneakers, or bring a pair of extra socks for them to slip on if they're going in sandals.  The pavement and inflatables can get pretty hot.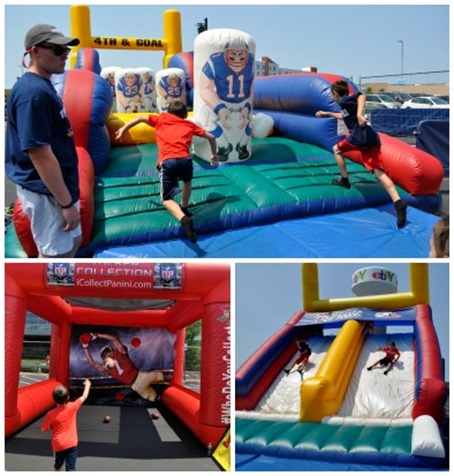 Training camp is a summer tradition for us, and we always seem to pick the hottest day to go!  These misting fans were a nice way to cool off in between obstacle courses.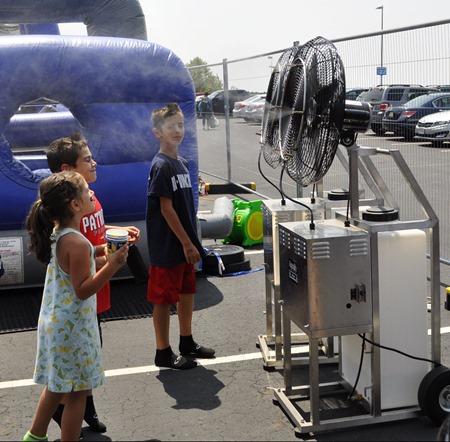 There was plenty to see and do in the Fan Zone.  The kids enjoyed spinning prize wheels, answering trivia questions for prizes, coloring, playing bean bag toss and more.

Keep an eye out for all the freebies from the various vendors.  We came home with a ton of goodies, including water bottles, posters, bags, and NFL collectable sticker books.
THE HALL AT PATRIOT PLACE
After baking in the sun at Training Camp, The Hall seemed like a good idea.  The Hall is a two story museum dedicated to honoring Patriot Players, past and present.  It is full of interactive displays that will keep fans of all ages engaged throughout their visit.  My boys (10 & 8) loved it, and so did their 6-year-old sister.
Admission is relatively inexpensive ($10/adult, $5/children 5-12, kids under 5 get in free), but if you have season tickets, you have free passes in your ticket packs.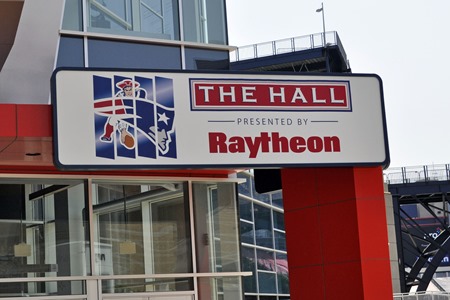 The entrance to The Hall is right next to the Pro Shop, on the second and third floors of the building.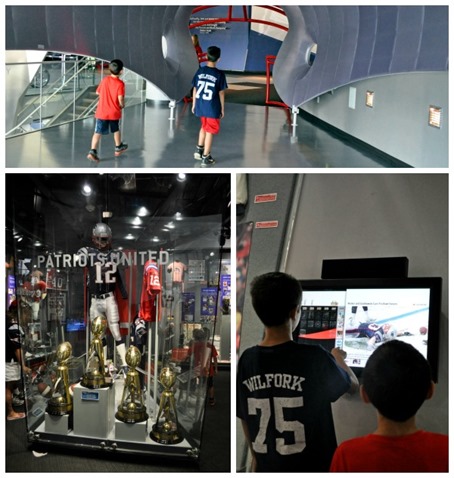 There is plenty of Patriots history to soak in, and so much to see.  My little Pats fans were fascinated with every corner of the place.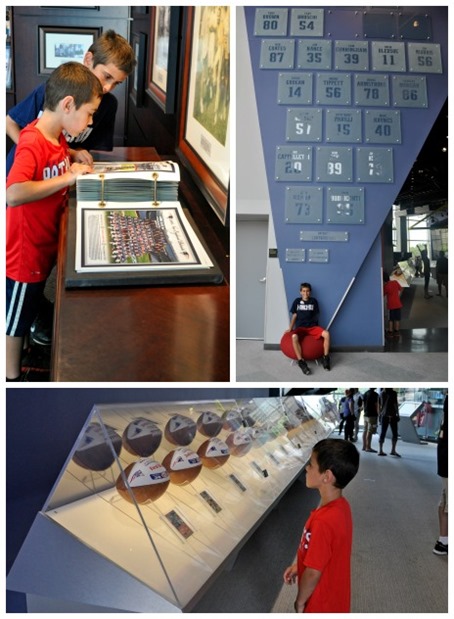 There are also lots of hands-on, interactive displays for the kids to explore.  They got to test their speed at Bruschi's "hike", see how they measured up to Wilfork, huddle up with the boys, and try on some big time uniforms.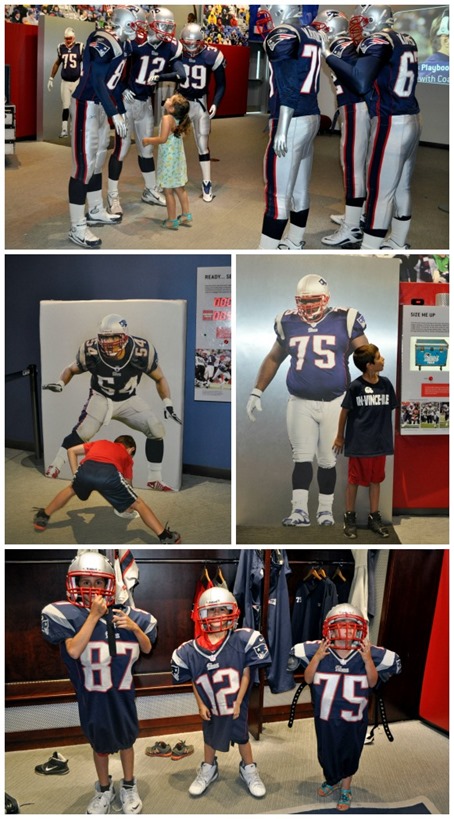 The Hall saves the best for last, with a display of Super Bowl trophies and rings around the last bend of the museum.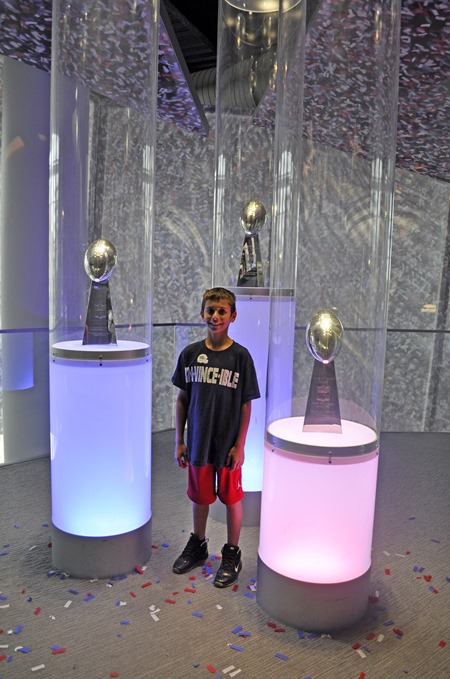 If you're hungry, there are plenty of family friendly restaurants at Patriot Place to grab a bite.  Or if you're still looking for something to do, visit Bass Pro Shops, explore the Nature Trail and Cranberry Bog, have an adventure at 5 Wits, or catch a movie at the cinema!