What's the best part of carving jack-o-lanterns for Halloween?  Family bonding time?  Displaying your beautiful/scary/creepy/sweet/funny masterpieces for the neighbors to see?  All that, yes.  But my favorite reason?  ROASTED PUMPKIN SEEDS.
Lucky for me, this year all three kids picked out pumpkins to carve, so there will be no shortage of seeds to snack on.  And, we are going to mix things up a bit and try adding a few fun flavors to our seeds.  I'm thinking sweet, savory, maybe even a spicy batch for hubby.  Check out these 6 delicious ways to prepare your pumpkin seeds this Halloween!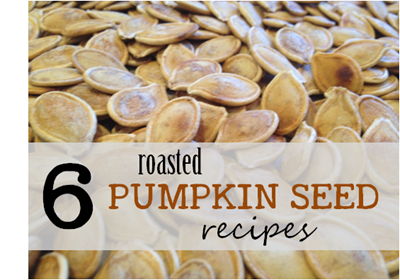 To get started, scrape the inside of the pumpkin, taking out all the seeds and strings (aka pumpkin guts).  Remove the any large string chunks that are easy to separate out.  Place the rest of the seed mixture in a colander and run under water to separate the remaining strings and rinse off the seeds.  Place seeds in  pot of water, bring to a boil, then simmer for 10 minutes, adding salt if desired.
Now get creative with your flavors!  Be sure to keep an eye on the seeds as they bake.  I've burned my fair share of pumpkin seeds, and it is very disappointing!
1) Salted Pumpkin Seeds
Coat bottom of pan with olive oil (1-2 teaspoons).  Spread seeds on the pan in a single layer, sprinkle with salt and toss to coat.   Bake at 400 degrees for 10-15 minutes, removing when lightly browned.  Small seeds can get over toasted (err, burnt) easily, so check in them often.
2) Cinnamon & Sugar Roasted Pumpkin Seeds
Toss 2 cups of seeds with Tbsp melted butter, 1/2 cup of sugar, and 1 Tbsp cinnamon.  Bake at 350 degrees for 20-30 minutes,  stirring halfway through.
3) Savory Roasted Pumpkin Seeds
Mix together 2 Tbsp melted butter, 2 teaspoons of Worcestershire sauce, 1/4 teaspoons garlic salt, and 1/4 teaspoons onion powder. Bake at 350 degrees for 20-30 minutes.
4) Kettle Corn Pumpkin Seeds
Mix up your seeds (about 2 cups)  with 2 Tbsp melted butter, 2Tbsp sugar, and 1/4 teaspoon of salt.   Bake in a single layer at 35o degrees for 25 minutes, or until seeds have browned.
5) Sweet & Spicy Pumpkin Seeds
Toss 2 cups of seeds with the following:  3 Tbsp melted butter, 3 Tbsp brown sugar, 1 tsp salt, 1/4 tsp chili powder, and 1/4 tsp cumin.  Bake at 350 degrees for 20 minutes.
6) Chocolate Covered Pumpkin Seeds
Spread 2 cups of seeds on a coated baking sheet, sprinkle with salt, and toss to coat.  Bake at 350 degrees for about 30 minutes or until well toasted.  Let seeds cool.  Melt about 1/2 cup of chocolate (use chocolate discs, chips, or other melting chocolate) in the microwave.  Lightly stir the pumpkin seeds into the melted chocolate until they are well coated, then spread on wax paper covered sheet and place in refrigerator to cool.