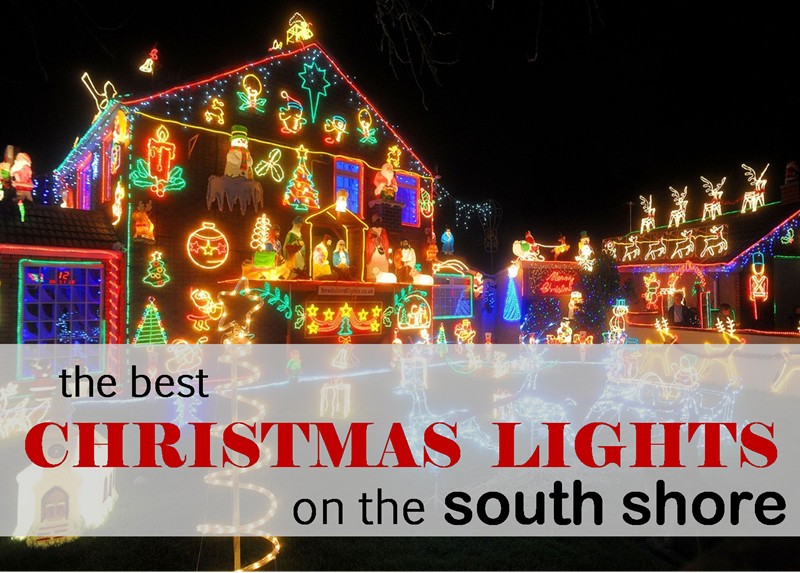 Christmas lights are popping up all over town!  While we think it's fun to drive around our neighborhood and see everyone's decorations, there are a few spots on the South Shore that go all out every year, and are worth driving a little bit further to see.  Some are old school, some are set to music, and some are just dazzling.  So put the kids in their PJ's, grab some hot chocolate for the road, and go do some light peeping!
ABINGTON
Loganberry Drive
Handmade wooden models, and lights set to music.
ATTLEBORO
Our Lady of Salette
See over 10 acres decorated with more than 300,000 lights.  Illuminated from 5-9pm daily from Nov 24-Jan 1.  Admission is free.  See website for more information.
BRAINTREE
Messina Woods Drive
Braintree Lights has been a favorite of ours for years, but unfortunately they are no longer putting up their display.  We will miss them!
Morrison Street
Located just off of Middle Street, #17 Morrison Street goes all out with decorations, in both the front and back yards.  (Note:  this is a narrow street.  Do not attempt to turn around, follow the road around the corner to get back to Middle Street).
Doris Ave
A cul-de-sac where multiple houses participate, using a mix of old school and newer decorations.   To get there, take Doris Ave off of Middle Street, then take the next right onto Andrea Drive (leads to Eileen Drive).  Great to visit if you're in the area for the other Braintree displays.
BROCKTON
The Wonder of Christmas
1090 W Chestnut St, Brockton.  Open December 16-23 this year (according to the website).  $5 per person, families only pay $20 for 4 or more.  This attraction includes:
Christmas Park: a winding outdoor park with lights and Christmas themed displays. Families can take their time as they move throughout the world of lights. Every 10 minutes the entire park will dance with choreographed music.
Character Stage:  Every 15 minutes we will put on live character shows with music and fun from your favorite movies and animated features. There will be acting, dancing and singing with a chance for guests to take photos with the characters.
Christmas Cafe:  Our in-house café serves hot chocolate and food items. You can take a seat, relax and listen to live Christmas music performed by a different talented artist each night.
Christmas Projection Room:  Go on a Christmas journey that twists, turns and takes you on a wild ride. The Christmas projection is larger than life and envelops you in sight and sound that takes your breath away.
Christmas Theater:  We will be presenting an original feel-good drama called "A Christmas Klaus". This presentation will make you laugh, cheer and pull on your heart strings. This show will run 3 times each night and is included in the price of admission.
Visit Santa at the North Pole:  Santa Claus will be available each night for children to visit. We will have photo opportunities available with Santa. Explore an interactive room of fun that is themed after the North Pole.
HOLBROOK
3 Oak Street
Computerized light and music show with over 20,000 LED lights and 40 yard decorations.  Tune your radio to 102.1 FM.    Shows play nightly from 6-9pm from Mon-Thurs, and from 6-11pm from Fri-Sun.
LAKEVILLE
Crazy Tech Christmas
Light show set to music – tune your car radio to station 87.9, sit back and enjoy the show!  Visit the Crazy Tech Christmas website for dates and times, and to see photos/videos of the display.  Show runs through December 31st.  From Sunday – Thursday, the shows Start at 4:30pm and ends at 9:30pm.  On Friday and Saturday, the shows start at 4:30pm and end at 10:00pm.  Shows run from November 25th – December 31st.
MIDDLEBORO
KOA Festival of Lights
Drive through and see hundreds of thousands of light and then park and take a walk through Santa's Village where you can get your picture taken with Santa or The Grinch (from 5pm-8pm daily, only $5), purchase cocoa, cookies from Battistini's, check out Oak Point's Model Train display, and visit the alpacas!  Admission is $1 per carload.  Open Dec 10, 11, 17 & 18th from 4-9pm.   See website for more info.

MILLIS
Millis Wonderland
The Meehan family has decided to put Millis Wonderland on hiatus, and will be closed again for the 2016 season.  Check their website for updates.
MILTON
85 Buckingham Road
Featuring animatronic penguins and lights set to music.  Music plays over a radio station and on a speaker in the yard.
NORWELL
Forest Street
A Christmas light display set to music, the 25 minute show repeats from 5-9 each night.




PEMBROKE
Lilah Lane
Off of Rte 53 – Multiple houses set to music, tune in to a radio station and enjoy!
Ingham Way
Lights set to music (radio station)
ROCKLAND
285 Centre Avenue – Rockland Flag Company
Lights set to music, just tune in to their FM station and watch the show.
SANDWICH
Heritage Museum & Gardens
Visit Gardens Aglow on Fridays, Saturdays and Sundays from Nov 25th – Dec 18th, 4:30-8:30pm.  Visit the museum's website for more information and ticket prices.
**If you've got a great display that we've missed, please comment and let us know!