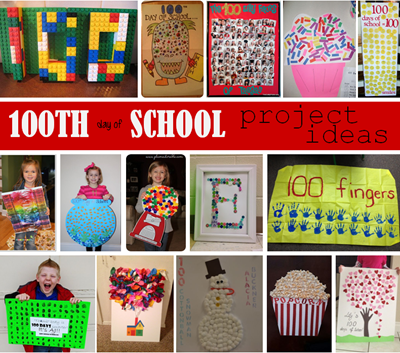 'Tis the time of year of 100th Day of School projects to be assigned.  If you're stumped for ideas, don't panic.  We've rounded up 15 super cute (and very easy) project ideas that your child will have a blast making! 
---
100 Goldfish
Little Hip Chick
100 Gumballs (free printable)
Plum Adorable
100 (Melted) Crayons
Our Kids Mom
100 Buttons
Little Miss Glamour Goes To Kindergarten
100 Sprinkles (Jimmies?) On a Cupcake
Kinder Cakes
100 Thumbprints
Pinterest
100 Hearts
Pinterest
100 Cotton Balls = 1 Cute Snowman
100 Balloons
Pinterest
100 Legos
Mrs. Jackson's Class Website
100 Fingers
Mrs. Hodge and Her Kindergarten Kids
100 Pieces of Popcorn
Pinterest
100 Smiles
Glue Dots
100 Eyed Monster
Pinterest
and last, but not least, our favorite…
100 Silly Faces
The Crafty Pickle
Photo credits for each go to the original websites.
---
Related Posts:
---