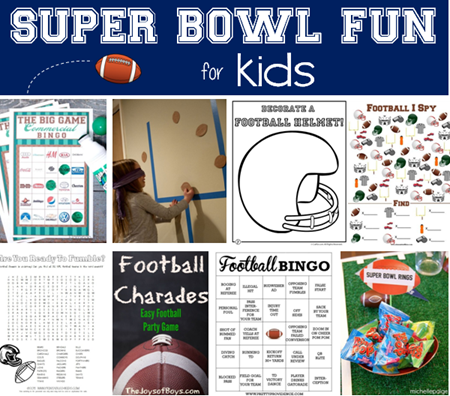 If you're watching the Super Bowl with kids in tow, you may want to have a few "busy" activities on hand to keep them entertained during the big game.  We've rounded up  a few easy ideas that kids (and adults) will love!
Commercial Bingo
Flamingo Toes
Use paint dobbers, plastic chips, or even M&M's to mark off the commercials as they are aired.
Football Bingo
Pretty Providence
Football I Spy
The Pleasantest Thing
Play Football Charades!
The Joys of Boys
Design Your Own Helmet
Craft Jr
Let kids decorate this blank helmet with their favorite team, or get creative and make up their own!
Itsy Bitsy Superbowl Book
Kid Zone
A fun printable book for little ones to color and practice their letters!
Pin the Football Game
Rust and Sunshine
A little duct tape and construction paper is all it takes to make this game.
NFL Teams Word Search
Printables 4 Kids
Find all your favorite teams and their rivals in this free word search.
Football Terms Word Search
Puzzles to Print
Another free printable fill of football terms for kids to find.
Lastly, make sure everyone gets a Superbowl Ring!
Michelle Page
P
ats fans – we've got special Patriots Coloring Pages, and a Patriots Word Search for you too!