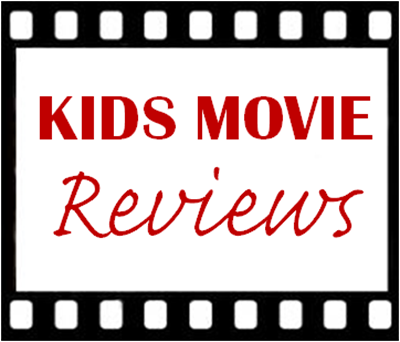 We love family movie night in our house, and try to make it a weekly occurrence.  We turn all the lights off (the kids call it "movie theatre darkness"), grab our favorite blankets and pillows, pop some popcorn and squeeze onto the couch together.  Picking the movie of the night isn't always easy, (getting three kids to agree on anything is never a piece of cake), but we get there eventually.  But, there's nothing worse than getting 15 minutes into a film only to find out that the "kid friendly" movie you picked is filled with inappropriate language or uncomfortable sexual references.
To help you out there are some great online resources you can use to get a glimpse of the movie before you suggest it to the kiddos.  Here are three that we use in our house: 
Kids In Mind
I use this site all the time.  Kids In Mind gives you a detailed count of the number of scenes containing sex/nudity, violence, and profanity, and describes each instance so you can decide if you are comfortable with your child seeing it or not.  Most movies (in theatres and on digital format) are listed, but some oldies but goodies are missing (Ghostbusters, Goonies, etc.).  Kids in mind is free, but you can donate or become a member if you wish.
Parent Previews
Parent Previews gives a plot summary of the movie, along with a grade rating system for items like violence, sex, language, drugs/alcohol, etc.  You can also watch trailers and clips of the movie, great for showing the kids a preview to the kids to help choose a film for the night.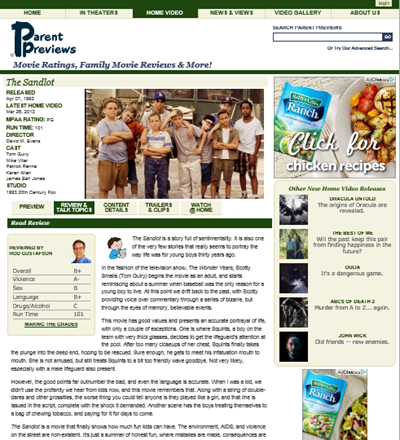 Common Sense Media
This site gives a recommended age for each movie to give you an idea if it's appropriate for your kiddos.  You also get a rating for violence/scariness, sexy stuff, language, educational value and more.  Hover over each category for more details.  Compare parents reviews and kids reviews too!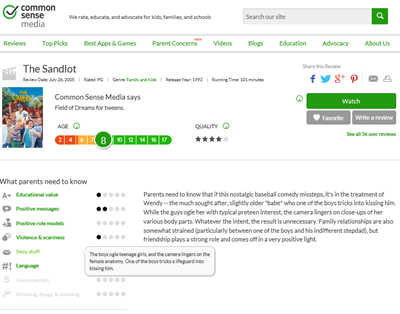 Now go grab your popcorn, and enjoy!