The Big Apple Circus is coming back to Boston this spring with an all new show, METAMORPHOSIS!  And guess what?  We've got tickets to give away!
We've seen the Big Apple Circus for the past two years and absolutely love the family friendly atmosphere.  No matter which tickets you buy, no seats are more than 50 feet away from the ring, so everyone has a great view of the performers.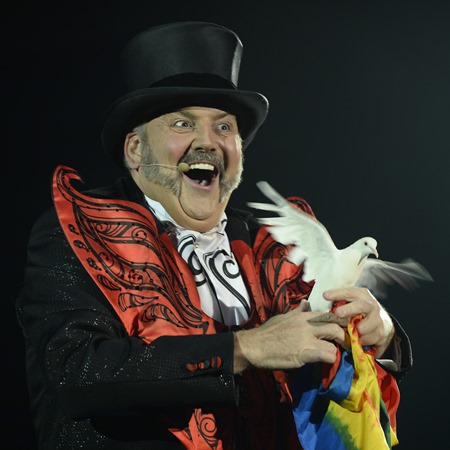 Here's a taste of the thrilling acts you'll see in METAMORPHOSIS:
The thrilling flyers of the trapeze, swooping and swirling through circus skies! The razzle-dazzle of the rolla-bolla, an act that teeters right on the edge of equilibrium! The dynamo of the diabolo, the whirling double–tops of the Big Top! An aerial space-age acrobatic adventure — an ascent to amazement! The risky rhythms of the Risley team, twisting and turning, topsy-turvy! The cadenzas of camels and horses, and the exuberance of playful pooches, out to dazzle with delight! The cunning conjurors of the quick-change act, defying belief and inspiring awe! The incredible flexible limbs of the contortionist in an act that will literally bend your imagination! And Francesco the Clown, captivating the crowd with his musical merriment and gentle humor. Under the direction of maestro Rob Slowik, the renowned Big Apple Circus Band provides as always the live and glorious tunes of the sawdust spectacular. And finally, our irrepressible, magnificent Ringmaster, the illustrious and incomparable John Kennedy Kane will summon the spirits of the circus universe to immerse you in the wonder, the joy and the astounding magic of METAMORPHOSIS!
The circus will be at City Hall Plaza from Tuesday, March 24 through Sunday, May 10, 2015.  Even if it's cold and the ground is still covered in snow, you'll be cozy in the big top tent!
Buy Tickets
To save 20% per order for select performances, use the code APPLE* when buying tickets online at www.bigapplecircus.org  by phone at  888-541-3750, and at the box office.
Win Tickets
Enter for your chance to win 4 tickets to the Big Apple Circus performance on Saturday, March 28th at 4:30pm by completing the form below!

*Limited availability. Offer good on select seats and shows. Other conditions apply. Children under 3 are free on the lap of a paid adult, one child per lap.