One of the really great things about what we do here at South Shore Mamas is getting introduced to businesses and products that we can share with our readers.  A lot of these opportunities are centered around kids and families, but this one is just for the adults!
Recently The Traveler Beer Company, known for brewing fun craft beers, asked us to try their newest seasonal beer, Forbidden Traveler.  Along with their new apple ale, they also sent along samples of Curious Traveler (a lemon shandy) and Elusive Traveler (a grapefruit ale).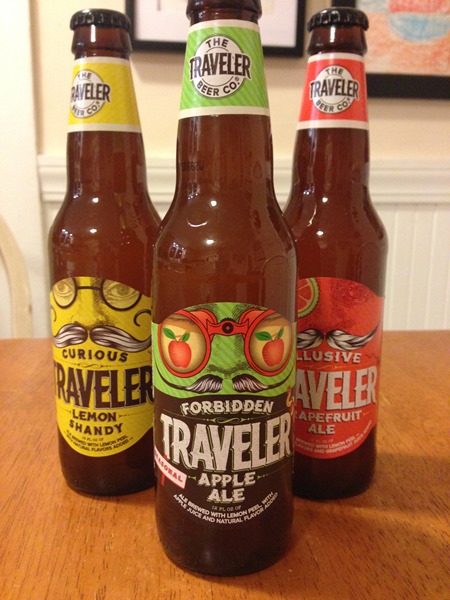 Now, I am not new to Traveler beer.  This fall I discovered Jack-O Traveler, and fell in love with this pumpkin shandy.  It's light and delicious, and has just the right touch of pumpkin.  If it wasn't a seasonal offering I would drink it all year long.  Needless to say, I was excited to try these other flavors out!
Forbidden Traveler and Illusive Traveler are crisp and fruity.  Right away you can tell they are brewed with real apple and grapefruit.  So refreshing!  My personal favorite of the three is the classic Curious Traveler, it just screams warm summer nights and sunny, sandy days.  You can almost pretend your yard isn't buried in snow.
Click here to find a list of locations that pour and sell Traveler Beer.  Keep in mind that although Curious Traveler and Illusive Traveler are available year round, other flavors are strictly seasonal.  Right now you can find Forbidden Traveler in stores, but Jack-O Traveler (a pumpkin shandy), is only out in the fall, and Jolly Traveler (a winter shandy) is out only in winter time.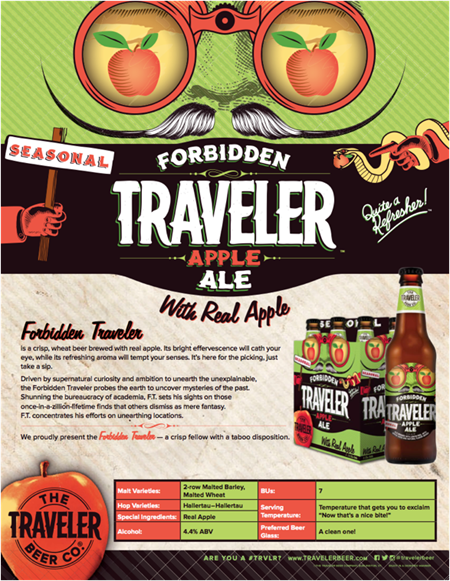 ABOUT TRAVELER BEER COMPANY
The Traveler Beer Company is a craft beer venture based in Burlington, Vermont. Traveler was launched in 2012 with the mission of combining European shandy-inspired refreshment with American ingenuity to create a line of craft beers that are both fun and refreshing.
Note:  I was given samples from The Traveler Beer Company for review consideration, but all opinions stated here are my own.