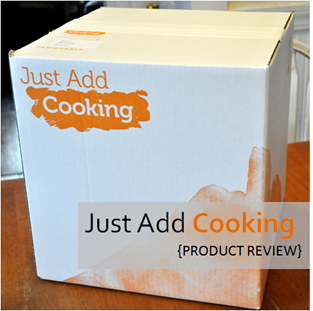 As a mom of three kids, who are involved in a combined seven sports this spring, I spend most of my weeknights shuttling kids back and forth to various practices.  I appreciate anything that can make my routine easier, especially if it involves dinner prep.  So when Just Add Cooking asked if I would like to try their meal service for a week, it was a no brainer.  Yes please! 
Just Add Cooking delivers easy to prepare meals right to your door in pre-measured kits.  They use fresh, local ingredients, and their meals only take about a half hour to make.   Our meal kit was delivered on Sunday afternoon, and I couldn't wait to dig in!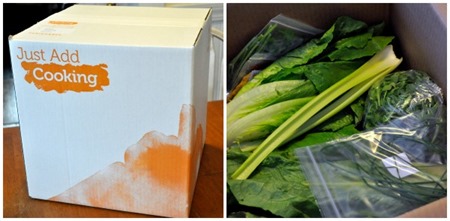 We chose the four person plan, and ordered four meals for the week (you can also choose to break up your meals over multiple weeks):
Along with all of the ingredients, the kit includes a recipe sheet for each meal, with detailed cooking directions and a dinner timeline to help make your experience run smoothly.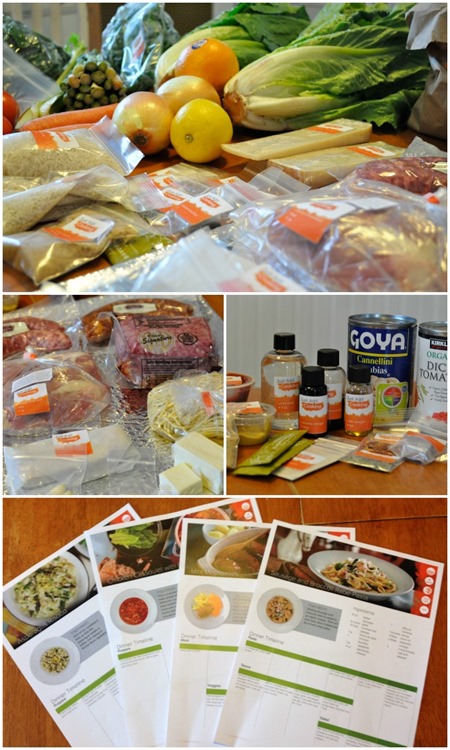 Overall I really enjoyed my week with Just Add Cooking.  (My husband did too, especially the Chicken Cassoulet with Chorizo).  It took away the meal planning pressure for the week, and let me concentrate on my family.  Here's what I loved:
The simplicity.  Having everything premeasured was a huge timesaver at dinner time.  Huge!  And when mom's happy, everyone's happy.
New recipes.  It was great to try new recipes and ingredients that we hadn't had before.  We happily added some new favorites to our list of meal ideas, and are eyeing a few more on the Just Add Cooking website (Fish Tacos with Spicy Guacamole and Pad Thai for starters).
Local ingredients.  We especially liked the personalized note in our kit detailing where items had come from (Pasta from Lilly's in Everett, Chorizo and Italian Sausage from New England Charcuterie in Waltham, etc.).
The only negative I would add is that these meal plans aren't really kid friendly.  At least not for picky eaters like mine.  Just Add Cooking offers a wide variety of recipes in their service though, so you may find something there that will please your little ones.  If not, pamper the adults in the house, it's worth it!
How it Works
Want to try it for yourself?  Go to the Just Add Cooking website, and choose your meal plan.  Plans start at $79 per week for a two person box, and $109 per week for a four person box, and you can order between 3 and 5 meals.  Next, choose your recipes!  These change from week to week, so take a look at the calendar to pick your favorites.  Enjoy!