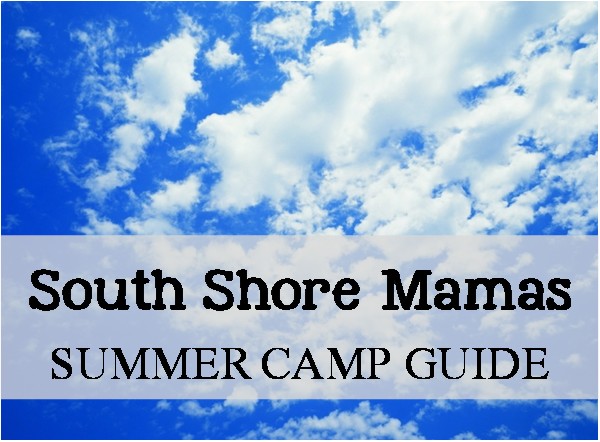 Welcome to the South Shore Mamas 2016 Summer Camp Guide!  We've pulled together a comprehensive list of day camps from all over the South Shore to help you find the best program for your child.
Camps are organized alphabetically, and we've listed age groups as well as locations for each to make it easier to scan through and find what you're looking for.  Click on the title link to be brought to the individual camp websites for more information. 
If you know of a camp we've missed, or if you are a camp owner and want to be listed, please contact us at info@southshoremamas.com.  We'll be updating this list as we get more information – please check back often!

[jbox radius=1]Art Barn Summer Art Camp
Location:  Weymouth
Ages:  Preschool,  5-7 and 8-11
Children are naturally observant and curious.  At Art Barn they will learn that those are the most valuable skills an Artist needs.. Each day will be filled with several different Art experiences designed to develop  children's Artistic and creative skills. The garden and  woods will provide inspiration.  Every morning we will explore and document what delights us in our sketch books.  We will then move into the Studio and be introduced to new Art mediums and techniques.  These exercises are to encourage students to "play", explore and take risks.  Our more formal Art making may include easel painting in the garden, printmaking with leaves or learning to make things out of clay.
Small classes with lots of individual attention.  On the Friday of each week we will have an Art show.  Students will be able to invite their friends and families for the event.  Tuition- $225 per week, includes all Art materials. I will provide a healthy snack.  No two sessions will be the same making it suitable for children to attend for more than one week.  Each session is from 9am till 12pm.
[/jbox]
[jbox radius=1]Bay Farm's Summer Program
Location:  Duxbury
Ages: 18 months – 14 years old
Bay Farm Montessori Academy offers summer programming for children ages 18 months to 14 years.  A rich blend of fun, learning and relaxation, children enjoy studying, craft-making, reading, music, dance, swimming, tennis skills, and guest speakers under the guidance of Bay Farm's dedicated teachers.  The summer program nurtures creativity, curiosity, and peaceful exploration of a theme.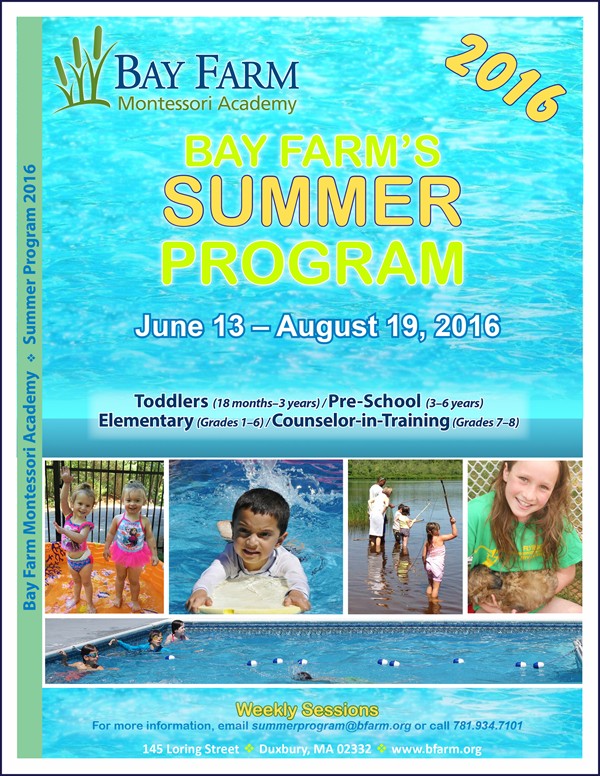 Summer Theatre
Location:  Duxbury
Ages:  grades 1-8
Bay Farm's Production of The Jungle Book Kids (2016)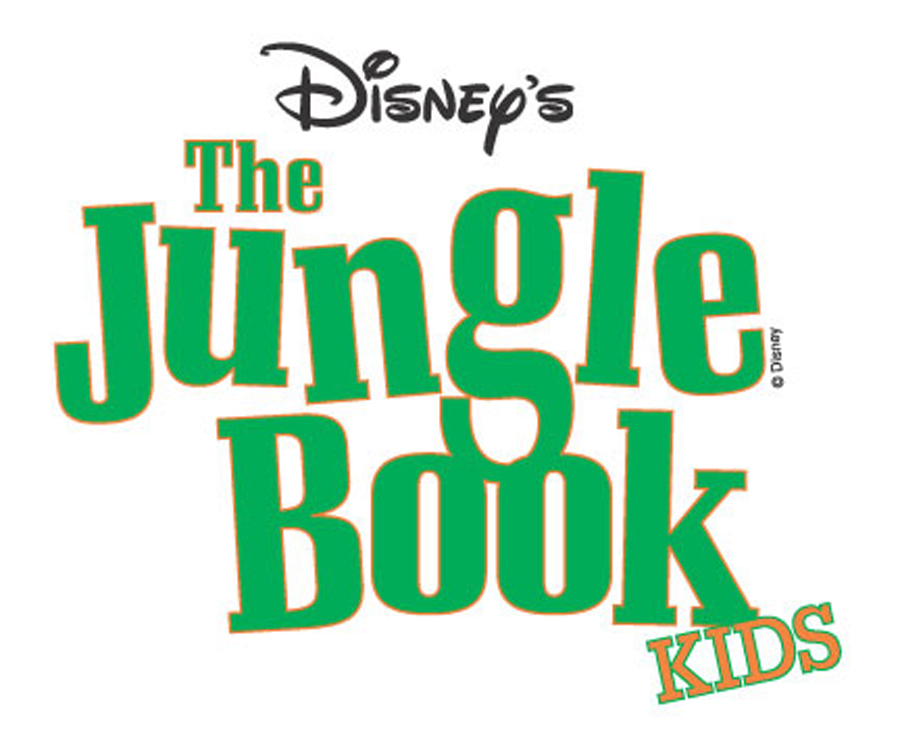 [/jbox]
[jbox radius=1]Bay Farm's Summer Program
Location:  18 months – 14 years old
Ages:  Duxbury
Bay Farm's Summer Program provides recreational and fun-filled adventures for children ages 18 months to 14 years.  Situated on our rural, nine-acre campus in Duxbury, our summer sessions feature a different theme each week, including creative arts, cooking, drama, music, science, sports, swimming, and many more activities.  Bay Farm's summer staff is made up of experienced, certified teachers.  This year's program runs Monday – Friday, June 8th – August 21th.  Program hours are 8:30 AM – 12:00 PM and 8:30 AM – 3:00 PM.  There are 3-day and 5-day programs.   To accommodate the needs of working parents, Bay Farm also provides care for early drop-off and late pick-ups.  [/jbox]
[jbox radius=1]BEHN Basketball Camp for Girls & Boys
Location:  Acton-Boxborough, Braintree, Concord, Dedham, Foxboro, Hingham, Lexington, Medway, Melrose, Milton, Norwood, Lincoln/Sudbury, Wareham, Wellesley
Ages:  6-15
Since 1994 Behn Basketball has educated young athletes in New England to work hard to achieve their goals. Our philosophy is to instill confidence by teaching basketball fundamentals, which in turn raises each individual's level of play and makes the game more fun to play.  Regardless of skill level, Behn Basketball will impact your game while teaching a love of sport and competition.
[/jbox]
[jbox radius=1]Berea Discovery Camp
Location:  Newfound Lake, NH
Ages: Grades 2-5
Type:  Overnight Camp
Discovery Camp is the perfect week for your young camper to get their first taste of summer at Berea!  With a program specifically designed for their age group, it is a great opportunity for them to try new things within a structured, secure environment. The experienced counselors and staff will make them feel right at home as they create memories, build friendships and have fun learning about God.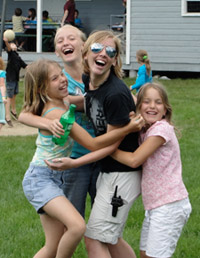 [/jbox]
[jbox radius=1]Blue Hills Summer Camp
Location:  Milton
Ages:  K-12
Mass Audubon's Blue Hills Summer Camp in Milton offers campers (grades K-12) a unique location to discover nature through hands-on exploration, creative play, and active learning.  Each session features an age-appropriate theme intended to deepen each child's knowledge and awareness throughout the summer and beyond camp.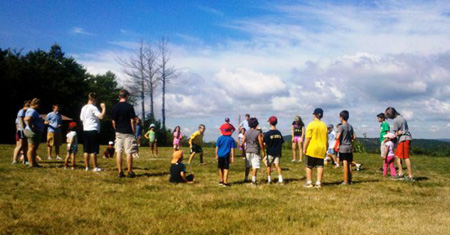 [/jbox]
[jbox radius=1]The Bridge Center Summer Camp
Location:  Bridgewater
Ages: 4-22 (varies by program)
The Bridge Center wants everyone to come have fun in the sun! Our beautiful and fully accessible campus offers 20+ acres of open space for your child to enjoy fresh air and nature while getting the support needed to assure that they can successfully navigate the day.
The Bridge Center is proud to offer specialized camps that meet the needs of campers of all abilities including campers with Asperger's Syndrome, Autism, social and emotional disabilities, neuromuscular disabilities, and other disorders. We also have an inclusion camp for children with and without disabilities!
[/jbox]
[jbox radius=1]Camp Clark
Location:  Plymouth
Ages:  4-15
Camp Clark provides quality traditional day camping experiences that aim to help children grow in spirit, mind and body.  All programs are designed to teach the four core values of caring, honesty, respect, and responsibility.  Camp offerings include ropes course, swimming, archery, arts & crafts, sports, outdoor adventure and environmental awareness.  Specialty camps are also offered;  Dance Camp, Tween Travel Camp, and Aqua Adventure Camp. [/jbox]
[jbox radius=1]Camp Invention
Location:  Varied (find a camp near you)
Ages:  1st – 6th Graders
Camp Invention inspires girls and boys to think BIG and imagine how they can change the world for the better one day! This one-of-a-kind week long experience connects science, technology, engineering and math through fun hands-on activities. The program allows students to learn about creative problem solving (and so much more!) in teams grouped by age. [/jbox]
[jbox radius=1]Camp Ponkiwanee – Camp Fire USA
Location:  Hanson
Ages:  5-14
The program is currently in transition and is not taking any enrollments into any programs at this time. If there are any additional questions, please call 774-244-7721.  [/jbox]
[jbox radius=1]Camp Satucket
Location:  East Bridgewater
Ages: 5-15
Camp Satucket provides quality traditional day camping experiences that aim to help children grow in spirit, mind and body. All camp activities are designed to teach the four core values of caring, honesty, respect and responsibility.  Camp includes swimming, archery, arts & crafts, science,  ropes challenge course, swimming, archery, arts & crafts, science, sports, and family fun nights.  [/jbox]
[jbox radius=1]Camp Stoughton
Location: Stoughton
Ages:  5-15
YMCA Camp provides quality traditional day camping experiences that aim to help children grow in spirit, mind and body. All camp activities are designed to teach the four core values of caring, honesty, respect and responsibility.  Camp includes ropes challenge course, swimming, archery, arts & crafts, science, sports, family fun nights and special theme days. [/jbox]
[jbox radius=1] Camp Viva
Location: Braintree
Ages: Children entering grades 1-5
Camp Viva started as an idea to shake things up.  Not every active child wants to spend their summer at a sports camp, and not every child with a creative side wants to spend a week at a theater or arts & crafts camp.  Camp Viva gives kids the power to craft their week to fit their individual needs.
Camp Viva will run for two weeks during the summer of 2016; August 1st-August 5th and August 8th-August 12th. It will be held at the Morrison Elementary School in Braintree, MA from 9 AM – 2 PM Monday-Friday.  The camp is open to children entering grades 1-5 (must turn 6 years old by Aug 1st, 2016). We will also offer an early morning drop off  at 8:00am for an additional $10 per day. [/jbox]
[jbox radius=1]Camp Wind In The Pines – Girls Scouts of Eastern Massachusetts
Location:  Plymouth
Ages:  Grades 1-12
Escape into the action at Camp Wind-in-the-Pines. Test your skills at our state-of-the-art challenge and adventure facility. Scale our 20-foot rock face wall or try a different spin on climbing in the bouldering cave. See camp from a new angle on the 35-foot high ropes course or perfect your teamwork closer to the ground on the low ropes course. Explore historic Plymouth and southeastern Massachusetts on exciting day trips or enhance your day camp experience with optional overnights. Plus, every week you'll have the chance to enjoy a wide variety of activities like art, cooking, swimming or boating in Gallows Pond, drama, games and more!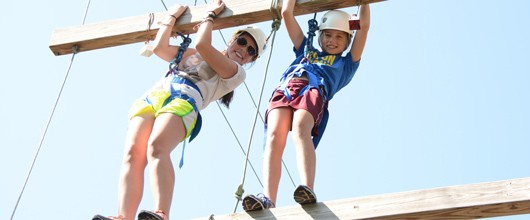 [/jbox]
[jbox radius=1]Camp Wing Day Camp
Location:  Duxbury
Ages: 5-16
Camp Wing Day Camp provides engaging activities in a variety of program areas for youth aged 5 to 16. With the guidance of our trained and supportive staff, campers explore their interests and build their skills through instructional swim lessons, sports & games, teambuilding with their peers, archery, creative arts, and adventure activities including climbing, kayaking, canoeing and ropes courses. Through their experiences at Camp Wing, campers build their confidence and self-esteem, while developing their interpersonal and collaboration skills.

[/jbox]
[jbox radius=1]Camp Yomechas
Location:  Middleboro
Ages:  5-15
Camp Yomechas offers many different programs throughout the day to enrich your child's life in a positive way.  Camp includes a ropes course, swimming, archery, arts & crafts, sports, and theme weeks.  [/jbox]
[jbox radius=1]Capron Park Zoo – Zoocademy
Location:  Attleboro
Ages:  Ages 5-15
For 21 years, the Education Department at Capron Park Zoo has been offering unique and exciting summer program opportunities for children ages 5-15. With animal encounters, behind-the-scenes experiences, games and hands-on activities that make learning fun, Summer Zoocademy gives children a chance to discover what it takes to work in conservation and the zoo field. If your child loves the zoo, then we have programs to offer them for years to come.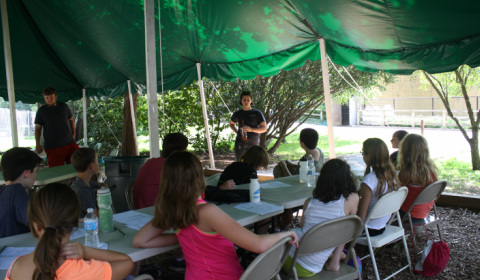 [/jbox]
[jbox radius=1]Children's Museum in Easton – Summer Mini Camps
Location:  North Easton
Ages:  3-7
Dates and info TBA.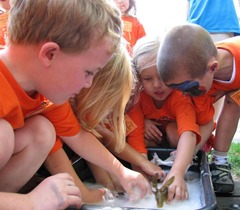 [/jbox]
[jbox radius=1]Drumlin Farm Summer Day Camp
Location:  Lincoln, Sudbury
Ages: Pre-K through Grade 12
At Mass Audubon's Drumlin Farm Summer Day Camp in Lincoln, and at our satellite camp locations in Sudbury, we develop an appreciation of nature. Campers gain confidence and comfort being in the natural world and understand the interconnectedness among people, land, and wildlife.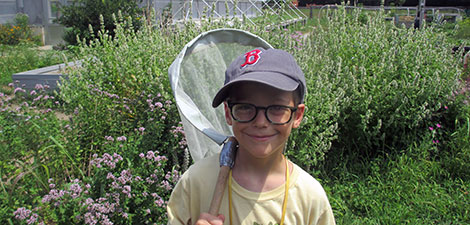 [/jbox]
[jbox radius=1]Ecotarium Summer Discovery Camp
Location:  Worcester
Ages:  7-14
Extraordinary explorations and adventures are on the agenda at the EcoTarium's popular Summer Discovery Camp, where a different theme is offered each week.  Half day and full day programs available, as well as extended hours.  Camps run weekly between July 4 – August 12.
[/jbox]
[jbox radius=1]Harbor Discoveries Camp – New England Aquarium
Location:  Boston
Ages:  Grades 4-10
Harbor Discoveries is an interactive marine and environmental science program that incorporates traditional camp activities. Programs include behind–the-scenes activities in Aquarium galleries, excursions to Boston Harbor Islands, daily field trips to North Shore and South Shore habitats and an overnight experience. Nature serves as our outdoor classroom as we travel to explore aquatic environments.
[/jbox]
[jbox radius=1]Holly Hill Summer Camp
Location:  Cohasset
Ages:  Ages 3-18
Would you and your children like to spend a week or more at Holly Hill Farm this summer? We guarantee you'll come home dirty and happy from a day at our summer camp!  Your neighborhood, organic farm has a wide variety of fun, exploratory, creative, intriguing programs for all ages. Campers explore the Farm's 140 acres of woods, fields and waterways to learn about soil, seeds, plants, and bugs.
Kids ages 3 and 4 can taste spinach, help feed the animals, sow seeds, sing songs and more.
Children ages 7 and 8 can spend a morning at the marsh, discover the education garden, make compost, help in the barnyard and enjoy some harvested produce.
Preteens ages 9 and 10 can compete in an obstacle course, trail running, Frisbee golf, healthy smoothies, etc.
Teens grow food for the Food Pantry, and Young Farmers grow and sell produce at the Cohasset Farmer's Market and can prepare for an exciting overnight at the Farm.
And adults can spend a week honing gardening skills and cooking vegetables for a special Parents Go to Camp Too program.
Join us and learn about organic farming, growing healthy food, sustainable land management, nature exploration, using plants and objects in nature to create art, and so much more!
[/jbox]
[jbox radius=1] iD Tech Mini
Location: Lasell College in Newton
Ages: 6-15
In 1999, our independent family company set out to reinvent "camp" for the 21st century. Today, we're the number #1 tech camp on the planet, with summer technology programs for kids and teens held at over 150 prestigious campuses nationwide. At Lasell College in Newton, MA, we offer iD Tech Mini, a new co-ed program for ages 6-9, offering fun, hands-on courses in programming, video game design, and robotics. With an emphasis on creativity, exploration, and friendship, you'll discover new tech skills in an energetic, kid-friendly learning environment.
Co-ed options at other campuses include iD Tech Camps for ages 7-17 and iD Tech Academies for teens ages 13-18. We also offer Alexa Café, an all-girls program for ages 10-15. Across all programs, you'll experience personalized learning with a maximum of 8 students per instructor, and use the best brand name products from industry leaders like Adobe, Apple, Autodesk, Google, and Microsoft. Innovative courses. Your pace. Your internalDrive.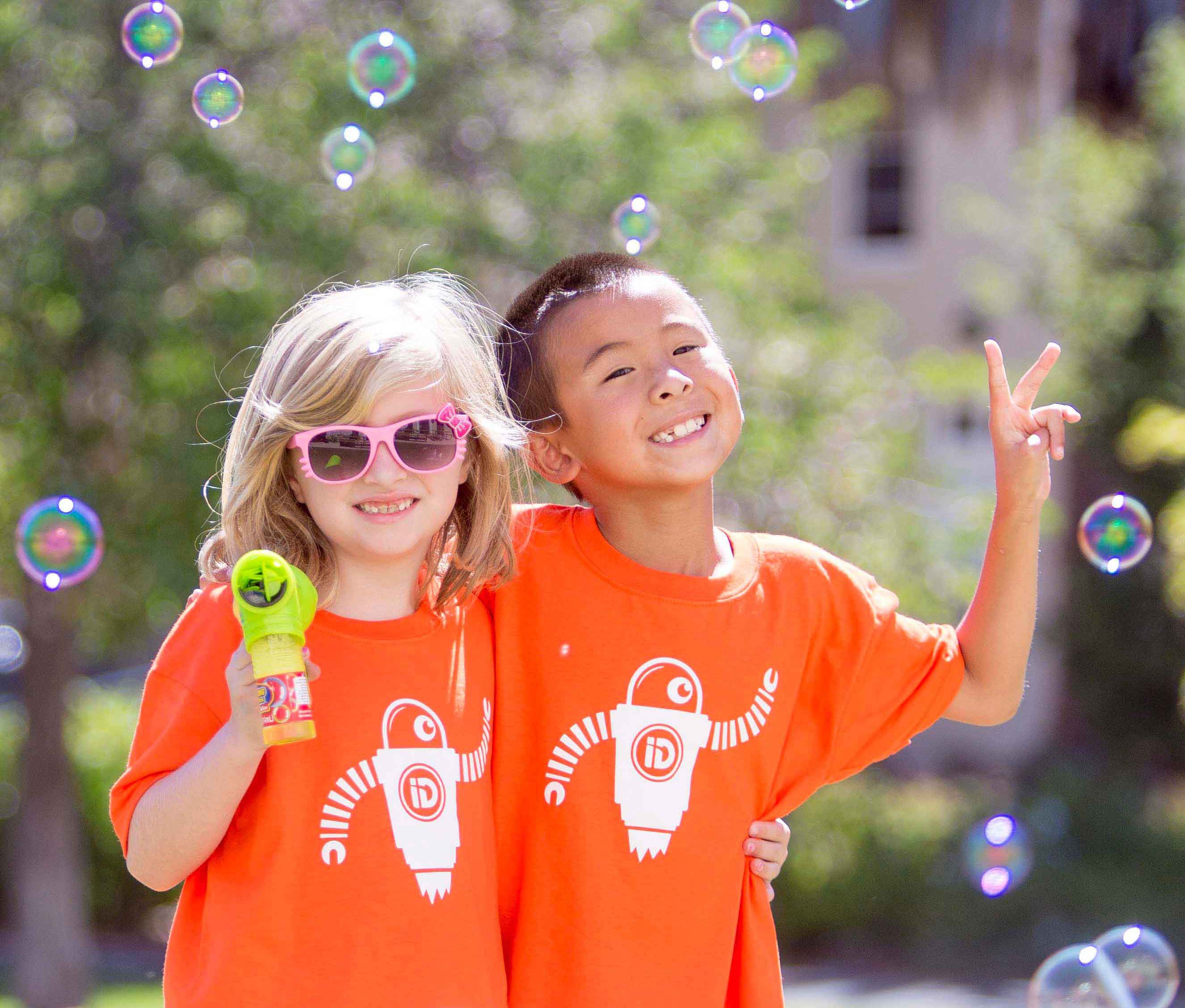 [/jbox]
[jbox radius=1]In Sync Center For The Arts
Location:  Quincy
Ages: 3-18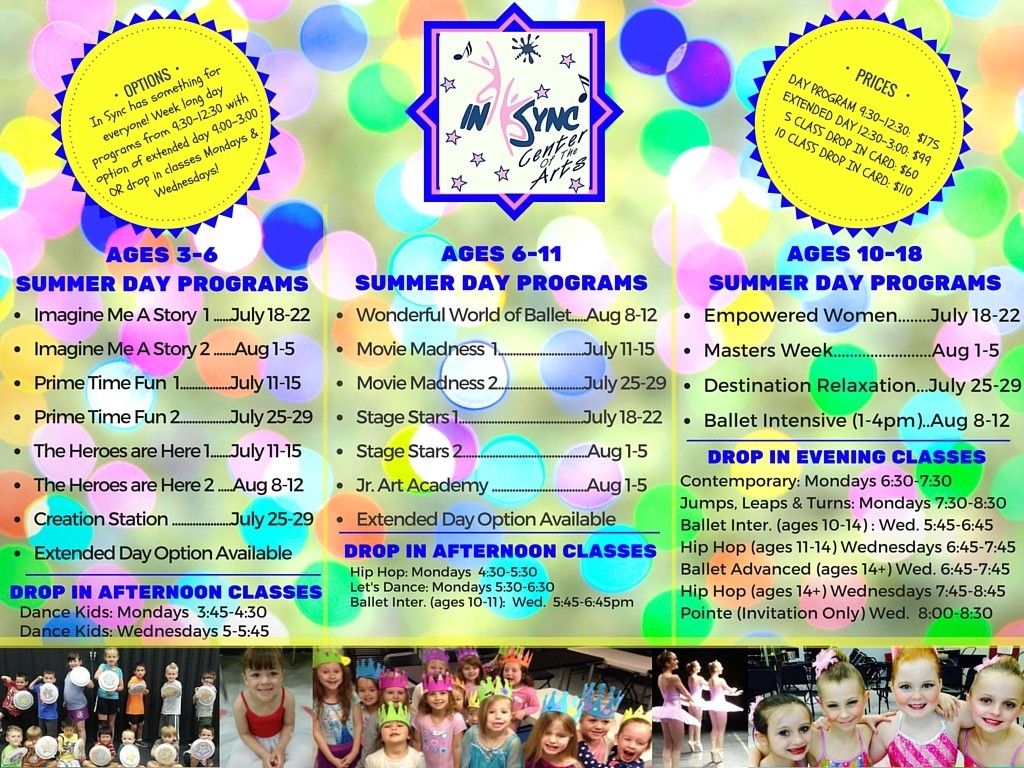 [/jbox]
[jbox radius=1]JunglePlex Revolution Academy
Location: Plymouth
Ages:  7-14
The Revolution Academy is one of the most innovative youth training programs in Major League Soccer, recognized by U.S. Soccer as one of the top 10 youth development programs in the country. The Revolution Academy trains players of all abilities in every aspect of the game, including ball mastery, speed of play, coordination and balance and movement with and without the ball.
The objective of the training programs is to replicate the speed, tempo and environment of the Revolution Youth Teams' training sessions. Through the age-appropriate coaching, we foster an atmosphere that is competitive, challenging, demanding and fun. Encouragement and support from our professional coaches allows every player to gain a better understanding of – and continued passion for – the game.
Revolution Goalkeeper Academy
Location:  Plymouth
Ages:  8-14
The Revolution Goalkeeper Academy offers goalkeepers an opportunity to attend a comprehensive four-day training program. The Revolution Academy's professional goalkeeper coaches use progressive methods to challenge every participant, while also building a better technical understanding and appreciation of the position.
[/jbox]
[jbox radius=1]MABA's Wild at Art Summer Camp
Location:  Canton
Ages:  5-13
The Museum of American Bird Art's 121-acre wildlife sanctuary, family-friendly art museum, and ceramics studio offer a unique set of resources for campers.  Each day children explore the fields, forest, and wetlands with hands-on investigations and games. Imagination and creativity are encouraged with art projects in print-making, painting, nature journaling, and sculpting in clay. Each week features a guest artist. Non-competitive games and free-choice activities are included every day. Programs are offered for children ages 5-13, extended day is available as well as partial financial aid.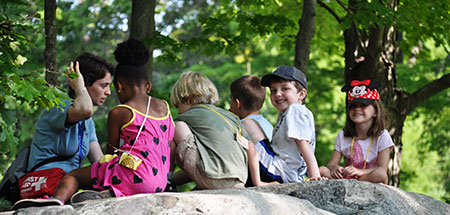 [/jbox]
[jbox radius=1]Maplewood Country Day Camp
Location:  South Easton
Ages:  3 years old – 7th Grade
Preschool and Kindergarten – Our 2,3, or 5 day Preschool and Kindergarten programs are specifically designed for our youngest campers, ages 3-5.  This is a wonderful opportunity for your child to experience all of the fun and excitement of summer camp.  Half day or full day options allow you to choose the program that works best for your child and your schedule.
1st-7th Grade Summer Camp Program -This action-packed summer camp program is overflowing with activities, providing campers an extraordinary chance to broaden horizons; discover new interests; create lasting friendships; and above all, have fun!  There is a wide variety of activities each day for campers in sports, the arts, gymnastics, karate, swimming, and boating.
[/jbox]
[jbox radius=1]Mass Maritime Academy – Summer Sailing Camp
Location:  South Plymouth
Ages:  10-18
MMA's Summer Sailing School provides a mix of activities both off and on the water for kids age 10 through 18.
Sailing is one of very few sports that can be enjoyed for a lifetime and the same is true for the skills inherent in sailing. Three vital life skills become practiced and familiar habits when one spends time on the water in a sailboat.  For sailors of every level, from those who have never been on a sailboat to those who have sailed competitively, the possibilities for learning are endless. Our talented staff teaches the mechanics of sailing (from the basics to racing strategies), water safety, nautical terminology, and navigation.
[/jbox]
[jbox radius=1]Moose Hill Camp
Location:  Sharon
Ages:  3-16
Every day is an adventure at Moose Hill Camp! Located at Mass Audubon's Moose Hill Wildlife Sanctuary in Sharon, Massachusetts, campers ages 3 to 16 have fun, learn about nature, and make friends through a blend of outdoor exploration, hands-on activities, games, and songs.  Themed weekly sessions have campers exploring trails, discovering farm fields, catching frogs, experimenting with science, dabbling in art, and venturing to new places. Small group sizes ensure that our counselors can develop a relationship with every child, creating a caring, supportive environment.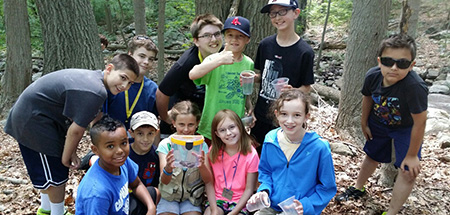 [/jbox]
[jbox radius=1]Natural History Summer Day Camp at Stony Brook
Location:  Norfolk
Ages:  3-15
Stony Brook Day Camp in Norfolk gives children with a curiosity about nature the chance to do what comes naturally: explore!  Located at Mass Audubon's Stony Brook Wildlife Sanctuary, campers ages 3–15 have fun and make friends as they learn about habitats and wildlife in their own community.
Weekly themed and specialty sessions have campers discovering forest, fields, and wetlands.  Trail explorations, hands-on activities, noncompetitive games, crafts, and other activities provide full ecosystem immersion for an enhanced learning experience. Small group sizes ensure a welcoming, supportive environment.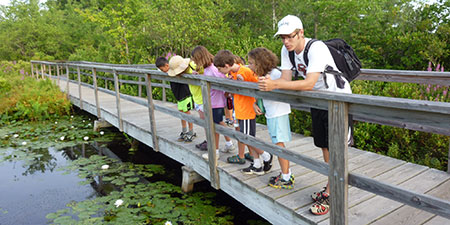 [/jbox]
[jbox radius=1]North River Nature Camp
Location:  Marshfield
Ages:  4.5-14
At Mass Audubon's North River Nature Camp in Marshfield, campers ages 4.5–14 have fun and make friends while learning about nature on the South Shore. Through a blend of outdoor exploration, hands-on activities, games, crafts, and unstructured free play, we inspire campers to better understand, enjoy, and appreciate the natural world.
Weekly sessions have campers discovering and learning about South Shore habitats and wildlife. Small group sizes allow us to provide a high-quality educational experience and create a welcoming, supportive environment.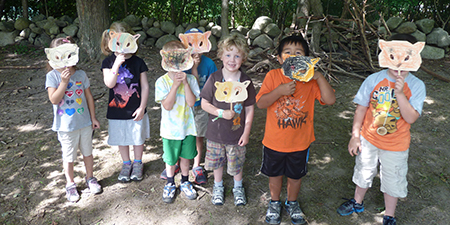 [/jbox]
[jbox radius=1]Sacred Heart School
Location: Kingston
Camp Morning Star at Sacred Heart is a day camp for girls and boys in preschool through eighth grade. Daily activities include swimming, boating, kayaking, and canoeing on a private lake, arts and crafts, sports, games, and environment appreciation.  Special events include Halloween, Crazy Hat Day, Pirate's Day,Carnival, Olympics,and more. A special field trip is planned each week as well, usually on Thursdays, weather-permitting.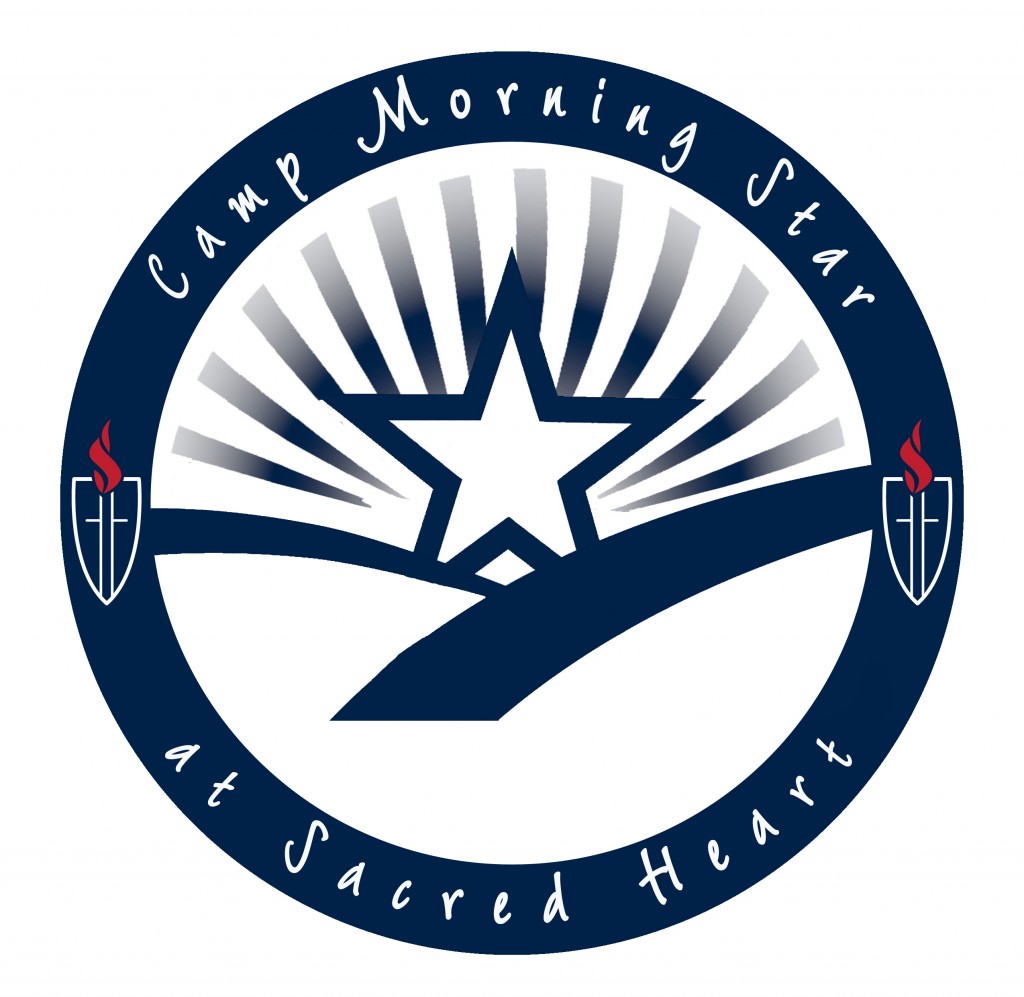 [/jbox]
[jbox radius=1]Silver Lake Summer Hoop Basketball Camp
Location:  Kingston, Halifax
Ages:  Kindergarten – Grade 6
The Silver Lake Summer Hoop Basketball Camp will be hosting 2 weeks of SLAM DUNK fun and excitement at two separate locations. June 27th to July 1st at the Halifax Elementary School on RT. 106. The second week begins on July 18th to July 22nd at the Silver Lake High School on RT. 27 in Kingston.  Boys and Girls entering kindergarten to 6th grade this fall can attend one or both weeks. The Camp at Silver Lake Regional High School will also offer a special  workout session for grades 10-12 boys and girls during week two. This will be lead by varsity high school coaches as well as local college coaches. This program will entail weight training, conditioning, and basketball drills. Any player planning to play basketball at the high school level is urged to attend. 
[/jbox]
[jbox radius=1]Sing Explore Create Music and Art Summer Camps
Location: Rockland
Ages: preschool – high school
Enjoy a summer of music and art! Programs include painting, drawing, art & music, and more.
[/jbox]
[jbox radius=1]South Shore Ballet Theatre – Summer Dance Program
Location:  Hanover
Age:  7+
Full and half day programs available.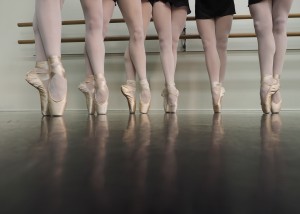 [/jbox]
[jbox radius=1]South Shore Baseball Club
Location: Braintree & Hingham
Ages:  5-15
Each year thousands of young men and women, boys and girls, strive to improve their skills and enjoyment of the game of baseball.  The South Shore Baseball Club will feature its usual excellent staff and facilities, assuring each camper a rewarding experience while enjoying our every popular game.
[/jbox]
[jbox radius=1]South Shore Conservatory Summer Programs
Location:  Hingham, Duxbury
Ages:  0-18
South Shore Conservatory's summer programs inspire music, dance and drama students to perfect their skills and meet students from other towns who share the same passion for the arts. There's something for everyone at the Conservatory over the summer months. Find out what's here for you!
[/jbox]
[jbox radius=1]South Shore  Natural Science Center – Nature Adventures Day Camp
Location:  Norwell
Ages:  3 – Grade 7
The SSNSC Nature Adventures Summer Day Camp offers exciting opportunities for children to learn about the natural world.   Develop an awareness, appreciation, and concern for our environment and the creatures in it.   Explore the habits and habitats of animals living in our woods, ponds, meadows, and along the shore.  Have fun, use their imaginations, and just be kids in a low stress, outdoor environment. Learn about natural science through stories, hikes, games, crafts, and a host of other fun-filled activities.
[/jbox]
[jbox radius=1]Summer Adventures at Weir Farm & World's End
Location:  Hingham
Ages:  4-16
Welcome to the South Shore Summer Adventures offered by The Trustees. The goal of our summer programs is to help your child create fun memories, build new friendships and set the foundation for a lasting love of the outdoors. We are so fortunate to offer camps at Weir River Farm and World's End, two places that help make the South Shore such a beautiful place to call home.
We are also making changes to our Green Thumbs Preschool program. Parents have asked for a longer session and we lsitened! It will now be a three day program to start off our summer. Children ages 5 to 12 will have choices at both Weir River Farm and World's End. For children that are 12 years old and entering the 7th grade and above we have our Helping Hands CIT program. If your child is too young this summer to join us then check our weekly Story Hour program at Weir River Farm which takes place every Wednesday in June, July, August and September from 10AM till 11AM.
[/jbox]
[jbox radius=1]Tabor Summer Program
Location:  Marion
Ages:  6-17
Located on the beautiful seaside campus of Tabor Academy, the program is entering its 99th year. We hope that you will join us for a fun and active summer.  Established in 1917, the Tabor Academy Summer Program gives young people ages 6-17  the opportunity to develop their full potential as individuals, athletes, and students. Under the guidance of highly qualified counselors, coaches, and teachers, the program encourages young people to take pride in their personal achievements in the classroom, on the playing fields, or on the waterfront. The Tabor Academy Summer Program provides the option of schoolwork without losing any of the joys of summer.
[/jbox]
[jbox radius=1]Waldorf Summer Program
Location:  Cotuit, MA
Ages:  3-15
The Waldorf School of Cape Cod Summer Program is a day program for students of all ages with activities from June through early September. Led by caring and talented educators, WSCC Summer Program invites children to get a taste of a variety of activities that are aligned with the principles of Waldorf education. Outdoor explorers and budding artists alike will enjoy inspiring adventures and hands-on projects.  2016 Program offerings include:
Clothing Design Workshop; Musical Theater; Ultimate Frisbee; Nature Crafts & Kid's Yoga; T-Shirt Quilt-Making; Handwork & Games; Juggling; Basketball & Disc Golf; Mad Fun Science; Mask Making; Disc Golf & Swim; Acting; Bike & Beach; Puppet Arts; Clay Safari; Mystical, Magical, Mud Structures and Fine Art Exploration.  [/jbox]
[jbox radius=1]Weymouth Summer Hoops
Location:  Weymouth
Ages:  Kindergarten – 12th grade
The Weymouth Summer Hoop Program began 33 years ago when three coaches decided to provide one of the first summer basketball camps on the South Shore.  The purpose of the camp is to offer boys and girls an affordable and fun experience for half the price of overnight camps.  Guest coaches and players have included basketball start such as Dana Barros, Ron Perry, Sarah Behn, Bill Curley, Bill Holden, and Chris Herron.
[/jbox]
[jbox radius=1]YMCA Day Camps
Location:  Canton, Hanover, Norwell, Quincy
Ages:  3.5-15
South Shore YMCA Summer Day Camps provide a safe and fun environment for young people to try new things, be active in the outdoors, build leadership skills.  With day camps located in Hingham, Quincy, Canton and Norwell, and a variety of traditional, specialty enrichment and sports camp offerings, we have something for everyone.
[/jbox]
[jbox radius=1]Youth Leadership Academy
Location:  Braintree
Ages:  10-14
Sheriff Michael Bellotti's Youth Leadership Academy is open to 10-14 year olds in Norfolk County. It's designed to enhance teamwork, confidence and communication.  The Academy centers around an extensive low and high ropes course under the supervision of specially trained instructors.
[/jbox]
[jbox radius=1]Zoo Camp (Franklin Park Zoo & Stone Zoo)
Location: Boston, Stoneham
Ages: 3-13
Looking to go a little wild during summer break? Zoo New England offers the perfect opportunity to learn about amazing wildlife while having a blast. We offer summer programs for children ages 3 through 13.  [/jbox]