NOTE:  Unfortunately New England Sports Academy was forced to close its doors in Fall 2015. We are sorry to see it go!
Last month we held my 9-year-old son Sam's birthday party at New England Sports Academy in Westwood (NESA).  He had asked for an active party where he and his friends could run, play and get as crazy as they wanted.  NESA offers just that, plus your own party team made up of NESA staff members that take care of everything for you, from the moment you walk through the door until the last slice of cake is eaten.   Yes please! 
NESA parties are a 90 minutes long, with one hour dedicated to games and activities, and a half hour in one of their party rooms for pizza, cake, ice cream, or whatever food you choose to serve.  There are two party rooms available, the large room which fits up to 25 guest, and the small room which holds up to 15 guests.  (Prices vary per room, see more details here).
Parties are scheduled with a 15 minute buffer in between, helping alleviate the feeling of being rushed out by the next event and allowing a smooth transition between parties.  There are a LOT of options to choose from, so the birthday boy or girl can really have a celebration that is perfectly suited for them.  Choices include:
We picked the Create Your Own Party option, which is even more customizable with a variety of activities to choose from.  Sam was pretty excited to do the Parkour Obstacle Course, War Ball (played like dodge ball, but the kids build forts and hide behind/defend them), monkey soccer, and basketball.  (Your can find a complete list of possible activities here).  We were a little surprised that he didn't opt for the Foam Pit to finish the party off, because c'mon, who doesn't love a foam pit?!
Our party involved a particularly rowdy group of 9 year old boys.  To be fair, it had been raining for the past three days, and they had a lot of energy to run off.  Despite this, the counselors assigned to our party were nothing but patient with the kids.  They took charge right from the start, kept everything moving smoothly, and even jumped in and played alongside the kids.  Bonus – they were super sweet to my 6-year-old daughter who was feeling a little shy and intimidated by the crazy boys.
We had an hour of play time, then the sweaty boys headed into the party room for pizza and ice cream cake.  NESA placed our pizza order ahead of time, double cut the slices, and served it to our guests.  They even handled all of the cake duties so my hands were free for photos of the birthday boy and his friends.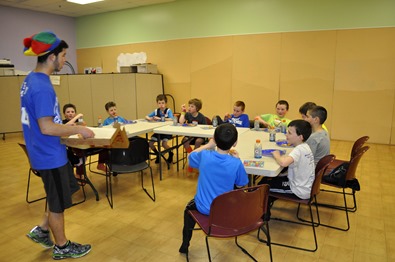 Our whole experience at NESA was seamless.  The staff really took over and ran the party for us, letting my husband and I sit back and enjoy watching our son have a blast with his friends!
Not interested in the activities we chose?  Not to worry, there's a little bit of everything available here.  NESA has multiple new costume parties available: Superhero, Teenage Mutant Ninja Turtles, Prince(w/Princess), and Ninja, in additional to their long-standing Pirate, Princess, and Star Wars costume parties. They also offer specialty parties, such as Percy Jackson and Greek Mythology, that allow kids to use their mind and body to play out a story using gym equipment, props, and solving riddles.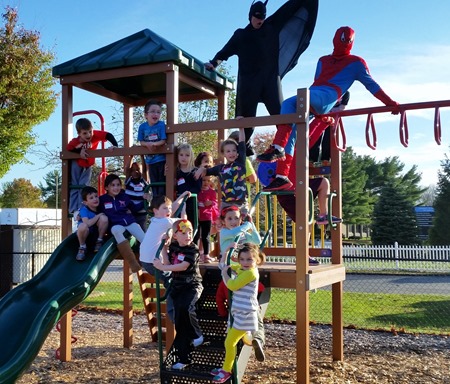 photo credit:  New England Sports Academy
With the addition of a spring floor in the former Martial Arts room and new indoor parkour park, there are new areas available for use. Whether it is an advanced obstacle course, nerf wars, dodgeball, flag football, or dunking off a trampoline, there are plenty of new activities to challenge older kids and adults too!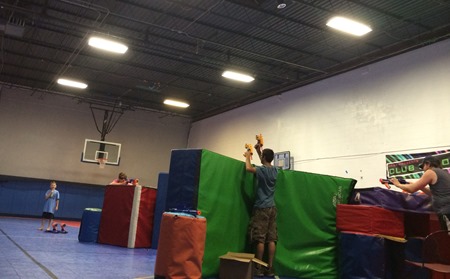 photo credit:  New England Sports Academy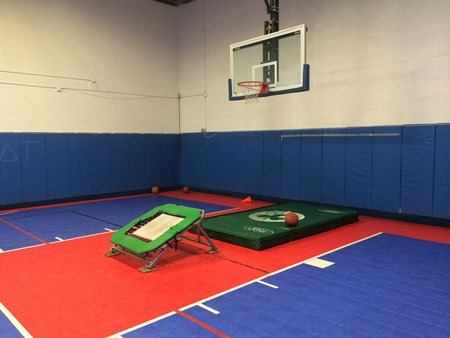 photo credit:  New England Sports Academy
For more information about birthdays at NESA, visit them at www.nesacademy.com or call 781-493-6345.
You can also find NESA on Facebook and Twitter.
[jbox radius=1]For more information on birthday parties – ideas, local resources, tips – check out our Birthday Parties page! [/jbox]
Disclaimer:  I received a free party at NESA in exchange for this post, however all opinions stated here are 100% my own.