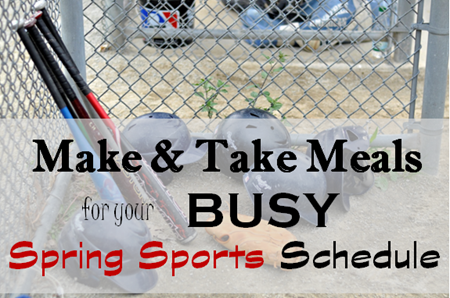 We're a baseball family.  We have four baseball teams between three kids (among other sports), which means most evenings we are down at the ball field right around dinnertime.  This causes a major dinner dilemma… when (and what) do we feed everyone?

For the child who's playing that night, we do an early dinner before carting them down to batting practice.  Ideally, we would all eat this early shift together, but with homework and other practice schedules in the mix, this isn't always possible.  Especially for my husband who walks in the door from work, and right back out again to help coach two of the three teams.   Enter the need for some easy, portable dinner ideas that can travel to the ball field with us!
This is list will probably live on my fridge for the next couple of months (because summer travel baseball follows right after spring baseball…) to keep me from resorting to chicken nuggets every night.
Make & Take Meal Ideas for Sports Nights:
Wraps/Sandwiches
Easiest option ever.  Chicken Caesar, BLT, Tuna, Egg Salad, Chicken Salad, Deli Meats, PB&J, etc.
Calzones
Calzones are pretty easy to prepare with ready made dough.  Fill with meatballs, pepperoni, ham and cheese, etc.  Make small individual sized calzones, or one large to be sliced up at the field.
Pulled Pork Sandwiches
Bring the meat in an insulated bag, along with a bag of rolls, and assemble at the field.
Hot Dogs
Put hot dogs in a thermos, and add hot water.  Bring a bag of hot dog buns and any condiments with you.  (Snag some extra packets of ketchup/mustard/relish next time you're at the drive through).
Burritos
So many options for fillings!
Taco-in-a-Bag (Walking Tacos)
The kids love these.  No plate needed!  Just take a snack bag of Fritos (or Doritos if you prefer), and add the fixings!  Get more info HERE.
Pasta
Packs well in a thermos.  Our family favorites are ravioli and tortellini!
Burgers –
Wrap in aluminum foil to keep warm, bring condiments to put on at the field.
Salad in a Jar
Keep sliced grilled chicken in a separate container and toss it in at the field.  See more ideas HERE.
Pasta Salad
Pack portions of your favorite pasta salad recipe into individual containers.
Baked Potatoes
Cook in the oven or crock pot, then cover in aluminum foil to keep warm.  Bring toppings in separate containers (bacon, sour cream, cheese, ground beef, etc.).
If you just want to pack some hearty snack options, we've got some ideas there too.
Hardboiled Eggs
Veggies & Hummus – put hummus in individual dip containers
Cheese & Apple Slices
Peanut Butter Crackers
Fruit Kabobs.  Or just Fruit!
Trail Mix
Yogurt
Bagels – slice in half, add cream cheese and assemble sandwich style ahead of time.
Celery and Peanut Butter – check out this clever way to take it to go!

So relax and enjoy the games Mamas!  And remember…