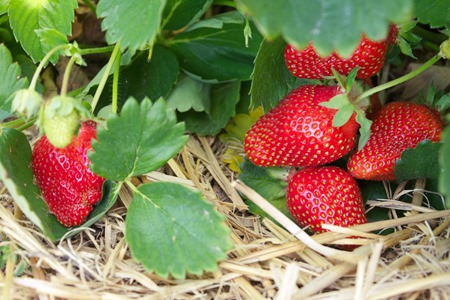 Strawberries have a short but sweet picking season.  It starts in June, and ends in, well, June.   Blink and you'll miss it!  Pick-your-own strawberries is an activity that the whole family can get into, even the little ones!  If you're heading out, be sure to check picking conditions before you go on the farm's website.  Early in the day is best too, to avoid the heat, and get the most fruit before the fields are all picked out!
Here are some great pick-your-own options in eastern Massachusetts: 
Belkin Family Lookout Farm
89 Pleasant Street South, South Natick MA
The farm is open Saturdays and Sundays from 10am-5pm.  Admission is $9/person, kids under two get in free.   In addition to u-pick fruit, activities include a train ride through the orchard, moon bounce, hay pyramid, caterpillar ride, farm animals, a children's play area, and entertainment on select dates.  Call the U-Pick hotline at 508-653-0653 for current picking conditions.
C.N. Smith Farm
325 South Street, East Bridgewater MA
Open 7 days a week from 9am-4pm, weather permitting.  Call for conditions and pricing 508-378-2270.  Follow signs to the Strawberry shed for parking, containers, and payment.  (3-lb minimum)
Keith's Farm
1149 Main Street, Acushnet MA
During the season, we open the strawberry fields at 10AM. This gives time for the strawberries to dry.  Farm is open 7 days a week, from 10am-4pm.
Russell Orchards
143 Argilla Road, Ipswich MA
Pick-Your-Own is open from 9-5 daily. Check back before making your plans to see if the picking status has changed.
Smolak Farms
315 South Bradford Street, North Andover, MA
Smolak Farms offers an ice cream stand, hay rides, farm animals a playground and more.  Strawberry PYO is located at 494 Ipswich Rd in Boxford, MA.  Minimum charge of $3.00 per person to enter the fields, fee will be applied toward total purchase.  Check daily picking conditions before heading out.
Tougas Family Farm
234 Ball St., Northboro, MA
Pick-your-own strawberries June to early July.  $5 per person admission (ages 2 and older) paid before entering strawberry fields and applied towards your purchase of pick your own strawberries.   Picking conditions are below or call the picking info line at (508) 393-6406.
Ward's Berry Farm
614 South Main Street, Sharon, MA
Walk to the strawberry fields or take a hayride for $3 per person.  Check website for updates on picking conditions. Ward's also has swings, a slide, climbing tires and a sandbox for kids to play in.