Best part of summer?  Being outside late in the evening, spending those extra hours in the yard with friends and family.  But, it's really hard to enjoy yourself when you're constantly swatting and slapping bugs away!   I really, really don't like using sticky, stinky bug spray, so I was excited when I was given the Stinger Mosquito Repellent Lantern to review!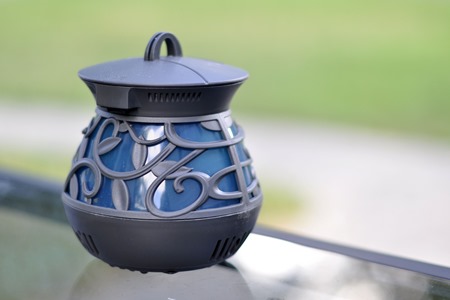 The stinger lantern is a pretty, compact, and effective solution to our mosquito problem!  It runs on four AA batteries (included), and offers protection for a 15 foot radius using all natural, DEET-free ingredients that are safe for kids and pets.  The smell the lantern gives off is a bit like citronella, but lighter.  We didn't mind it at all.  The bug repellent is dispersed by a ultra quiet fan in the lantern – so quiet that we couldn't hear it!
I loved the soft blue glow from the lantern.  Not enough to see by, but it's a pretty addition to the table or patio.  If you don't want to use it as a mosquito repellent, just change the toggle switch to lantern only mode.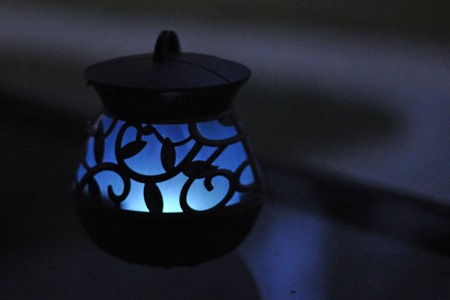 Quick Facts About the Stinger Lantern:
For outdoor use
Repels insects using a fan-dispersed repellent pad
All natural, for safe use around children & pets
Blue, LED lighting for night
Uses 4 AA batteries (not included)
Repellent refills come in 6 packages per PDQ tray
MSRP $12.99
Available at Amazon.com
To learn more about Stinger and their products (bug zappers and repellants), visit www.stingerproducts.com.
Many thanks to Stinger for the lantern!
---
I received a Stinger Mosquito Repellent Lantern for this review.  All opinions stated here are my own.