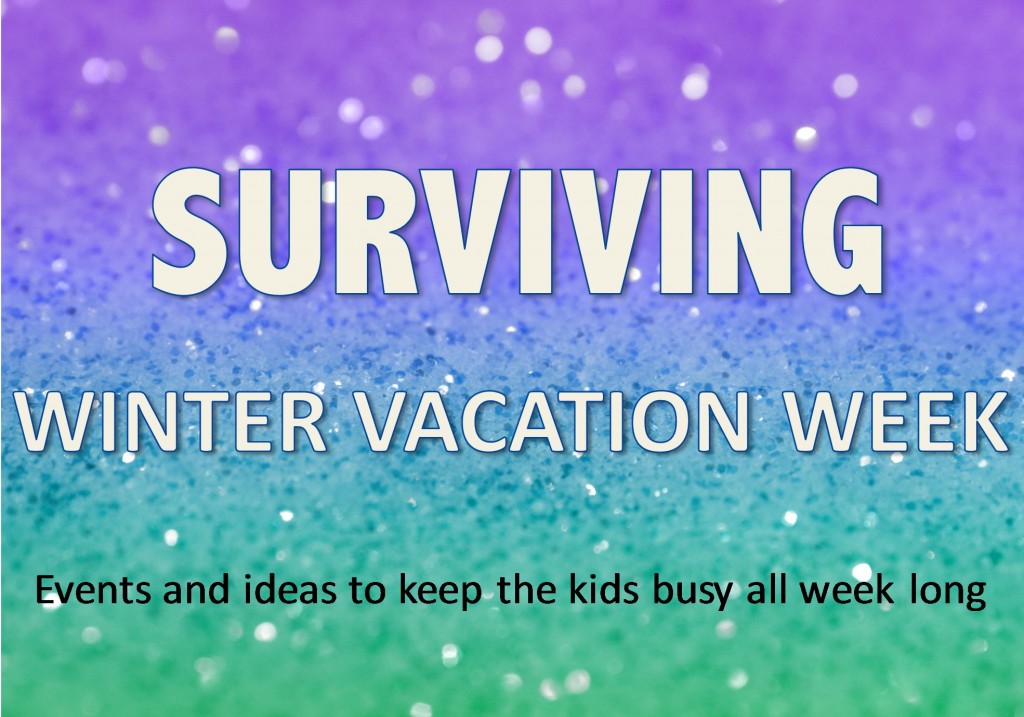 Winter break is here!  With the kiddos at home, lots of togetherness is in your future.  If the walls are closing in on you, and you need to get out of the house, we've got some fun events happening this week, plus a list of indoor fun spots in the area that just might save your sanity.  Happy vacation week mamas!
EVENTS
Winter Skate at Patriot Place
Open through the week (closed Jan 1).  Take the kids to skate at an outdoor rink right outside Gillette Stadium.
Family Swim at Goldfish Swim School (Braintree)
Stop by for a tour of the facility and a swim in the 90 degree pool – December 30th from 2-4pm and December 31st from 10am-12pm.
December Vacation Week Activities at South Shore Children's Museum
Activities throughout the week – Kids Paint Night, Magic Show, Blue Hills Trailside Nature Tales, Pajama Day and more!
Noon Year's Eve Party – Duxbury Free Library
Dec 31st – Countdown the last 10 seconds to noon and celebrate with hats, noisemakers, music, games & more.
Bubbleology at the South Shore Natural Science Center
Jan 2nd – 3 shows at 11am, 1pm & 3pm
Free Kids Workshop at Home Depot
Jan 2nd – Build a Kung Fu Panda 3 Spinning Box
Story Time at Whole Foods in Weymouth
Dec 29th – Held in the kids area at the front of the store.
Story Time at Barnes & Noble in Braintree
Jan 2nd – Lady Pancake & Sir French Toast
Story Time at Barnes & Noble in Hingham
Dec 30th – If You Take a Mouse to the Movies, Jan 2nd – Lady Pancake & Sir French Toast
Vacation Week Activities at The Children's Museum in Easton
Open all week long with special activities planned, including Star Wars Fun (12/28) and a Family New Year's Party (12/31)
School Vacation Fun – Providence Children's Museum
Special programs all week long, including Sparky's Puppets, Circus Dynamics, a daytime New Year's Eve celebration and more.
And of course there are many, many indoor spots around the South Shore where you can take the family for a little fun this week:
Active Indoor Fun:

Boston Bowl Hanover (Hanover) – Candlepin bowling
Carousel Family Fun Center (Whitman) – Roller skating rink – check their website for schedule and special events.
Central Rock Gym (Randolph) – Indoor rock climbing spot
Challenge Rocks (Hingham) – Indoor rock climbing, great for all ages.
Children's World Indoor Playground (Canton) – Bounce houses, ride on toys, play houses.
Imagination Island (Plymouth) – Indoor playground for ages 1-8
Jungle Jake's Play and Party, LLC (Pembroke) – Inflatable bounce houses & obstacle course, slide and games.  Separate area for kids under 5.  Check website for open play schedule.
Kid Zone (Norwell) – Full of inflatable jump houses, obstacle courses and slides.  Fore ages 2-12.
Launch (Norwood) – Trampoline fun for all ages.
Monster Golf (Norwood) – Indoor, glow in the dark mini golf course.  Check for Groupons!
Pump n' Jump (Kingston) – Inflatable bounce houses, slides, obstacle courses, and arcade games.
Rock Spot Climbing (Boston/Dedham & South Boston) – Indoor rock climbing spot
Sky Zone Boston & Sky Zone Everett – Trampoline fun for all ages.  Separate section for younger kiddos.
The Tot Plex (Canton) – Indoor recreational space for kids 6 and under.
The U at Starland (Hanover) – Indoor sports complex –check website for drop in hours.
Timberlanes (Abington) – Candlepin Bowling.  Special "Cosmic Bowling" every Sunday from 10am-12pm, and Mondays from 4-6pm.  Timberlanes accepts reservations online.
Union Street Lanes (Holbrook) – Candlepin bowing
Get Creative
Art Attic (Hingham)
Claychick (Plymouth)
Petit Picasso's (Norwell)
Plaster Fun Time (Braintree)
The Make Shop (Plymouth)
The Parched Painter (Walpole)
The Pottery Playce (Hanover)
Museums
Boston Children's Museum (Boston)
Boston Museum of Science (Boston)
Children's Museum in Easton (Easton)
Legoland Discovery Center Boston (Somerville)
Our World Children's Global Discovery Museum  (Cohasset)
New England Aquarium (Boston)
Providence Children's Museum (Providence, RI)
South Shore Children's Museum (Hanover)
South Shore Natural Science Center (Norwell)
The Discovery Museums (Acton)
The Hall at Patriot Place (Foxboro)